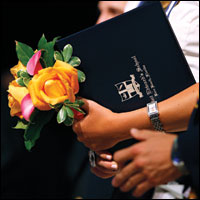 The St. Edward's Society: Helping scholarship kids imagine the unimaginable
BY MICHELLE GENZ - STAFF WRITER (Week of May 27, 2010)
They are the unseen purse strings behind 50 St. Edward's School students who explode the stereotype of the affluent private school student.
Eighteen barrier island donors have extended the opportunities of St. Edward's to students for whom a private school education was not only utterly out of reach, but also unimaginable.
They call themselves the St. Edward's Society, and, in their giving, society at large is exactly what they have in mind. Aware of the economic divide in the Vero Beach community, the donors have come forward through a chain of story-telling – all true stories -- of one child after another with astonishing promise stunted by very limited resources.
In just over a decade, the informal group has donated $1.6 million to pay tuition for unusually talented and industrious kids whose families' reach was hamstrung by tight finances. They were brought to the benefactors' attention almost exclusively by word of mouth -- through youth organizations, school teachers, counselors and church leaders.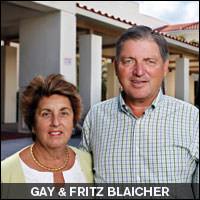 "We are diversity," says founder Fritz Blaicher, who began the effort by donating money that enabled a Bahamian brother and sister to go to the school in 1998.
Today, in a time when the new St. Ed's strategy for economic survival mandates reducing financial aid, the St. Edward's Society's mission takes on more urgency than ever, ensuring a cultural and economic mix on the campus.
"It has enhanced the student body immensely," says Sara Smith, director of marketing and communication.
The recipients make the most of their opportunity. All have gone on to four-year colleges, all of them offered full scholarships.
Already, some are giving back themselves. Jay Lundy, son of a well-known family from Gifford, went on to Harvard. He now works for Teach for America, teaching history in an innercity school.
"These kids understand what it means to give back. They feel it as intensely as their donors do," says Anne Storch, the school's director of development.
The students, awarded full scholarships through the program, are integrated into the student body with the help of three mentors: a peer, a teacher and an administrator. If any one of those mentors senses a need on the part of the student, the society is notified.
"We awarded one student a letter in sports, and the next day we got a phone call: She had nothing to put it on," says Blaicher. "I said, 'So what's the problem? Go buy it for her. Send us the bill.'"
Blaicher, visibly discomfited at the notion of such a basic need unmet, downplays his gesture. His wife Gay downplays the entire effort. "Let's be clear: it's the students who deserve the credit," she says, insistent that the kids not be indebted to them for their help.
"I'm happy to give these kids a leg up," says Fritz Blaicher. "I don't think they have to be beholden to us. That's not why we're doing it."
Blaicher himself was a scholarship recipient in prep school. "My father wanted me to go so badly that he made a deal with the headmaster: He became their accountant."
The Blaichers have three daughters of their own -- and eight grandchildren, five in private schools, he adds with a mock groan. Blaicher moved the headquarters of his Philadelphiabased firm, Construction Data Corporation, south to Vero when he relocated in 1998; the firm had 500 employees when he retired in 2004.
"For most of the students, they will be the first in their families to go to college," says Smith. Some work multiple jobs to contribute to their families' finances. Others are the oldest of several siblings and have care-taking responsibilities. Some also have areas of academic weakness.
"One student was getting A's at the high school, but his math scores were weak," says Smith. "He had a teacher here who took him on, and said, 'We're going to build his skills, he can do this.' That's what the faculty here does best."
Not that there aren't adjustments to be made for the students.
"You can't bring a student in here because their story is good," Blaicher said. "If they don't have some semblance of family life at home, and some sense of responsibility, they aren't going to make it here. It's a shock, coming from, say, Gifford to here, where you might have an old car in your driveway, but you get here and the kids are driving BMWs. That's a hell of a shock."
That realization came after some early scholarship recipients struggled to adjust, then left. "That's why we have three mentors for each student, and we offer resources to them the minute they get here, so we can intercede if there's any problem, like they don't have the right clothes, or whatever."
Now, Smith says, the students adjust "pretty quickly."
"They're philosophical about it," she says. "They're proud of how they've made it work, how bright they are, and how talented, and they're going to reach for the top."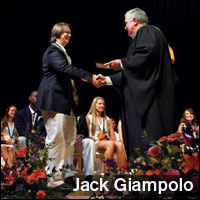 The group had its genesis 11 years ago in a chance encounter: a cocktail party at which the usual chatter engaged then-newcomer Blaicher. He and his wife Gay had already donated to the school, after approaching St. Edward's then-director of advancement, Fritz Spitzmiller. They wanted to help in a way similar to their involvement in a fund at the Hun School, Fritz Blaicher's alma mater, in Princeton, NJ.
Soon after, Spitzmillern called Blaicher after hearing of the two children of a Bahamian minister taking a post at a Fort Pierce church.
It was the joy of that experience that Fritz Blaicher was describing, when Pam Kean asked at the cocktail party what he had found to do in the way of community service. Blaicher described his recent involvement at St. Ed's and his past success at Hun. "This is the most rewarding thing I've ever done," he told her.
Pam Kean held up her hand. "Wait," she said. "Let me get my husband John."
The Keans joined in, and the giving began to expand exponentially.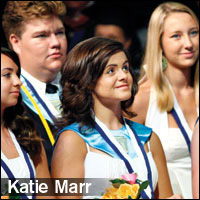 This year, two students graduated after receiving help from the St. Edward's Society: Jack Giampolo, a talented actor, won a full scholarship to Lehigh University; and Katie Marr, who came to St. Ed's as a junior after proving herself a top achiever at the Indian River Charter High School.
Last fall, Blaicher himself came across an outstanding candidate. He was at a fall fundraiser for the Boys and Girls Clubs and heard a composed and articulate Johntavius Montilus, oldest son of a single mom and a student at the Freshman Learning Center, speak to a crowd of 300. "I thought, 'How did we miss this one?'"
Blaicher asked a few questions, and learned Johntavius was working two jobs to help his family. He is now at St. Edward's, broadening his love for football, art and poetry.
"He's a superstar," says Blaicher.