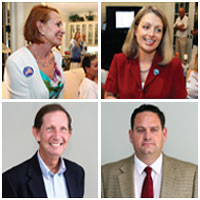 A Clean Sweep!
Insurgents win all 4 Vero Council seats
STORY BY LISA ZAHNER - STAFF WRITER (Week of Nov. 4, 2010)
An angry Vero Beach electorate on Tuesday swept all City Council incumbents on the ballot from office, and elected four new Council members who will join lone holdover Brian Heady in trying to regain control of Vero from city staff, select a new City Manager, and find solutions to the electric, water and sewer shenanigans which have outraged city and non-city residents alike.
Tracy Carroll, who first came to public attention earlier this year leading an unsuccessful effort to get a referendum on the ballot that would have forced the city out of the electric business, was by far the vote leader with 2,927 votes, winning a one-year Council seat over incumbent Sabe Abell, a defender of the status quo, who finished with 1,077.
An eight-way race for three two-year Council seats was won by Pilar Turner, who polled 2,680 votes.  The other two-year seats went to former Mayor A. Craig Fletcher, with 1,746 votes, and newcomer Jay Kramer with 1,686 votes.
The two incumbents seeking re-election to two-year seats, Mayor Kevin Sawnick and Council Member Ken Daige, were soundly rejected by the voters, finishing well back with 1,491 and 1,487 votes respectively.  Long-time Council Member Tom White did not seek re-election.
Tuesday's election finished what started a year ago when Heady and Charlie Wilson were catapulted onto the Vero Beach City Council dais. Wilson was subsequently ousted through a legal challenge to his residency, and the old guard then returned Daige – who had been defeated in that election – to a Council seat.
Kramer, who said he was inspired to run for the Council after working as a volunteer tax preparer with low-income residents, said he felt the anti-incumbent anger present in November 2009 was still boiling Tuesday.
"I think a lot of it has to be that they feel like when they went with the Charlie Wilson-Brian Heady choice for change, their vote was stripped away," Kramer said. "I don't think the sentiment was quelled at all."
Utility rates have come down somewhat, Kramer said, but the depressed economy has exacerbated the plight of many city residents who voted for change.
"Unemployment has gotten worse and the voters want people to just get things done," Kramer said. "We are really pushing off into an unknown. We're obviously individuals that are not just going to be a rubber stamp for the staff."
In the weeks ahead, two challenges facing the new Vero City Council will be to select a new Mayor to replace Sawnick, and then to set about finding a new City Manager to replace Jim Gabbard, who perhaps recognizing that change was on the way, chose to retire on October 15th.
Many felt the out-going Council had let Gabbard determine the city's direction – rather than taking his direction from Vero's elected officials – and new members of the Council made it clear they intended to establish a different relationship with the person ultimately chosen to replace him.
Pilar Turner, the vote leader for the two-year seats, on the stump beat the drum for fiscal accountability and demanded that the city staff produce solid financial analysis to back up major  proposals.
"It's clear to me that people want us to operate the city on a financially sound basis," Turner said.  She observed that the city's bloated bureaucracy – largely unscathed by cuts despite the growing budget crisis – probably was unnerved by the election results.
"I think they will be running scared," she said. "We have received an edict from the people to take control of the city."
The race for the one-year seat was widely viewed as a referendum on the amount of anger still present over electric bills that spiked in the summer of 2009 and never fell back to the levels promised by members of the outgoing City Council.
"Tracy Carroll was our referendum on utility issues," said utility activist Glenn Heran. "If she had lost, it would mean that we still had not communicated the message to the community that the community is better off with FPL.
Caroll said she felt her victory was a direct response to the incumbents' stonewalling of any attempt to study, explore or analyze the options available to the city in regard to utilities.
"The bigger message is that it won't only be looked at as a referendum on selling the utility, but also one against Sabe not being open to the process," Carroll said. "It's also a call for stability and cooperation on the City Council."
Carroll said that new spirit of openness to possibilities may also cause the city to reopen talks about somehow joining forces with Indian River County to provide lower cost, stable water and sewer rates, and to maximize efficiency in the county and city's utility systems.
"I want to explore regionalization with the county of water and sewer, I think it makes sense to look at utilizing their excess capacity," she said.
Councilman Heady, the only holdover Council member, said he was invigorated by the results and said he looked forward to working with his new colleagues.
"We have a functioning City Council that will demand financial analysis and transparency. The taxpayers have won," he said.
Over the past few years, the City of Vero Beach has had an increasingly prickly relationship with the Indian River County Commission and top county staff.
Commissioner Bob Solari, a former Vero City Council member and one of the harshest critics of the goings on at City Hall, called the election a "game changer" and said he was looking forward to working with the new Council members.
"What we've had is not only the people not knowing what's been going on in the back room, but the City Council also not knowing what's going on," Solari said.
"From what I see, this group will be able to start an open and transparent process and to start discussion on opportunities to save money for the taxpayers such as the regionalization of the water and sewer utility."
Incumbent Mayor Sawnick and Vice Mayor Abell suffered the judgment of the voters for both their actions and their omissions over the past two years on a variety of issues. Sawnick said he understood that as a sitting council member his voting record and performance were under scrutiny.
"People can see what I've done and base their vote on that," he said.
 Still optimistic when early returns came in showing him trailing, Sawnick said he remained committed to working for the causes he's been passionate about during his tenure as mayor.
"Whatever works out, I'll still be involved with the city, whether I'm on the City Council or not," he said.
Abell declined to comment.
Charlie Wilson, who briefly served after his election a year ago, said he was pleased with the fact that with the retirement of Gabbard and White and the defeat of Abell, three of the four people he saw as a major blockade to progress were gone. City Attorney Charlie Vitunac, he said, is the lone member remaining.
"First of all, it's not like they weren't warned," Wilson said. "They were told very clearly last year what the voters wanted and they absolutely refused to do it."
As for the victors, Wilson congratulated them and wished them wisdom in the tough decisions they face going forward.
"I couldn't think of a better person to finish out my term than Tracy Carroll," he said.