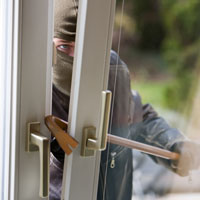 Central Beach on alert after home burglaries
STORY BY IAN M LOVE - STAFF WRITER
(Week of November 18, 2010)
A spate of home burglaries over the past two weeks have beachside residents on heightened alert and police reminding homeowners to keep their doors and windows locked.
The crime spree started sometime in the early evening of Oct. 30 when someone entered through an unlocked rear door at 336 Date Palm Road and took cash and a wooden jewelry chest. Between Nov. 1-5 there were five more similar burglaries and one attempted burglary.
"This is the first burglary we have had in the Central area in quite some time," said an email from Vero Beach Police Officer John Morrison, who works with the Central Beach Neighborhood Watch. "Please remember to consistently lock all of your doors and windows before leaving your home or car for any length of time."
Beachside homes were hit in a similar fashion between Memorial Day and July of 2009.
"A lot of people have no clue," said one neighborhood watch group member, who asked not to be identified. "Many seniors do not have e-mail and so I call them personally. "
In a burglary that occurred Nov. 1 at 2606 Mockingbird Drive, the burglar entered through an unlocked window and took money out of a purse.
The following night, three burglaries occurred -- at 745 Riomar Drive, 2021 Club Drive and 515 Iris Lane -- with entry gained in at least two of the incidents by breaking a window.
The next break-in came on the afternoon of Nov. 5 at 521 Cypress Road after someone broke a locked window and removed an undisclosed amount of jewelry.
Police did catch a break on November 5th, however, when an attempted residential burglary was thwarted when the resident was home.
The suspect is described as a younger looking white male with a medium build driving a tan or gold crossover vehicle or small SUV. To contact Morrison, (772) 978-4649.