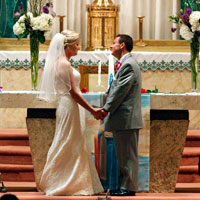 Everything you dream of for your kids'
STORY BY MICHELLE GENZ - STAFF WRITER
(Week of November 18, 2010)
It started with a note, passed to Maria Colontrelle on her break at Publix, where she works bagging groceries.
David Helseth, who stocks the bakery's shelves, had finally gotten up his nerve to ask her out.
 Two-and-a-half years later, on Saturday, David, 38, and Maria, 28, were married at St. Helen Catholic Church before a crowd of 200. It included their joyous families, their Publix co-workers, and their friends from the Sun Up Center, where David, Maria and others in town with developmental delays go to meet their challenges head on.
This day marked the ultimate.
Education, employment, living independently. Of all the milestones the two have passed, none compares to this: forming a union that formally takes them away from their families and places them in each other's care, forever.
 The deacon cut short his sermon to keep from crying. Tears followed the smile lines frozen on congregants' faces, from special-ed teachers to hog-hunting buddies to John's Island clients of their families. Emotions ran so high that one family friend warned the couple to brace for the deluge of "crazy love."
Only the bride kept her composure, head bent to the task beneath a gossamer veil, as even her groom dissolved repeatedly in tears.
"It's everything you dream of for your kids," says Linda Colontrelle, mother of the bride and dean at Indian River Charter High school, and formerly a dean for 15 years at St. Edward's School. "I know from whence Maria came to where she is now. They are unsung heroes."
"I could tell he was in love early on," says Carolyn Helseth, the mother of the groom, who works as a property manager along with husband Niles.
"They're the perfect couple," says Dennis Bartholomew, Sun Up's director.  "These guys are ready."
In Bartholomew's five years at the center, which serves 80 to 120 clients, this is the first couple to be married. Three others  in long-term relationship may be next in line, he says.
"Oh, they love this," Bartholomew says. "Especially the girls."
 David Helseth had noticed Maria, a shy blonde, on her first day at work. "She came in and I thought, This is weird. She's new. I thought, I wouldn't mind asking her out for a date."
He cooled his heels, but not for long. "I waited a couple of weeks, and then I wrote her a note and asked somebody to give it to her."
Maria sent it back, saying no. "I was nervous," she says. "And I had a boyfriend up north."
That boyfriend was set up by her parents, the son of a family friend, also with special needs; the relationship was mostly limited to phone calls. The gregarious David, on the other hand, had already gone through an engagement that ultimately fell through.
"I waited a while, and I asked her again, for Valentine's Day," says David.
"I asked all the people in the bakery about him," says Maria.
Cindy, Heather, Mary, Joanne. Apparently, all reports were positive.
On Valentine's Day, his parents drove him to Maria's apartment, armed with an arsenal of romance. Like Maurice Chevalier in "Gigi," he remembers it well; Maria, his Hermione Gingold, finesses details.
"I brought her candy and flowers," says David, beaming.
"You bought me a cookie and a balloon," Maria interjects. They sit at the kitchen table of the house they now share.
"I bought you a Valentine's card," David continues.    
"You left it at Chili's," Maria frowns. "They didn't have it when we went back."
Love blossomed nevertheless.  If Publix was their Paris, their parents served as chauffeur, dropping them off at movies, the bowling alley and Sun Up Center for coffeehouses and dances.
 They also became active in special-needs Scouting, the designated benefactor in lieu of  gifts at Maria's shower at Quail Valley.
Though they had to be convinced of the charitable gesture ("Oh, they like their stuff," says Linda Colontrelle), they raised enough money to take the troop to Nashville last month for a tour of Graceland.
"I'm a scout leader, she's an assistant scout leader," David declared, though the distinction provoked some debate.
Slowly, a bond evolved that appeared to weather a barrage of adjustments, ordinary in other relationships, but all-important in theirs. While the match may have relied on Cupid, it was counseling that got them to the altar, as friends, families and counselors shared in preparing them for a life together.
For two children with similarly mild delays, both considered to have borderline intellectual functioning, they were raised with very different philosophies.
The Colontrelles are a driven, high-achieving  Italian-American family, and their children, all graduates of St. Edward's, reflect it. Son John, the oldest, went to Boston College, Maria's other brother Danny went to West Point and served two tours in Iraq.
Daughter Laura went to Villanova University (Maria frequently flew up to visit) and now works as a financial adviser. Laura served as David and Maria's personal trainer at Christie's Family Fitness Center, where they buffed up and slimmed down for the wedding, David shedding the last of the 100 pounds he lost in recent years.
The Helseth's children are successful as well; daughter Elizabeth is a physical therapist; Nila is in banking. Toward David, they are "very protective," says Carolyn Helseth.
The Helseth family, Vero pioneers who first settled here more than a century ago, believes in reassurance and positive reinforcement and takes care not to push David beyond his comfort zone. "I kind of overlook things," says Helseth. "Normal people don't like to be put down, and neither do people with special needs. I think that's a sin. Don't fuss at them for dust on the floor."
Things are different at the Colontrelles. "We've never allowed Maria to believe she has special needs," says Linda Colontrelle.
"Don't sell these kids short," she goes on. "These are children with the same goals, the same dreams, the same aspirations as everyone else. If we don't set the bar high for them and make them accountable, their lives come to nothing."
While Maria has lived on her own since age 18, David has lived at home.
"I like all my children to be right in my house, right in their beds. I'm that kind of mother," says Carolyn Helseth.
Daughters Elizabeth and Nila, married and living in North Carolina, were born to the Helseths after they adopted David at three weeks of age, unaware of any delays.
Maria's birth was complicated when she presented as a footling breech. Both David and Maria achieved milestones like sitting up, crawling, and walking, later than average babies.
Maria went through third grade at St. Edward's, then transferred to various public and private schools through ninth grade. David's education was public, a mixture of mainstream and special-ed classes, ultimately earning a diploma from Vero Beach High School.
Neither set of parents spared any effort to diagnose and remedy their child's needs.
Carolyn Helseth's parents paid to have David spend a summer at a special school in western Kentucky.
The Colontrelles at one point hired a pediatric neurologist from Sarasota to assess Maria's circumstances. 
 "As he was leaving, he said, 'If every one of my clients could choose where to live, it should be Vero Beach. It's big enough to cultivate whatever strong points they have, yet small enough to watch over these kids and protect them.' "
Throughout Maria's life, his words came back to her. "If it's raining, someone drives them home. If they cross the street without looking both ways, I get a call. I owe thanks to so many people I don't even know about."
Maria's successes have been in gaining independence. She began working in her early teens, first at St. Ed's summer camp, then at the Ocean Grill, where owner Charlie Replogle's special-needs brother John has worked for years.
"It was her first real crack at working," says Linda Colontrelle. "It was a leap of faith, and she did it. She loved it. And the people there extended themselves to the point where her confidence and her self-esteem were raised."
From there she went to Publix. That was 10 years ago. Today both David and Maria work at the store on 12th Street and U.S. Highway 1.
"Publix is probably the best organization known to man," says Linda Colontrelle. "They not only hire special-needs people, they take care of them, they protect them, they nurture them. She's proud as she can be of being a bagger." 
Meanwhile, Maria participated in all the family's activities. "If I ever got protective, her siblings would push her along. She swam, she skied right alongside them."
Tom Corr, owner of George E. Warren Corp., used to ski with the Colontrelle family, along with his wife Carol. Corr kept in contact with Maria on the slopes using a walkie-talkie that prompted her to call him "Mr. Bond."
"She still calls me that today," he says.
At 18, Maria moved into an apartment owned by the family with a special-needs roommate. Her grandmother, who has since passed away, lived in the larger unit next door, where David and Maria now live.
Family ties to both sides are still strong. After church with David's parents, the couple heads to a lively Sunday dinner for 16 at the Colontrelles, which David made a point of toasting at Friday's rehearsal dinner at Quail Valley.
The Helseths, by contrast, lead a quiet life. "We're just two boring old people," jokes Carolyn Helseth.
Niles and Carolyn Helseth are semi-retired. He was a biologist at Ciba-Giegy, she taught at Glendale Elementary. Today the Helseths manage properties in John's island and Windsor.
They are founding members of Immanuel Church, a breakaway from First Baptist. They do not drink; since 2000, Carolyn has been a vegan, at the directive of Jesus, she says.
"We aren't religious," she says. "We have a relationship with Jesus. There's a difference."
It was at First Baptist that Carolyn Helseth first met Maria and her mother, in a "mom's day out" day care program.
"She was a beautiful little girl, with thick blond hair," recalls Helseth.
The Colontrelles were aware of David too. "He was handsome and charming," Linda says. 
Together, the two families have worked hard to make David and Maria's relationship work. 
"Both families made me realize how difficult this is," says Susan Cobb, long-time friend of Linda Colontrelle, who met Carolyn Helseth at a La Leche League meeting more than three decades ago.
"They both have instincts that say, 'Over my dead body is anybody going to do anything wrong to my kid.' It's really a testament to them that they have gone out of their protective mode to let their kids soar."
Cobb, a financial advisor with Wells Fargo's beachside branch, who has known Maria since birth, volunteered to be the couple's financial advisor. With input from both families, she has worked out a budget that takes them to age 90.
They set up a joint account with an ATM card, and now pay bills online. One family member from each side keeps a password to the account for oversight.
"At first, it felt kind of strange," says David of the new ritual to withdraw Cobb's budgeted allowance. "I used to take my check to the bank and cash it and go out. Now I put my bank card in, and I get $20 and she gets $20 to spend however we want."
 David and Maria enthusiastically track the account, calling Cobb for guidance, sometimes three or four times a week.
"They're excited about it," says Cobb. "Last week David broke the blender jar, and he went right online to Oster and ordered a replacement. He called me up and asked me, 'Thirty dollars. That makes sense right? That's cheaper than buying a new one.' I told him, 'You bet, David. It sure is.' "
Her coaching includes safeguarding against people exploiting their generosity, or worse.
"I told them, when you each get your $20 a week, you are to put your money in your wallet right in front of the cashier, before you even turn around," says Cobb.
Just as he bought Maria's engagement ring, David has already paid for the honeymoon hotel – the Polynesian at Disney World, "with the monorail right through it." Meal tickets and admission fees have been given them as gifts. Beyond that, they have their own money to spend.
"I can't stop them from spending a hundred bucks at the Disney store -- it's their honeymoon," says Cobb. "At least it's in traveler's cheques."
With time, it seems, that equanimity has come to prevail over even the most serious subjects.
"Us 'normal' folks -- so to speak -- we take life too seriously," says Sun Up's Bartholomew. "These guys over here, they know how to live life. They dance, they sing, they hug -- it's like going to Greece."
Indeed, the reception at Oak Harbor rivaled anything Greek, never mind big and fat. There were stone crab claws and an ice sculpture, a jazz band before dinner and a rock band after, when Maria's family led the crowd in a one-by-one Youtube-style dance, with David taking the prize for lack of inhibition.
After a huge fireworks display, guests  took home candy emblazoned with a saying that in the frenzy before the wedding, Linda had repeated often: "Once in a while, right in the middle of an ordinary life, love gives us a fairy tale."
The next day, a limousine – not driven by their parents – drove the couple to Disney World. It will be the first time they have ever gone on a vacation by themselves.
Joked Linda Colontrelle: "I don't think Disney World will ever be the same again."