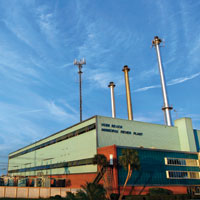 What goes on inside the Vero Beach power plant?
Probers investigate claims of racial harassment and theft
STORY BY LISA ZAHNER - STAFF WRITER (Week of Nov. 11, 2010)
The City of Vero Beach has hired a Miami law firm to investigate a power utility employee's complaint that he was subjected to repeated racial harassment and, most recently, told to falsify inventory records by his superiors.
Employment and labor law firm Ford & Harrison is collecting documents and interviewing employees about allegations of racial and ethnic harassment, after an Indian employee filed a complaint with the city claiming repeated incidents over three years.
The employee's complaint, filed in October and obtained by Vero Beach 32963, alleges that the harassment began on the day he arrived.
"My first day at the power plant, the Director, Mr. Jim Stevens told me that 'there were a lot of redneck employees at the facility and I should not take offense to anything they may say or do that would be offensive.'  He also reiterated to me, that 'whatever happens at the power plant, stays at the power plant'."
Interim City Manager Monte Falls confirmed the probe.  I take discrimination very seriously," Falls said.
The specific events spelled out in the complaint occurred in 2010, and provide a look inside the plant's culture, where employees routinely use racial slurs, derogatory language and, in this specific case, allegedly made references to the complainant's ethic background.
Many of the statements relayed in the complaint are personal, vulgar in nature and laced with profanity. Some refer to the size of the employee's wife and to the ethnicity and appearance of his children in a derogatory way.
The employee claims that he has been paged on the power plant intercom system as "Bin Laden" and as "Saddam Hussein."
"Mr. (name withheld) will constantly refer to me as "mother (expletive) Hindu" or if we were talking about something and he did not agree with me, he said "you mother (expletive) Hindu, let me go get my gun from my locker," the employee wrote.
The employee said that although he was unhappy and uncomfortable with the racial and ethnic comments over the years, he only decided to file his complaint this fall when he was asked, he says in the complaint, to falsify records.
The employee claims his supervisor repeatedly demanded that he falsify inventory records for which he was responsible. He claims that he was told to move expensive plant components from inventory to "in service," meaning they were installed, but that when he checked with the mechanics, they could not account for when or where the parts had been used.
"Due to this inventory issue, I have received harassment from (name withheld).  He wants me to give in and allocate parts that don't exist to work orders," the complaint states.
Earlier in the year, the employee claims he was asked to provide documentation to back up a falsified fuel inventory after the Orlando Utilities Commission delivered more fuel oil to the power plant than was invoiced, then OUC caught the mistake later.
"There was an instance, where OUC did not charge us the correct amount for the fuel use; I informed Jim Stevens about it, he said: 'Don't worry about it, don't tell them about it.' All of this is documented and there is proof of all this," the complaint states.
City emails between Stevens and OUC show that the city squabbled for weeks with the Orlando provider over oil deliveries.According to the employee, he attempted to work things out with his supervisors and co-workers and filed the complaint only when those attempts did not result in improved work conditions.
The complaint concludes by expressing the wishes of the employee to work things out:
Since filing his complaint, the employee has been put on paid administrative leave pending the investigation.
Days before the employee sent his complaint to Anderson, the power plant staff gathered for a meeting billed as "harassment training." It was recorded on audio by the city.
In that recording, plant employees are heard asking Stevens whether calling each other  "Jews and Wops" was off limits.
When another employee couldn't hear the question, Stevens repeats it, "(name inaudible) asked if 'Jews and Wops were off limits," Stevens says. He never answered the question.
The roomful of workers is heard laughing.
_________________________________________________
Tape suggests employees seek to abort sale to FPL
STORY BY LISA ZAHNER - STAFF WRITER (Week of Nov. 11, 2010)
In public, Vero Beach City staffers assure City Council members that they are cooperating with Florida Power & Light in its analysis of the potential purchase of the municipal electric utility.
In private, things may be very different.
In an audio recording made recently by the city of a staff meeting called just before an employee filed a harassment complaint, Power Resources Director Jim Stevens is heard telling his 28 power plant employees that there are some mysterious "real numbers" the city doesn't plan to give FPL.
When asked why he and the city manager don't fight back when the critics -- specifically Dr. Stephen Faherty and Glenn Heran -- call for the sale of the electric utility, Stevens replied that he's frustrated over the city's failure to defend itself.
"Every time I go to a meeting, I tell them that, you need to rebut these guys, you need to do that," Stevens is heard saying. "No, we're not going to do that, because their numbers are made up numbers. Our numbers are reality. We're not going to tell FPL what our real numbers are."
The October 20 audio recording of a training session about harassment policies shows Stevens and employees spent about half the 26-minute meeting completely off topic, discussing what the city was doing to fight off an FPL sale and what harm a "new Council" could bring to the city and its staff.
"That is very disconcerting to me," said Councilwoman Tracy Carroll, after listening to the audio cassette provided by the city in response to a public records request.
"I'm not sure how Jim Stevens will be able to explain that statement. How can it mean anything other than what he said?" Carroll said. "It sounds like they have data, data they haven't made public or are not sharing."
Several times, Stevens talks about "looming" issues and about the anticipated "new City Council." He said that it would be very tough to get funding for anything and that the new Council might slash the staff of the plant by as much as one-third.
"Look at it this way. You've got a new Council that comes in," Stevens said.
"Yeah. Scary," an employee replies.
"Alright, Power Plant Director, you've got 28 employees over there. You've got to cut it by a third," Stevens said on tape, mimicking an order he might receive from City Hall. "That could very well be a reality, gentlemen. They don't realize that we've got all kinds of auxiliary equipment, and they don't care."
"We can't even cover our vacations," said another employee.
"They don't care. They really don't, okay," Stevens is heard saying. "I just want to tell you that I will continue to do my very best to fight for everyone's job, okay. We're part of the OUC contract, I'm comfortable in that, okay. I just want you to be prepared for what comes down the road with this new Council. You'll never know."
During the staff meeting, at least three times on the tape Stevens assures his staffers that -- no matter what the City Council votes -- a sale to FPL is impossible due to issues with the municipal bonds and due to the provisions of the OUC contract.
Based upon Stevens' assessment that the utility cannot be sold, employees questioned their leader about what may come next.
"What, what's your take on how this all might get resolved, like as soon as they realize the plant can't be sold, then what do they do?
"You know, heaven forbid if we get a whole entire Council that that's their only focus is selling the plant and once that's done, are they going to be capable of running the city?" one employee asked.
"They want to sell the electric plant," Stevens responded, adding that any such decision to sell would also need to be approved by the Florida Public Service Commission.
Carroll questioned whether Stevens was acting on his own in disseminating the message that the utility can't be sold, or if that's what he had been instructed to say.
"He's painting a doomsday scenario, that you don't know what's coming down the road with this new Council," Carroll said. "I don't know if these attitudes are coming from him (Stevens), or if this was what he was hearing from the previous City Manager and the department heads."
The meeting was audio taped because employees had been summoned to receive human resources training on the Personnel Rules regarding harassment and discrimination.
Interim City Manager Monte Falls assured Carroll he would facilitate her access to whatever staff members and information she needed, and that "any information that had not already been turned over to FPL" would be made available.