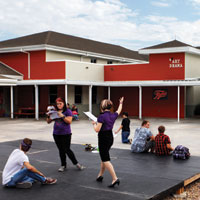 Charter high: Vero's best kept education secret
STORY BY MICHELLE GENZ - STAFF WRITER (Week of Oct. 28, 2010)
It began as an experiment in public education, one of the first charter schools opened in the state of Florida. Today, the Indian River Charter High School embraces nearly 650 students, with 35 island families opting to send their children there this year.
For the first time, the county has agreed to give the charter high school more than $1 million of property tax money to build permanent classrooms in place of deteriorating portables. It was not a gift freely given; three years of debate preceded it, and controversy, even resentment, continues to simmer over the split vote.
What is indisputable is that Indian River Charter High School has become a public school option with much to recommend it.  Yet it may be the county's best-kept education secret.

SAT scores in writing and critical reading were the highest in the district last year, higher than the national mean. With a full offering of AP (advanced placement) classes as well as some IB (international baccalaureate) courses, IRCHS strongly promotes dual enrollment  at Indian River State College, whose campus it shares.
Its teachers, non-union, are all certified. Its graduates go on to study at colleges including Smith, Brown, Wesleyan, and Mt. Holyoke.  The arts academy,  comprising half the student body, includes would-be actors already signed with agents and auditioning for roles; others go on to top conservatories like Boston's Berklee College of Music and Belmont School of Music in Nashville, and  highly competitive arts colleges like Ringling School of the Arts and Savannah College of Art and Design.
And the charter school's golf academy, run in conjunction with Pointe West, teaches course maintenance and club management, as well as the game of golf with a PGA-certified pro. Administrators believe it to be the only such academy in the nation.
Indian River Charter High School typically signs up 10 to 15 children annually who are transferring from the island's private K-12 school, St. Edward's.
Ivan Lendl sends his daughter Daniela there. Jose Daniel Flores, director of music at Community Church, enrolled his two children.  Web Walker, a strong supporter through the Orchid Island Rotary Club, sent his son, Henry.
Those families chose IRCHS despite a campus that runs on a budget so lean it cannot afford a custodian.  There is no cafeteria;– kids heat up lunch in their homerooms, cross the street to a fast food place, or eat at the designated school lunch location, Café 1901, downtown.
Eight aging portable buildings still house 16 classrooms, scheduled for replacement but still in use.
Until John's Island residents John and Kathy Schumann donated $350,000 towards classrooms for the arts academy, the school operated out of a barracks-like brick building that once served as a dorm for prison guards training to serve at the juvenile detention center.
This year, for the first time -- and after three tireless years of lobbying -- the Indian River County School Board  agreed to share its property tax money for capital improvements with the county's four charter schools. 
As public schools, charters get the same state funding per pupil for operating expenses as district schools. But for construction and "hard" improvements, charter schools are funded differently. The state divides a set sum among all charters, and that sum may fluctuate from year to year.
State statutes give counties the option of kicking in with more, and the state's nearly 400 charter schools are lobbying to make that sharing mandatory, an idea that irks some school district administrators.

"This is really not good public policy," says Michael Degutis, deputy superintendent.  "The whole idea of charter school is that they can do it better and cheaper than school district. Come to find out now we have to give them money. It's counter-intuitive that you have to give them public tax dollars when the movement was to do it much more efficiently than we're doing it."
Board member Debbie MacKay, who along with Claudia Jimenez voted against the fund-sharing, is concerned that the charter high school doesn't serve enough low-income students.
"I think we are creating a dual education system," MacKay says. "That's not helpful for our community."
Board chair and founder Gene Waddell estimates the black student population at IRCHS at around 9 percent. "Nobody ever gets turned down," he says. "Charter schools are part of the 'schools of choice' in Florida. People choose you because they want to. The same applies to magnet schools. We get the word out like everyone else does."
Meanwhile, beachside benefactors continue to support the school. Along with the Schumanns, John's Island philanthropist Dick Stark, long a fan of the school's assistant director Ray Adams, former music director of Community Church, has been an avid supporter. Until health issues arose in recent years, he has regularly rounded up friends to take to the annual fund-raising performances like this year's November 4, 5 and 6, with a medieval theme.
"We found it to be a fascinating display of young talent and innovative leadership," says Stark.
Over the past eight years, officials say the school has raised $1 million on its own. Along with the staging annual fall fund-raiser themselves, students fan out into the community, guided by Ray Adams and choral director Gary Miller.
As performances filled island clubhouses at holiday time, members of the audience reached out to the school with substantial donations, including significant help from yet another John's Islander, Martha Lemasters, who was moved to donate after a choir sang there at Christmas.
Developer Mason Simpson, who with his family started a foundation offering college scholarships to needy children, became a board member at Charter about the same time his daughter Christine began asking to transfer to Charter from St. Edward's.
Christine, whose last name is Smith, had spent six weeks abroad on a summer program. There she met several kids from Charter.
"She was dead set on going there, so we took the tour," says Simpson. The Simpsons' tour was before the Schumann building was even built. Nevertheless, they and their daughter were impressed, particularly by staff. "They were very responsive," Simpson says.
When Christine was pulled out of class for a random drug test one day, "she was absolutely thrilled," her mother says. "They were following through, and she just loved that."
There are considerations for beachside families who opt for Charter High School. Families have to figure out transportation, and take into account the school's open campus, which runs on college-type class schedule that extends for 13 hours a day. 
Parents and students must also sign a contract agreeing to drug testing as a condition of admission and allows for random testing throughout the year. A positive test can mean immediate dismissal.
That rigid foundation was the idea of two people, both passionate about education. Waddell, owner of a prominent island insurance agency, served six years on the local school board.  Judy Jones, who taught adult education, seized on the budding concept of starting a mom-and-pop school that would focus on the simplest of values: respect.
"I wanted to go to a school where teachers would care and student could get along with each other," says Jack Paige, an AP student who is also dual-enrolled at IRSC. He plays guitar in the senior jazz band and wants to major in music in college.
His father, John Paige, is an entomologist with Bayer. Jack Paige opted for Charter over VBHS after going to the Freshman Learning Center, with his parents' "full support," he says.
Today, administrators and teachers claim classrooms with virtually no discipline problems. "If you're not Charter material, you don't last long," says Paige.
Over time, a dozen or so St. Edward's teachers moved west to the Charter school, including Linda Colontrelle, who serves as dean there.
As for academics, the school, which is required as are all charters to give the state's FCAT test, rose from a "B" to an "A" based on its scores. "We have graduates at Smith, Brown, Wesleyan, everywhere," says director Cynthia Trevino-Aversa, who replaced Judy Jones.