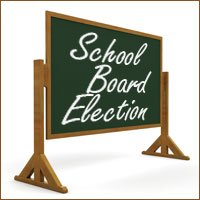 School Board race focus of beach interest
STORY BY LISA ZAHNER - STAFF WRITER (Week of Oct. 14, 2010)
The runoff election for a seat on the School Board pitting former prosecutor Jeff Pegler against businesswoman and substitute teacher Kimberly Keithahn promises to be the only county-level race worth watching in November, with the candidates splitting 32963 residents' support.
Together, the two have raised more than $44,000, with more than $15,000 of that coming from barrier island residents or businesses owned by barrier island residents.
Keithahn, 44, a North Beach resident for five years, has raised nearly 60 percent of her campaign dollars from the barrier island and Pegler, who married into the long-time beachside Block law family, has raised nearly $1,000 more from 32963 folks than Keithahn, making up about 25 percent of his war chest.
The business and professional communities also seem divided in this race, with 33-year-old Pegler getting more than his share from doctors and lawyers in town, while Keithahn has gotten checks from people like Chester Clem, Karl Zimmerman, Gene Waddell, Connie Poppell and nearly every elected official in the Town of Indian River Shores, where Keithahn's father, Michael Ochsner, serves on the Town Council.
Pegler, a mainland resident for the past four years, has picked up a lot of support from the Grand Harbor neighborhood where his in-laws take up residence, from County Commissioners Bob Solari and Wesley Davis and from Vero Beach Mayor Kevin Sawnick. The extended Block Family has come out strong supporting Pegler, who is a partner in Block, Block & Pegler law firm, as have long-time associates the Dan Richardson Family.
As of the latest financial disclosure reports, Pegler had raised three times more than Keithahn, using much of that money to plaster the county with large campaign signs.
Both candidates have used beachside connections to host house parties, "friend raisers" and fundraisers at places like the Quail Valley River Club.
Former Shores Mayor Tom Cadden sponsored one event for Keithahn, along with local financial advisors Kyle Morgan and Tom Nelson. Cadden said he supports Keithahn because she's a good businesswoman and a fiscal Conservative.
Pegler is being boosted by many of those with a vested interest in Indian River County having good schools -- people who build and sell homes. Pointe West developer Chuck Mechling, Realtor Elizabeth Sorensen and The Hill Group's owner Toby Hill, who also heads up the local Tea Party faction, are supporting Pegler.
Keithahn has a lot of ground to make up from the primary results. After mounting the only serious challenge to Pegler in the non-partisan primary, Keithahn trailed Pegler in the Aug. 24 contest by about 3,800 votes.
Pegler received 9,768 votes to Keithahn's 5,972, sending them into a run-off election as no candidate received more than 50 percent of the vote.
An unknown factor in this race is "write-in" candidate Althea McKenzie, who chose not to participate in the non-partisan primary but wanted to be in the general election.
Different views of the job
Keithahn, who channeled her energies into being a mom after 15 years in the business world, thinks serving on the School Board is a full-time job. In addition to working as a substitute teacher, Keithahn has attended nearly every School Board meeting and workshop to get an idea of the time commitment the job requires.
She believes that taxpayers expect a School Board member to put in long hours to keep things running right.
"As a current resident, and only candidate, in the 32963 zip code, I fully understand the fact that nearly 50 percent of our property taxes go to fund the public school system with diminishing returns," she said.
Pegler was motivated to run for School Board based on his experience working for the State Attorney's Office in the Juvenile Division. Still a full-time attorney, but now in private practice in Vero Beach, Pegler considers the role of the School Board to be that of a policy-making body and a body entrusted with hiring and empowering qualified and accountable top staff.
"I am running for this position as a businessman and attorney who is deeply committed to Indian River County, and I recognize that we need a practical and professional perspective on the School Board as we make decisions that will impact not only our children, but our grandchildren," he said.
New Superintendent should be top priority
One thing Pegler and Keithahn can agree on is the importance making a prudent choice when hiring a new Superintendent of Schools to replace Dr. Harry La Cava, who has announced he will retire in June, as is required by the state pension system.
Keithahn called the choice, "the most important hiring decision this Board will face over the next five years."
Keithahn echoed this, stating the qualities she would look for in a new leader would be outstanding communication skills, a proven track in leadership of a school district of similar size (preferably in Florida), a positive reputation with teachers and parents and a verifiable supporter of charter schools.