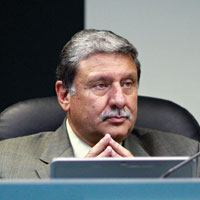 Schools handling of harassment allegations cause for concern
STORY BY LISA ZAHNER - STAFF WRITER
(Week of September 2, 2010)
Despite sexual harassment allegations against Indian River County Schools Superintendent Dr. Harry La Cava, the School District failed to properly document or independently investigate the verbal complaints of a victim and a witness, according to documents obtained by Vero Beach 32963 and interviews with those close to the case.
The School District says that it did not have any written complaint against La Cava from the woman who was allegedly harassed, and so had nothing to investigate.
But the District's handling of the sexual harassment allegations – whether true or false – reveals multiple causes for concern: Top administrators did not take steps to facilitate the employee's ability to file a complaint, required a written complaint before they would investigate any allegations, did not seek a lawyer independent of the School District to investigate or conduct an investigation, and downplayed the possibility that an employee might be afraid to come forward if the allegations involved the powerful Superintendent of Schools.
Instead, the law firm that advises the School District and La Cava investigated a related complaint – only after it was submitted in writing -- that the Superintendent retaliated against former Human Resources Director Kevin Browning for raising the issue by demoting him.
The firm ultimately reported that La Cava could not have retaliated against Browning since nothing had occurred, but faulted Browning for claiming to have looked into allegations without bringing them to the attention of the School Board.
Knowing that La Cava has final say as to who gets hired and fired, and in a climate of two years of severe layoffs and budget cuts, employees remain afraid to step forward and file formal complaints, say Browning and others.
"Some people say they don't want to report things.  It's because of the way the governing board replies -- to kill the messenger and attack the victim," Browning said.
Browning has maintained that he was told that La Cava had made sexual advances to a female employee at School District headquarters, that La Cava had singled her out over a period of time, and that the allegations were common knowledge in the building.
He says the allegations were brought to him as Human Resources Director for the district, he talked to LaCava about ceasing the behavior, and that the Superintendent agreed.
 An official close to the School District's handling of the La Cava matter confirmed -- on condition of anonymity – that La Cava had been accused of harassment involving the same female employee "a long time ago" and that the matter "was handled." Nothing of this kind was ever brought out in a public forum.
The woman at the center of the incident has received a transfer she asked for out of the School District office to a local school, and earlier this month declined to speak to Vero Beach 32963 other than to say she never filed a written complaint and wanted to be left alone.
LaCava has denied doing anything inappropriate.
When it investigated the Browning matter, the School District characterized La Cava's behavior as possibly "flirting."
School Board members Debbie McKay, Matt McCain, Karen Disney-Brombach and Claudia Jimenez on June 16 received Browning's written complaint regarding La Cava. In that email was a detailed account of sexual harassment claims he investigated involving the Superintendent, and Browning's account that he personally gave La Cava a warning at the beginning of the 2009-2010 school year to stop such conduct.
The email also contained Browning's formal complaint of retaliation, saying he was punished with a demotion to become principal at a low-enrollment school that is on a list of schools that could potentially close in the future, putting his job at stake.
Vero Beach 32963 has obtained a copy of Browning's report, which was not made public by the district. It details a chain of events involving La Cava, which go back more than a year.
"That is the standard Incident Report that I did every time I investigated something as the district's Equity Coordinator," Browning said. "It's the same form of report I did when I investigated the hazing incident and the incident of a teacher sexually harassing a student."
As Equity Coordinator, Browning was in charge of making sure that the district protected employees' and students' rights under the U.S. Equal Employment Opportunity Commission rules. He often conducted investigations of very sensitive matters involving allegations of discrimination or harassment.
In the report -- which Browning filed after receiving notice that he was being demoted and shipped out of his position as Human Resource Director -- Browning says that he listened and tried to protect the female employee in question; he said his hands were tied because the incident included the top man in charge, and the woman involved did not want to file a formal complaint.
According to that report, Superintendent La Cava was seen by another district employee inappropriately touching a subordinate in a conference room. Vero Beach 32963 is not naming either employee nor precisely describing the nature of the allegations.
According to the report, the witness later confronted the woman, who denied La Cava had done anything untoward, while at the same time acknowledging that he made her uncomfortable. The witness also told Assistant Superintendent of Curriculum Fran Adams, La Cava's number two in the School District, and retired Executive Director of Curriculum Sue Curtis about what she had seen.
It is unclear if Adams or Curtis took the matter further. Adams and Curtis both declined to be interviewed.
"Others are aware and have witnessed the behavior," Browning wrote. "The subordinate victim has applied to (another school) for a similar position. She wants to leave due to the environment in big part due to his (La Cava's) advances."
Browning then interviewed the woman.
 "I said, is everything (the witness) told me true? And she replied, yes. She then said 'I will deny it.' I asked why, and she said, 'I don't like confrontation. I will cave under pressure. I may resign,'" Browning wrote in his report.
Browning took it upon himself to look into the matter, but at the time, he didn't document what he was doing and he didn't tell his direct supervisor, the retiring Dr. Julius "Butch" Teske about it. Browning said he was concerned enough to have a chat with La Cava, and the behavior supposedly stopped.
The official investigation report from the School District's attorney's office mentions that Adams was interviewed, but does not detail any statements she might have made to the investigators.
The female employee in question eventually got the transfer she wanted,  and says she now just wants to be left alone.
"Some of the things in there are not true and I feel like I'm being harassed by someone in the administration to further their own purposes," the subordinate told Vero Beach 32963, declining to discuss the matter further.
The woman who witnessed the incident also declined to be interviewed, but her personnel file revealed a decades-long tenure with the school district, exemplary performance reviews and a spotless record.
Administrators involved in the case, including La Cava, also refused our requests for interviews.
"Neither Dr. La Cava nor Dr. Adams wishes to comment on this. We are very focused on what's most important now, which is back to school," said District spokesperson Patricia Vasquez.
The report released by the School Board in July did not comment on the validity of any of the sexual harassment allegations.
The investigator appointed to do an investigation of La Cava over Browning's retaliation complaint works for School District Attorney Usher "Larry" Brown and for his firm. 
The School District pays the firm a retainer of about $20,000 per month, plus fees and expenses.  The annual charges range from $350,000 to $400,000 per year for the services of the attorneys who spend about one day per week in Vero.
Brown and his firm work closely with La Cava. The associate did the interviews and wrote the report at Brown's request; Brown's job is to make sure that complaints like this -- which could open the district to expensive lawsuits -- simply go away.
"That's what I expected when I saw it was not an independent person (investigating)" Browning said. "That's what you'd expect is for them to have an independent person do the investigation, but that's not what happened."
Since none of the employees involved with the allegations of sexual harassment filed written complaints, none of the school board members asked for an independent investigation of these allegations, in accordance with district policy.
But even while casting doubt in the report on Browning's claim of retaliation on his claim that he had confronted La Cava over the allegations of sexual harassment, the lawyer for the School District made it clear that the district works to head off written complaints.
"The alleged harassment victim does not believe that Mr. Browning had anything to do with stopping any unwelcome behavior by the Superintendent," the report says.  "The female employee stated that some unwelcome behavior described by Mr. Browning occurred prior to April of 2009.  She said the unwelcome behavior stopped immediately, however, when she notified the Superintendent through a text message in April of 2009 that she just wanted to come to work and do her job, and wanted nothing more from the Superintendent.  The female employee said that the Superintendent's behavior changed from that point forward, and that she had no problems since that time.
"The female employee denied telling Mr. Browning that her supervisors did not address the situation in 2009, as Mr. Browning stated.  She said that her supervisors, including Dr. Fran Adams, Assistant Superintendent of Curriculum and Instruction, helped her confront the situation and resolve it without filing a formal complaint."
Local experts in labor relations law say that entities such as School Districts for the most part only proceed with formal investigations of sexual harassment in preparation for defending themselves against lawsuits -- not just for the sake of protecting a victim's rights.
The only School Board member to return our telephone call was Claudia Jimenez. Jimenez told us she didn't think it would be productive to bring out information that might sully the name of the outgoing superintendent at this point since he must retire soon, and efforts are already underway to find his replacement.
However, Jimenez did say that she was interested in looking at taking a more proactive approach to situations involving harassment complaints going forward, if there is support among her fellow board members to do so.
As for Browning, who started the school year as principal at Pelican Island Elementary School, he stands by his statements and his incident report. He said he's still weighing all his options with regards to his demotion.
"I'm still considering," Browning said.  "I'm in limbo."