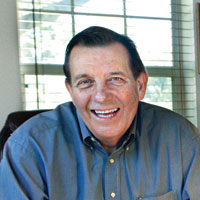 Tom White: 'I may want to come back'
STORY BY IAN M. LOVE - STAFF WRITER (Week of Sept. 16, 2010)
Tom White has new-found energy that he says is borne of shedding close to 60 pounds, and at age 65, he appears  to  have a lot of fight left in him.
He will no longer be expending it on the City of Vero Beach, however.
As he leaves his seat this fall, ending a 13-year career in public office as a Vero Beach City Council member (five years as mayor) , White reflected on his tenure on the dais and the last several turbulent years in an interview with Vero Beach 32963.
Love him or hate him – and there appear to be plenty in both camps -- White has left his mark on Vero Beach.  He is the consummate Vero cheerleader, and is unapologetic about the positions he has taken and votes he has cast while in office as a councilman, vice mayor and mayor.

White agreed to sit down with Vero Beach 32963 to discuss his successes, his disappointments, his frustrations and why at this crucial juncture he is choosing to step down.
In White's estimation the city's response to the disastrous 2004 hurricanes was the shining moment of his time in public office.  From his vantage point, people came together in crisis. To his critics, the response was heavy-handed and dotted with questionable decisions and lax supervision that cost taxpayers in the long run.
The result of the controversy was the firing of City Manager David Mekarski  after he was charged in an ethics complaint along with White of allowing city workers to use public resources to fix the properties of city leaders and employees, and allowing alcohol to be consumed during the crisis. Mekarski and White were later cleared of all charges by the State Commission on Ethics.
"How do you defend that?" White asks. "Everyone wants to believe that other stuff, that every night they were having drunken parties."
What White remembers of that six week span was a city in chaos and in need of a Mayor who was willing to push the envelope to get the city in working order.
"We cared, we cared about the people and wanted to make sure they were as comfortable as they could be during a rough time," he said.
"We had people coming together, helping each other," he said. "We had non-essential personnel helping the essential personnel, the guys doing the electric work, trying to blue-tarp their roofs so they didn't have to worry about their homes leaking while they were out restoring power."
The city provided food and water to the workers, something for which White was later criticized, but for which he remains unapologetic.
"I didn't see that we did anything wrong.  Yes we fed them, we gave them peanut butter and jelly sandwiches. We had other people come in and we made sure everybody was fed and was hydrated, they were there helping the city. We took a big hit on that when everybody came back, they thought that was ridiculous. But it was all reimbursed by FEMA.
"The reason they are auditing us (the city is currently being audited by FEMA over the 2004 hurricane response) is that they want to make sure everything was done correctly and it was because we had people from FEMA working with us and showing us how to submit the bills."
When White successfully ran for City Council in 1998, there were contentious issues to be sure, but they were more centered on the quality of life in Vero Beach rather than the pocketbook and budgetary concerns that drive much of the discussions today.
"People were interested in low density and low height restrictions -- they didn't want a lot of development," he said. "Then as the years progressed, they wanted more business to move in, they wanted a little bit more density. Economics has been the governor of how things have changed.
"Back then we were doing okay, but now that money is tight, they want more clean industry to support the community. I very rarely hear from the Indian River Neighborhood Association any more.  They used to have a voice in everything we did.  Now, it is business owners."
For his part White is against too much change coming to the city, even if he is paying a personal price for that luxury.
"I don't want us to meld into South Florida.  We need to grow, but we need to grow at a slow pace and guide it in the right direction," he said. "You shouldn't say because we need more tax revenue we will start to build high rises. Remember the more dense you become, the worse the traffic becomes."
He counts as two of his top accomplishments while on the Vero Beach City Council stopping development on the Lost Tree Islands and helping to develop Royal Palm Pointe after the state moved the Barber Bridge to its present location and left the businesses there in limbo.
White voted in favor of the $8 million Royal Palm Pointe project in 2000 over the protests of some who were against the development.
"We had supporters, but we also had some people who were against it.  They were afraid the construction was going to hurt their business, they didn't like the plans, they thought there was too much parking, a whole list of things," he said. "But we forged ahead and after it was built, it was like people did a complete 180."
Yet as he traveled and lobbied for Vero, White racked up considerable travel expenses on taxpayers' dime.  While he says he traveled to conferences as part of membership in statewide organizations, some of the posh resorts he stayed at raised eyebrows.
"Nobody pays me for my time away from work," he said. "This is all done because Tom White wants to be involved and do right by the city. When you travel there are no fun and games. I get up at 5:30 or 6 a.m. and start meetings at 8 a.m. The only time we might have a little fun is at dinner when we all go out to eat, but you have to get to bed early because you have to get up early for more meetings."
White remains unapologetic about the trips he has taken in and out of state on behalf of the city, saying that face-to-face interaction is critical, and has saved millions of dollars for Vero Beach.
"I am a member of the Florida Municipal Insurance Trust," he said. "I am a trustee.  I helped save $1 million in insurance costs for Vero Beach this year because of my involvement with them."
If he has disappointments, White says they are few; he does have regrets, but they are of a more personal nature.
"Every time something is said against the city and its employees, it hurts," he said. "I feel that everyone has worked hard to make this a great city.."
He also regrets the turf war the city is waging with the county over services and utilities.
"The county elected officials and city elected officials seem to get along okay," he said.
"I think the staffs and the directors are not getting along. I feel there is not enough cooperation between us and that hurts both of us. We have always gotten along for years with the county.  This seems to have started all of a sudden ever since the county withdrew from our (agreement to share recreation services)."
One issue that drew much fire over the last couple of years was the proposal to start a city-run health clinic for municipal employees, ostensibly as a cost-saving measure. White says he was never on board, but the process required hearing all sides.
As the issue quickly came to a boil, it was clear the proposal had come in with little research by staff and few details to support possible savings.  The Council was skewered.
"I think the media played it out more than what we were considering," he said. "The outcry from the citizenry outweighed any savings staff thought they were going to make. We had to listen, we had to weigh all this stuff and if the press let it alone, who knows where it might have ended up.
"So the press might have actually done us a favor by constantly weighing in. People would call us and tell us what they thought. If you notice it hasn't been brought up since."
But the most contentious fight he's seen has been over the city's decision to enter into a longterm contract with Orlando Utilities Commission to provide power to the city over Florida Power & Light.
White was a key player in the deal, having signed the contract on behalf of the Council as a whole and agreeing to keep the deal secret for two years after the city accepted the proposal. The secrecy, the meetings behind closed doors and the millions spent on pricey consultants bore down on White and the rest of the Council as the public clamored for answers.
White says he championed getting Vero Beach out of its disastrous deal with the Florida Municipal Power Agency which led to the deal with the OUC.

"A lot of people don't understand that when we put the contract out for bid, OUC came in first, they were lower than Florida Power & Light, that is why everybody thought the rates would be lower than FP&L," he said.
In the end, OUC's deal continues to keep local electric utility customers paying rates higher than FP&L. The way the Council handled the electric issue brought a groundswell of opposition that saw two Council members ousted last fall (Debra Fromang and Ken Daige), the election of local gadfly Brian Heady, and the appointment of a mayor in his 20s, along with continued calls for sale of the electric utility.
White says he would favor selling if the city can get the right price. "As I have said, I would sell the power company if FP&L came in with a decent proposal," he said.
He believes the city would lose something, however, if the utility were to be managed by FP&L.
"I love my city, I do not want to just meld into the county," he said. "I want us to have that independence of our own utility, our own sanitary, our own airport, our own marina.
People come here because of the low millage rates.  Yes the utilities are high, but we are combating that, we have brought our rates down considerably and we are still working on bringing them down more."
While White might pine for a more idyllic time when city matters centered on keeping our corner of paradise pristine, taxes low and growth to a minimum, those days are long gone.
 To even the casual observer,  the City Council is in disarray. The council has been accused repeatedly of rubber-stamping staff recommendations.
Councilman Heady is suing Vero Beach over being denied the right to bring up matters during public meetings. The Council seems to have lost its way to efficiently and effectively conduct the people's business. 
White is annoyed by it all.  Heady is usually the one he blames.
"I am frustrated, but let me clarify, it is not the reason I am not running," he said. "I've always been able to handle Mr. Heady, even when he was a gadfly. I was Mayor five years and he came up in front of me constantly.  I never had him arrested.  I did have to shut him down a couple of times and have him escorted away from the podium. He is a critic, this is what he lives for, this is how he gets his name recognized. He'll give sound bites and the people will gasp and say, 'Oh my, the city is corrupt.' 
"What frustrates me is that now that he is an elected official, he needs to change hats. Instead of criticizing the city, he needs to figure out ways to make it better."
He says the constant bickering and looming budget cuts have taken a toll on the city staff and him personally.
"I think that the morale is a problem, because of the negative things that have been going on, and because of the economic climate we are in, people are upset," he said.
"The police officers are upset because they don't want to lose 5 percent of their salary or pay higher for their insurance.
"The morale is at an all-time low, and I am starting to notice that in the people I am talking to. They don't have that get-up-and-go, they don't have that enthusiasm, that passion. I think that has brought me down a little bit too.  I feel like sometimes I am beating my head against the wall. It's hard to get anything accomplished."
Never one to shy from a fight, White said that when the subject of running for another term came up, his family asked him to step aside.
"A lot of my supporters are upset that I am not running, but my family requested that I not run," he said. "I have my wife, two daughters, four grandchildren, plus 27 other people who are related and live in Indian River County.  Jan (his wife) wanted me to spend more time with her and the grandkids and on the business, and I don't blame her.
"A lot of my relatives say we can't blame you, you have been beaten up a lot in the paper. As I have said, if it bothered me I would have left a long time ago, but when it starts bothering my family, it begins to bother me."
And while Veroites might not have Tom White to kick around for the next couple of years, ever the politician, he did not completely shut out the possibility of a return to office.
"I don't know how much longer I am going to have this energy," he said. "I don't know in a couple of years, I may say I want to come back."