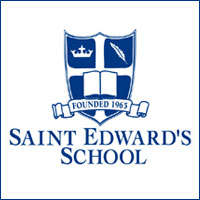 St. Ed's honors five who helped  save the school
The beaming head of St. Edward's School, Mike Mersky, unveiled a plaque last week bearing names of five island families who each pledged $1 million to help save the school from foreclosure last year. The bronze plaque near the administration building marks the first time the names of the biggest donors have been revealed.
"You will be recognized in our school's history," Mersky told the small crowd assembled during a break from morning classes last Thursday.
The five families were among those who have pledged a total of more than $10 million to the so-called Pirate Fund – set up to retire $15.3 million in debt that resulted from an overambitious expansion begun in 1999.  All the Pirate Fund pledges were for $50,000 and more, and are to be paid out over five years.
Within that same time frame, it was learned last week, the former lower school campus in Riomar must be sold in order to satisfy an agreement reached with the bank last February to retire the debt. The property was under contract last fall, with plans to either raze the building and build luxury homes or turn the building into a charter school. That deal fell through. In the meantime, Mersky said, the campus continues to be used for St. Edward's special events and sports practices. 
Four of the five donors honored last week were founders of the Pirate Fund: St. Ed's board chairman Ron Edwards and his wife Kathy, Lorne and Heidi Waxlax, Bill and Mary Ann Becker, and Liza and Matt Gaston. Patricia and Richard Burgoon were also $1 million donors. All have children and in some cases grandchildren who are currently students or alumni of St. Ed's.
"You've all secured the future of the school," said Anne Storch, the school director of development. Now, begins the work of building an endowment, she added.
"We want to keep St. Ed's. We think it's a vital part of the community," said Patricia Burgoon, whose grandchildren attend St. Ed's, and whose daughters and daughter-in-law are all "very active" volunteers at the school. "It's always been a very important part of our lives."
Burgoon, a year-round resident who moved here with her family 15 years ago from Orlando, echoed other donors in her effusive praise of Mersky. "Mike Mersky is a fabulous leader. He has lightened our hearts," she said.
She also spoke to the involvement of many on the island to keep the school's doors open. "It's been a real community effort. People know the importance of a school like St. Ed's. A lot of people wouldn't come here without it."
Other very significant donors include former headmaster Peter Benedict and his wife Nancy; Denise and Joseph Corr; Wheatie and Bob Gibb; Allison and Donald Proctor Jr.; and the Richardson family foundation.
On the walkway by the administration building where the plaque was unveiled stood three generations of St. Ed's supporters. Sandy Kahle, Dan Richardson's daughter who along with sisters Nancy Luther and Susan Hopkins pledged a gift through the Richardson Foundation as well as a personal gift, said she felt the school had "finally found its size," referring to the recent downsizing by nearly 200 students and 13 teachers and support staff.
Last fall, all 12 grades began meeting on the same south-island campus, after renovations were made to playgrounds and classrooms to accommodate the lower-school children.
Kahle's grandchildren, Grace and Devon Kahle, joined their parents Dolf and Susan, in praising the combining of the two school campuses. Grace, a seventh-grader and Devon, a 10th-grader, both said they enjoyed having the whole school come together for events like Easter Chapel and Grandparents Day.
"Everyone seems really happy on the playground," said Grace.