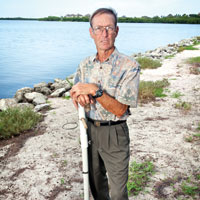 Mucking it up: Dredging lagoon with no toxin testing
STORY BY STEVEN M. THOMAS, (Week of August 25, 2011)
Photo: Dr. Hal Goforth gathered his own core samples when evaluating the Florida Inland Navigation District's dredging containment area and activities along the Indian River Lagoon..
Fourteen years after planning began for a massive dredging operation, the Florida Inland Navigation District has gathered virtually no scientific data about possible chemical contamination of the muck that will be removed from the Indian River Lagoon and stored for decades in an environmentally sensitive area known as Duck Point.
A 2006 study by Florida Institute of Technology Marine and Environmental Scientists John Trefry and Robert Trocine found that muck in the lagoon contains mercury, lead, selenium, vanadium and other chemicals, and that the amount of mercury in lagoon clams doubled between 1992 and 2006.
Exposure to mercury may lead to increased incidents of leukemia, liver cancer and other health problems, according to numerous reports.
Despite those warning signs, the inland navigation district has not analyzed lagoon muck to test for toxins since 1997, when it tested one sample scooped from the surface in a single location.
This summer, in response to public protests at a June 7 county commission meeting and pressure from county and state officials, the district agreed to new testing, but its first proposal, which would have taken more surface samples and one deeper sample, was rejected as inadequate by the Florida Department of Health, Trefry and other scientists.
The scientists say multiple deep, or core, samples are needed for accurate analysis because the muck in the lagoon is four feet deep in places and studies have shown the highest levels of metals and toxins are found in the bottom layer of sediment.
"The muck contains contaminants that come from a time when leaded gasoline was the dominant fuel for cars and boats and environmental restrictions on many discharge sites such as battery shops, auto paint shops and gasoline stations were totally unregulated and unmonitored," says Hal Goforth, a retired biology professor and navy diver who opposes dredging without adequate tests.
"If you take three feet of muck off and leave the final most toxic foot, you have just uncapped a layer of potential poison that can get redistributed into the river. You could pollute the whole lagoon."
With the 70-acre storage pit under construction in Sebastian and dredging of 140,000 cubic yards of muck scheduled for late 2012 or early 2013, the district has yet to come forward with a new plan to test the material it will dump across the river from the Pelican Island National Wildlife Refuge.
Barrier island residents are divided in their opinions about the project, which will take place between the Wabasso Bridge and a point half a mile north of the Indian River/Brevard county line.
Fishing guide Captain Bruddy Tyson says he opposes what the district is doing because of potential damage to lagoon ecology.
"There are good sea grass beds near Duck Point and this project may mess them up, with construction and pumping equipment in that area," Tyson says. "The sea grass helps purify the water in the lagoon and it is a good place to catch snook, red fish and trout, especially in the winter and spring.
"The stuff they dredge up probably has nitrates from fertilizers that have settled to the bottom of the lagoon and some of that may leak back into the water. All their data is out of date, so they don't really know what they are dealing with."
David Roach, the district's executive director, says the impact on the river will be minimal. "Honestly, you will hardly be aware that anything is going on," he says.
The district's own website seems to contradict that. In the navigation notices sections it states, "Mariners should operate vessels with caution in the area (of dredging) due to potential for floating debris, increased traffic due to the operation, and large equipment working in and along the waterway."
"If they are pumping dredge material they are going to have a piece of equipment there full time," says Bruddy.  They are going to have to fuel it and oil it and clean it and that will impact the lagoon which already gets enough impact from road runoff and other sources."
George Marshall, commodore of the Moorings Yacht Club, located 15 miles south of the dredging area, says he doesn't see a problem with what the district is doing. "Part of the Moorings is built on dredged material placed 30 years ago and I am not aware of any problems associated with that material," he says.
More recently, the Moorings dredged its own harbor and placed the material on its golf course and that has not caused any problems either, according to Marshall. "It appears that the Indian River Lagoon is not polluted," he says.
Roach doesn't foresee any problems, either. "We don't think the results have changed [since the single 1997 sample]," he says. "Intracoastal Waterway sediments, especially in the subject area, have always tested as non-contaminated.  There are no contaminate generators in this area of the waterway." 
Frank Marshall, a Sebastian resident who doesn't want dredge material stored at Duck Point, which is adjacent to a number of houses and condominium communities, believes the 1997 chemical analysis is itself cause for concern. 
He writes on his blog that nearby residents who rely on well water should know that the test conducted 14 years ago found a mercury level that exceeds the threshold effect level by 46 per cent, even though inland navigation district stated in its permit application that "all metal concentrations are below the threshold effect level, indicating they are unlikely to cause biological effects."
County Commissioner Wesley Davis believes new tests are needed. "The fact that they are relying on data that old is a legitimate cause for concern," he said at the June 7 meeting.
"A 14-year-old analysis is inadequate," says Florida Department of Health spokesman Randy Merchant. "To assess the potential health threat from dredged sediments we would need up-to-date, comprehensive chemical analysis for multiple sediment samples."
Shortly after the public outcry at the commission meeting, which was attended by more than 100 dredge project opponents, State Representative Debbie Mayfield wrote to Roach "requesting that the district collect updated data and conduct a new public hearings due to the fact that the originals occurred in the mid-90s."
The district's failure to keep the public better informed of its activities seems to have been a mistake.
When construction commenced this spring on the $8.7 million dredge material containment pit, it caught residents by surprise. Discovering what was going on second-hand in a piecemeal way stirred up fear and resentment.
Roach counters by saying there were adequate public hearings about the project when it was first conceived, but thousands of residents have moved into the area since that time.
The population of Sebastian more than doubled between 1990 and 2010, from 10,205 to 21,929, according to the U.S Census, so many living near the dredge storage area did not have an opportunity to learn about or comment on the district's plan.
"They say they made this public over the years, but if you look at the dates of their data – I was living in New York back then," says Don MacArthur, an association president at Pelican Point of Sebastian condominiums, which border the south end of FIND's site. "I didn't know anything about this, and most of the other people living here now didn't know about it either. We all moved down here because of the quality of life in this place, and now this thing pops up in front of us. Who wants to live next to something like this?"
 "There hasn't been adequate public notice" about this project," Commission Chairman Bob Solari said at the June 7 meeting.
After the 1997 testing, the district acquired in 2001 the 180-acre property in Sebastian known as Vickers Grove and turned it over to the Army Corps of Engineers. In 2007, the district began the permitting process for the dredge material storage area on the site, which is being built by the Corps. As part of that process it collected additional muck samples in 2008 that it tested for organic content to help determine how long the material would take to dry. But it did not test for toxins.
The inland navigation district is a special taxing district created by the Florida Legislature in 1927 to create and keep open a waterway along Florida's Atlantic coast – and it has secured all the permits needed for the containment area construction. Permits for the actual dredging are still in the works, according to Mark Crosley, the district's assistant executive director.
Dredging is expected to take six to eight months and cost approximately $2 million, according to Roach. He says district will produce a new plan for toxin testing within the next 60 days.