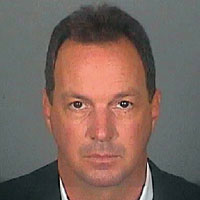 Accused Vero art thief loses bid for more freedom
STORY BY EILEEN KELLEY, (Week of December 22, 2011)
Photo of Matthew Taylor
Matthew Taylor now lives in Marina del Ray. He's free to go out to eat three times a day. He's free to visit art museums where he says he is conducting research as part of his defense. Taylor is free to visit with his attorney on a daily basis should he wish.
Yet, the 43-year-old Vero Beach art dealer whom authorities call a fraud and thief still says he is unfairly being imprisoned in his California home while he awaits a spring trial on a litany of charges that could land him behind bars for a very long time.
A federal judge in California last week was not sympathetic to Taylor's bid to be released from his house arrest.
Taylor was arrested on the barrier island in mid-September after a federal indictment accused him of selling some $2 million in bogus pieces of artwork that he passed off as the work of masters, as well as stealing hundreds of thousands worth art from a high-end California art gallery.
After spending almost a full month month behind bars in Fort Pierce, Taylor in mid-October was transferred to California and charged with seven crimes that included wired fraud, transferring stolen art across state lines and money laundering.
Taylor posted the $300,000 bail – $100,000 himself, another $100,000 in a secured bond was posted from his cousin Brittany Taylor and an uncle issued a promissory $100,000 should it be needed.
But before being free to go, Taylor was outfitted with a GPS unit that monitors his moves.
He has since signed a one-year lease in an apartment in Marina del Rey where he and Rebecca Larkin, his 24-year-old Vero Beach girlfriend, pay $3,590 in rent each month.  They have transferred a Lincoln SUV out to California for their use and Taylor and Larkin have obtained California driver's licenses.
Taylor provided the court with evidence that he had established his residence in California when he attempted last week to persuade a judge to release him from the confines of the GPS unit. He told the judge he has now re-established himself in California as a resident and therefore should not be considered a flight risk.
Prosecutors say that is hogwash and contend that he has the means to flee and the incentive.
Before moving to Vero in the mid-2000s, Taylor had been a California resident after growing up in south Florida.
Taylor complained to the judge that the GPS monitoring device was cumbersome.
"I have been in full compliance with pretrial services even though it is an extremely difficult burden. I have spent a good deal of time at my attorney's office researching the case and preparing for trial. I have gone to at least three art museums for research purposes with the permission of pretrial services and quickly eat my meals given the short period of time I am allowed for dining."
Taylor told the judge it was unfair that he is not allowed to go to the gym.
"I request the court remove the GPS home monitoring restriction because I feel it is unnecessary and burdensome. I wish to take my girlfriend, who is not familiar with Southern California, around the Central District so that she may be more familiar with the area and better able to get around."
William Karges, to whom Taylor is accused of selling a stolen piece of artwork, bristled last week when he was told the latest in the Taylor criminal case.
Karges won a civil lawsuit early this year when a judge ordered Taylor to pay Karges more than $1 million. After Karges bought the artwork, a Granville Redmond painting for $85,000, he then repaired the frame of the piece and turned around and sold it for $236,000.
Only then did he learn from the Los Angeles Police Department that the piece was stolen. Karges then had to refund the $236,000 and turn over the artwork to the authorities. In the end, he was out the $85,000 he paid Taylor.
Karges said last week has yet to recoup any of the money Taylor was ordered to repay.
"I cannot believe anyone would believe anything that comes out of that man's mouth," Karges said.
Prosecutors have taken a similar view and it is likely that is the reason Taylor is still on the GPS unit.
Taylor has also been unsuccessful at attempting to persuade a judge to reduce his bond to the initial $100,000 that he posted and effectively free his family members from being responsible for his freedom.
Federal agents suggested in court papers that in doing so, Taylor could be attempting to make a run for it and that just because he signed a lease on an apartment doesn't lesson any risk of him running.
In fact, the prosecutor contends the judge should revoke Taylor's bond all together and put him behind bars until the trial begins.
"Because the defendant has repeatedly given false information to the court, he cannot be trusted to abide by the conditions of release," Prosecutor James Bowman told the judge.
Several months ago, federal agents unearthed an off-shore account in Taylor's name and told the court Taylor had opened the account when he transferred roughly $350,000 to the Bahamas.
That account mushroomed and as of Sept. 29, officials say Taylor had $600,431 in the First Caribbean International Bank account.
It appears much of the money disappeared again, court records show.
Taylor told the judge the money was spent on his mother's care even through Taylor's mother Patricia Taylor died nine months ago. Taylor mother had lived on the barrier island in Vero Beach since 2004.
"We have spent, between legal fees and my mother's care, almost all of the money. The money is gone and gone and gone," Taylor told a judge on Oct. 19, according to court records. "There is not $600,000. You're welcome to check the balance."