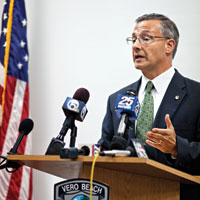 Interim police chief so far gets plaudits
STORY BY LISA ZAHNER, (Week of December 8, 2011)
Photo of Interim Police Chief David Currey.
Over the past month, Vero Beach residents have seen a seamless change in power in the Vero Beach Police Department to a man who was thrust into the spotlight by a pair of horrific crimes.
In addition to serving as interim police chief, David Currey has emerged these past few weeks as Vero's chief information officer and even as the city's chief consoler.  But for many, his face and history are largely unknown.
According to City Manager Jim O'Connor, Currey will continue in his post for the foreseeable future while he decides what direction to take the leadership post.
O'Connor said he is in the process of getting to know Currey, his strengths and weaknesses and what skills he commands as an administrator.
The next few months in beginning to hammer out next year's budget, O'Connor said, will show whether Currey's management style matches that of his boss and of the ultimate bosses – the Vero Beach City Council members.
Currey always played a supporting role to the often embattled former Chief Don Dappen since being promoted to second in command in 2005. At meetings, he dressed in business attire and was always at Dappen's side, usually with some paperwork in hand that his boss might need if asked for details or statistics.
Soft-spoken and unassuming, Currey, 46, is the veritable antithesis to Dappen's brash and combative style.
When Dappen was asked to retire back in October, Currey, remaining loyal to Dappen pending the outcome of the dust-up between the former chief and O'Connor, gave diplomatic answers to questions about succession.
"Of course I'm ready," Currey said, when asked if he was prepared to take over the department.
"But I'm ready because Chief Dappen has mentored me along in the position and brought me along. I think any chief wants to bring somebody along who can step in and fill their shoes," Currey said.
"There's just so much involved – internally and externally – it's just a day-in, day-out, you just do the best job you can," he said.
Internally, Currey is leading a department that has been retooled to do more with fewer resources, plus dealing with the inevitable disappointment at seeing their leader forced to retire about three years before anyone thought he would be retiring.
Tragic as they were, the two recent homicides required every hand on deck to run down leads and solve the crimes, and may have facilitated the coming together of the department as a cohesive whole.
The job – not the internal politics of staffing and budget cuts – became the Vero Beach Police Department's singular focus and Currey rose to the occasion. He was the right man in the right place at the right time.
Externally, Currey handled the public expertly, instilling a sense of security and even calm in a crisis. In dealing with the media, he stumbled a few times and, in the confusion of an active investigation, let out a few contradictions during press conferences. But he relied upon nearly 21 years of police work to get him through what must have been a challenging few days for a newly minted police chief.
Currey was hired on Jan. 19, 1990 by then-Chief Jim Gabbard as a basic recruit, filling a position left open by retiring Capt. Carl Pease, who, incidentally, went on to be a Vero Beach mayor.
The Baltimore native who was raised in New Jersey brought with him a bachelor's degree in criminal justice from Stockton State College. He completed an internship with the Atlantic County Prosecutor's Office and served as a special police officer with the Ocean City, N.J., Police Department. He also served seven months in the New Jersey Air National Guard before moving to Vero Beach in August 1989.
After completing the Police Academy in May 1990, Currey was assigned the duties of patrol officer and got a raise from $8.50 per hour to $9.15 per hour upon graduation from the academy.
Currey moved through the ranks of the department with steady promotions to corporal in 1994, sergeant in 1995, lieutenant in 1998 and captain in 2001. He was assigned as commander of the department's Operations Bureau, which he said encompasses everything but road patrol officers.
Currey's personnel file is thick with letters of commendation and awards, including the Life-Saving Medal in 1991 and the Exceptional Duty Medal in 2001. He is a graduate of the Southern Police Institute and has completed various special training courses, including narcotics identification and investigation and breathalyzer administration.
Many of the letters in the file represent his willingness to work with other agencies from the sheriff's office to Indian River County Fire Rescue. Former Vero Councilman Brian Heady said he saw evidence of successful collaboration last month during the investigation of the fatal shooting of Central Beach resident Brian Simpson.
"When I was out at the scene, I saw everyone working together, the Vero police and the sheriff's office," Heady said. "It was clear that the two agencies were cooperating very well."
Heady on Nov. 24 wrote O'Connor commending Currey for his leadership and urging O'Connor to make the temporary promotion permanent, and also to eliminate the deputy chief position, in light of the current budget constraints.
Heady said he got no commitment from O'Connor to do so, but that the city manager said he would take the recommendation under advisement, as he considers the whole of the feedback from the city's residents about Currey.
Currey's current base pay is $50.87 per hour, but inclusive of incentives for certifications, Currey is paid $60.85 per hour by the City of Vero Beach.