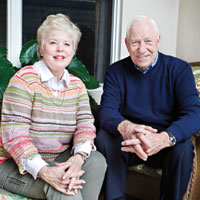 Vero's Al Worden then and now
STORY BY MICHELLE GENZ - STAFF WRITER
(Week of February 17, 2011)
Anyone passing Al Worden's Vero Beach home wouldn't know who lives there from the man on the moon.
But when the garage door is up, he might as well be sitting atop a Saturn rocket at Cape Canaveral. His parked pewter Porsche bears a telltale license plate: Apolo15.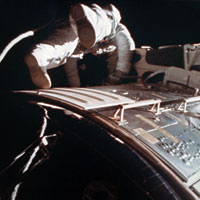 Worden is one of only 24 people on the planet who actually went to the moon 40 years ago. But he's still scratching his head about the vanity plate.
"I don't know why I got that license plate. Sometimes I wish I didn't have it," Worden says. "Especially when I'm in a hurry."
Indeed, Worden is often in a hurry – he keeps an intense schedule of speaking engagements, and that will be escalating when his new autobiography, "Falling to Earth: An Apollo 15 Astronaut's Journey to the Moon" is released by Random House in July.
He is not worried about delays from the Indian River Shores police pulling him over with a plate that might suggest a blastoff down State Road A-1-A. Worden is not a speeder, or a thrill seeker, although he no doubt speaks from a skewed personal threshold.
Rather, it is the endless interruptions in parking lots, where the sight of him getting out of the car with that license tag triggers memories of the hero's welcome the world gave to the Apollo astronauts returning from the moon.
That moment has defined his life. Last month, there were ceremonies at the Cape for the 40th anniversary of the Apollo 14 mission, and to commemorate the lives lost in the Challenger explosion, 25 years ago.
And on Feb. 7, he celebrated his 79th birthday. That was not nearly as momentous an anniversary for Worden.
 "I don't look at age," he says. "I don't care. I'm as active now as I was 30 years ago. I don't think of myself as getting older. The day I slow down is probably the day I'm going to stop."
Indeed, gravity hasn't had much effect on the youthful Worden – or his pretty wife Jill, for that matter. They met when he moved to northern Palm Beach County.  "We know our neighbors really well, but we're not in the mix of things all the time."
Worden's reentry into civilian life post-NASA was conjured up with one of his best friends, GM president Ed Cole, who was himself about to retire. Cole was going to set up Worden with a Cadillac dealership  in Florida. "We would drink Mai-Tais on the beach," says Worden.
He was going back to school at Michigan's Northwood University for a course in the automotive industry when Cole died in an airplane crash in 1975.
Meanwhile, Northwood invited Worden to stay on and teach. Eventually he came down to Florida to help raise funds for a campus here. In 1979, he moved to Palm Beach Gardens, buying a house in PGA National. It was there that he met Jill. Together they noticed the town in total transformation as PGA Boulevard swelled from two lanes to eight.
"We could see what was happening when we saw that traffic."
They lived briefly at Admiral's Cove in Jupiter and still unhappy, came north to Vero.
They bought a place in Sea Oaks in 1989. By then, Worden was running a research firm with a Canadian partner and had invented and patented an aviation program. When BF Goodrich signed the license for it, they lured Worden north to help with it.
Eight years later, he moved south again, and owned homes in Mariner Village and Marbrisa before finally settling in his current north island neighborhood.
For a boy whose mission in life was to get off the family farm, Worden certainly succeeded – by about 239,000 miles. Raised in Jackson, Mich., he ran the farm for his father, a "city boy" who left the milking, plowing and baling of hay to Al from the age of 12.
"It was a great motivating factor," he laughs. "I had only one guiding principle — to get off the farm."
By high school, while not an athlete, he clearly showed leadership. As student body president with good grades and a stack of honors including the American Legion award, he was sponsored by a local congressman to go to West Point. 
There he starred not as a quarterback, but as a cheerleader; gymnastics was his sport. It never crossed his mind to become an astronaut.
"There was no such thing as space," he says.
Worden's joke wasn't far from the truth, at least in terms of man's presence there. President Dwight D. Eisenhower was ambivalent about manned flight.  It wasn't until Vice-President Lyndon Johnson reported back to President John F. Kennedy that he thought the Americans could beat the Soviet Union to the moon, that Kennedy funded the program that would ultimately carry Worden into lunar orbit and put 12 Americans on the moon's surface.
Not that primates weren't already headed out of this world. This month, Worden is hearing a lot about them as he lends his time to a benefit for Fort Pierce's Save the Chimps Sanctuary. Little did he know settling in Vero that some rangy, raucous neighbors to the south were his cohorts at NASA.
In 1948, while Worden was still in high school, rhesus monkeys were launched above the earth to see whether weightlessness and the launch itself could cause key organs to fail.
That did not happen, though nearly all the monkeys died of various other causes, all particularly awful: explosions, failed parachutes, overheating waiting to be retrieved after their return to earth.
Then in 1959, a chimpanzee captured in Cameroon began "training" for a Mercury flight into space. He was taught to pull a lever within five seconds of seeing a blue light, using "positive punishment" -- a banana pellet for the right response, and a mild shock to the feet for a wrong one.
In early 1961, the chimp was strapped in and launched from Cape Canaveral. In space, he pulled the lever only a fraction of a second more slowly than on earth, and returned suffering only a bump on the nose. He was christened "Ham" – but only after NASA knew he had survived.
Fifty years later, it is Ham and other primates used in space that Al Worden is honoring with an appearance at the Save the Chimps benefit Feb. 26 at McKee Botanical Garden. He will be joined by fellow astronauts Robert Crippen and Scott Carpenter.
The restored McKee Garden is celebrating its own 10-year anniversary, the same as the Save the Chimps sanctuary. McKee – a tourist attraction dating back to the 1920s, once featured its own chimpanzee pair – Napoleon and Josephine. The two had more or less free reign over the park, and amused tourists by eating their meals with plates and forks.
McKee fell into disrepair until 10 years ago when the historic gardens were restored and reopened.
That year, the late University of Florida anthropologist Carole Noon rescued her first chimps, many originally from the space program, and eventually gave them new homes at her Save the Chimps Sanctuary in Fort Pierce. It is now the largest chimp sanctuary in the world.
Al Worden has yet to see the facility, which is generally closed to the public for the chimps' sake. When and if he does, he might empathize with at least the poking and prodding the space chimps went through – Mercury astronauts often complained of feeling like lab animals in the early days of manned flight.    
Worden started out a fighter pilot, about as evolved a human task as any. On graduation from West Point in 1955 he was recruited into the Air Force. Having just missed the Korean conflict, he took his risks testing out new planes and equipment and eventually taught at test pilot school before being chosen for the space program in 1966.
One year later in 1967, three astronauts in training to travel to the moon on what would be known as Apollo 1, died horrifically when fire raced through the lunar command module, still on the ground at Cape Canaveral.
"It was high-risk. Still is," says Worden. "But at that same time, three men died at Edwards (Air Force Base) in airplane crashes. You just didn't hear about them."
Those Apollo 1 astronauts were honored in the ceremony Worden attended last month, along with others who died in the shuttle disasters, the Challenger explosion in 1986, and in the catastrophic break-up of Columbia in 2003.
Now, with the shuttle program ending, U.S.-sponsored manned flight is on indefinite hold.
"It was a pretty phenomenal program," says Worden, speaking of Apollo. "We put six crews on the moon in a four-year period 40 years ago, and we haven't been able to do it since."
The reason is "politics more than funding," says Worden, a Republican who once ran for state representative when he lived in Palm Beach County; he lost in the primary against Tom Lewis. 
"The funding for the NASA program is ….miniscule. If you put that money into welfare programs, it wouldn't do any good. But NASA is a political football in Washington. For politicians who are looking to tell the public, 'We're cutting where we can,' it's a big deal that we can cut $18 billion."
By whatever fraction that sum reduces the proposed $3.69 trillion budget, the end of the shuttle program clearly will impact Florida's economy, and certainly that of Brevard County, Vero's neighbor to the north. Last week 549 people were laid off by the Houston-based United Space Alliance, on top of 1,200 NASA workers who lost their jobs in October. All told, an estimated 7,000 jobs will vanish like the vapor trail of the last shuttle launch later this year.
By contrast, he says the day he got the phone call saying he was selected for the Apollo program was "the best day of my life."
"I was walking on air – not realizing that when you got to Houston, you were like freshmen in college again, with the guys who'd been there, the old salts. You do all the dirty work to prove yourself before you make a flight."
He practiced his tasks in neutral buoyancy inside a tank of water, and dealt with "zero G's" inside a stripped-down Boeing KC-135 Air Force tanker, when the plane came over the top of a parabola, the astronaut's version of Thrill Hill.
He compared the training to learning to play piano: when it came time for the recital, he knew his piece by heart. By then, it was even rote for his children. "There's a famous picture of my two daughters during mission control at my flight. One of them was yawning."
Not everyone was so blasé. His mission was only the fourth time man had landed on the moon, and marked the first time the astronauts used a vehicle to cruise the moon's surface,  collecting samples and data. In terms of gathering science, NASA considered it the most productive mission ever.
 It was on a July morning in 1971, that the then 39-year-old Worden blasted into space atop a gigantic Saturn 5 rocket, strapped in alongside David Scott and James Irwin. 
They orbited the earth three times before soaring toward the moon and separating the lunar module with Scott and Irwin inside for its descent to the moon's surface.
 Meanwhile, Worden, as command module pilot, circled the moon 74 times, managing cameras and experiments. Three times, he ventured out of the module, his spacesuit tethered to an umbilical cord containing oxygen and a stainless steel cable for radio transmission.
"I had trained too well," he says. "I got the job done quicker than everybody thought. I couldn't think of a good excuse to stay out there, so I had to come back."
On his website, alworden.com, the TV and radio transmission from his space walk is played, at times sounding more like a stroll. 
"Beautiful job, Al baby," says a voice from Mission Control. "Remember there's no hurry up there at all."
 "OK," replies Worden. "I'm enjoying it."
Today, he says that moment, when he could see the earth and the moon at the same time, was the most awe-inspiring of his trip in space.
"I could cover the earth with my thumb," he says. "You look back, and you get this growing feeling that we're destroying it, all these little factions fighting each other. We were still in the Cold War, and I thought, it would be nice to take the president of the U.S. and the leader of Russia and put them together in space, and leave them together for a couple of weeks to look back on the earth. That would solve their problems."
On his recent visit to the Cape, Worden spoke to Kennedy Space Center director Bob Cabana, a former astronaut, about his outlook. "He's not feeling very good. Things are going to get tough," says Worden. "The Cape is going to be a pretty sad place. We're going to lose a very highly technical group of workers."
Worden says Melbourne, with its engineering-based economy, might absorb some of those workers.
But it strikes at an emotion beyond economic concerns that the U.S. is no longer pursuing the path he helped carve, and leaving the spoils of his success to the Russians, Worden's former archrivals in the race to space.
"We work with them now, truth be told. In five years, we'll be flying on Russian-launched vehicles," he says, shaking his head at the irony.