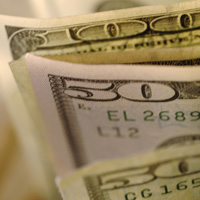 Another real life Vero city government story
Retiring your way to higher pay
STORY BY LISA ZAHNER - STAFF WRITER
(Week of February 10, 2011)
The most recent excuse from Vero Beach City Hall for the lack of financials when proposals are brought to the City Council is that the Finance Director is short an assistant ever since Jackie Mitts took a buyout last fall and retired after more than 35 years  working for the city.
Except that's not true. Within days of banking a nearly $7,000  buyout bonus intended to persuade employees to take early retirement, and walking away with more than $53,000 in accrued sick leave and vacation time, 59-year-old Mitts, an Indian River Shores resident, returned to work for the city part-time – at a higher hourly rate than she was making before.
In all, Mitts has earned $29,000 since Sept. 12, or about $5,800 per month as a contract employee. Some weeks she worked a full 40 hours. Those figures are on top of the $3,066 monthly pension she now receives from the city. In all, Mitts has been double-dipping to the tune of $9,000 per month on the taxpayer dime.
When asked about Mitts' return to City Hall less than two weeks after her retirement, Vero Beach 32963 was told she was hired back to help out because her boss, Finance Director Steve Maillet, said he couldn't find a suitable replacement.
The fact that a replacement would not be available was presumably known prior to her retirement. And when questioned by the City Council as to why he couldn't find a suitable replacement, Maillet did not reveal to the Council that Mitts was still working up to 11 hours a day in the department, dispelling any urgency.
"We can't make people apply," Maillet said. "We need somebody who can come to work and start working."
"I can stay here for some more years until replacements are found," Maillet added.
Meanwhile, at last week's Vero Beach City Council meeting, Maillet and Human Resources Director Robert Anderson were scolded by the City Council for taking more than six months to get serious about hiring an assistant finance director for the city.
"It's shocking that we have not filled this position since mid-August," said Councilwoman Tracy Carroll, who criticized the staff for not casting a wider net for the job.
Mitts retired on Aug. 31 and the job has been advertised since mid-August. Vice Mayor Pilar Turner said Mitts' absence had been given as the reason  why data regarding the water-sewer utility could not be produced.
Anderson said the job has been advertised only on the city website and through organizations serving local governments. The City Council expressed a desire to also seek people with private sector accounting experience.
"Have you not heard of Monster.com?" Carroll asked.
Vice Mayor Turner, realizing that Mitts' situation is just an example of a widespread problem, said: "I guess we do need to do a review of the employee policies as a whole, including the banking of sick and vacation time and the treatment of retired employees."
Mitts first became employed by the City of Vero Beach in 1972. She was 19 years old. Her father retired from City Hall, too, and her husband, Jim worked for the city filming the televised meetings until he retired last fall.
In our Jan. 27 issue, a story about the Vero Beach Finance Department  reported that Mitts only had an associate's degree and had earned $133,000 her last year.  We were told that number and her degree were wrong.
So we checked city records – again.
In fact we were partially wrong.  Mitts last annual salary was $76,000, plus health, life and retirement benefits. She earned $133,000 in her last year when all bonuses and salary were included. 
For retiring early as of Sept. 30, 2010, Mitts received a bonus of $6,698, representing one month's pay as a bonus.  On top of that, she received $36,537 for 120 sick days she had banked and never taken, and $16,746 for 55 vacation days she had accrued.  As for her degree, updated city records show Mitts earned a bachelor of science degree in accounting in July 2005, five years before she would retire and well after the 25 years of city employment she needed to receive a full pension. Only the associate's degree was listed on a resume in her file used to get the job in the Finance Department.
She obtained the bachelor's degree from Florida Metropolitan University -- a for-profit college now called Everest University -- in a long-distance learning program. The city reimbursed her $24,710.75 for that.