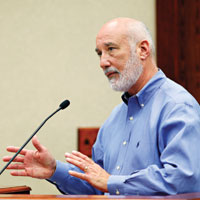 Rush to retire: Could it have anything to do with money?
Vero Beach City Attorney Charles Vitunac wanted to cut a deal to retire instead of being fired. Finance Director Steve Maillet has officially retired, effective this Friday, but also immediately returned to his post as a "part-time" contract employee at his same rate of pay.
Why is retiring from the City of Vero Beach suddenly such a hot option?
It turns out that long-term Vero Beach employees are eligible if they retire not only for all their saved-up sick and vacation time -- hundreds of days in some cases -- but also six months (20 work days per month x 6 months = 120 days)  of paid medical leave that they can take whether or not they are sick.
In the City of Vero Beach, 900 hours of medical leave is a parting gift, no questions asked. Retiring employees get it when they leave without having to document any medical condition or treatment whatsoever.
Employees who are fired, however, don't get that benefit.
That is the case with Vitunac, who has hired local attorney Louis B. "Buck" Vocelle to broker an $88,000 severance package for him, which he would receive on top of his banked leave time.  As a top paid employee, that money is substantial.
If Vitunac is fired, he'll get about $57,000 in banked vacation time he's built up. Employees, whether retired, resigned or terminated, get to cash out their accrued vacation or "annual leave" time up to 60 days.
In Vitunac's case, the 900 hours of medical leave he would be paid for amounts to a whopping $35,000.  In all, if allowed to resign, Vitunac would walk with $92, 638, plus an annual pension of roughly $75,000.
Maillet, who as Finance Director is familiar with these policies, locked in his extra 900 hours of medical leave when he announced earlier this week he would be retiring on Friday. 
Recent facts have emerged that Maillet apparently helped engineer a deal for his retiring assistant finance director to leave under a generous "buyout" deal last fall, that netted her one month's pay or about $6,800 to go. Less than two weeks after this long-time employee "retired," collecting all her banked sick and vacation time and activating her $3,044 per month pension, Maillet hired her back as a so-called part-time employee working nearly 40 hours a week, sometimes 11 hours per day.
With her pension included, she has been making about $9,000 a month on the taxpayer dime.
When City Council members learned of the deal, the sentiment was that Maillet needed to leave the city -- either voluntarily or by the same route as Vitunac.  The problem with that is the City Council has no direct authority over anyone except the three Charter Officers -- City Clerk Tammy Vock, Interim City Manager Monte Falls and City Attorney Vitunac.
Still, the pressure has been on the past week to do something about Maillet. The retirement buyout which Mitts took advantage of was Maillet's invention, designed to cut the budget without the pain of laying people off.
"It seems to me that some of the things that have been going on in the city could rise to the level of criminal fraud, if the city wasn't protected in this particular judicial district with this particular State Attorney," said Councilman Brian Heady.  "These things aren't unbelievable," Heady said. "They're just wrong, but they're not unbelievable."
The new City Council, bowled over by these huge expenditures as the revelations trickle out over time in the media, started this week taking a hard look at the city's policies with regard to accrued sick and vacation time.
"As a City Council person, I had no idea that these benefits were written into our employment policies," said Councilwoman Tracy Carroll.
Carroll called the situation "appalling" and said that a complete overhaul of the city's benefit offerings and policies is called for at this point if the city wants to get the budget under control.
"Huge corporations might offer benefits like these to their CEOs, but we're just a small entity in Florida," she said. "These policies have been written by our city staff for their own benefit, for the management of the city -- which has been the staff up to this point."
"I wish I'd been there for 30 years writing these policies myself to benefit myself," she said.
Carroll added that Vitunac's demand for a severance package on top of his benefits was ridiculous.
"Charlie Vitunac, through his attorney, claims that he has the right to demand for the citizens to pay him well over $100,000 after you add it all up," she said. "He is not entitled to that."
It will take a few months to analyze current policies, get recommendations, draft and approve new policies. Negotiating a transition with the city's union employees could take even longer.
So if the scurrying to retire continues over the next couple of months, it will not be a surprise.