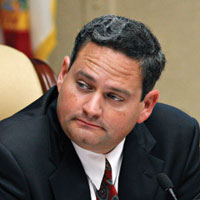 County demonstrates to Vero water and sewer utility solvent
The county took offense at Vero Beach Mayor Jay Kramer's recent claims that its water and sewer utility is in the red.
So Indian River County leaders came out to last week's City Council meeting to prove that their utility is more than solvent, and they are ready to talk about regionalizing services.
Kramer, among other things, publicly said at a Vero Beach Council meeting that he worried the county would try to sell the city some "snake oil" and that the county needed Vero to "bail the city out."
He later told members of the media that he based his assumption on what he saw to be a loss of $11 million in the county utility last year.
Instead, County Commission Chair Bob Solari, Budget Director Jason Brown, Utility Director Erik Olson laid out the water and sewer utility's financial position, capacity, logistical structure and debt. Commissioner Peter O'Bryan, County Administrator Joe Baird, and utility planner Mike Hotchkiss showed up in a supporting role.
The numbers, which showed the County in solid financial shape with substantial investment in infrastructure and an excellent cash position, seemed to contradict Kramer's statements. Rather than carrying a loss, the enterprise fund actually made a profit and added $3 million to cash reserves.
The difference was explained in $14 million of depreciation incurred on paper because the County has invested $104 million in capital improvements, repair and renewal projects over the past four years.
Indian River Shores Town Manager Richard Jefferson, as well as Shores Mayor Bill Kenyon and Councilwoman Frances Atchison were there listening. The Town has scheduled a workshop Thursday to talk about its own water-sewer issues.
The Shores has been in negotiations with both Vero and the County to determine which way it will go in 2016 when the current franchise agreement with the city of Vero Beach expires.
Neither Vero nor the county was invited to participate in Thursday's workshop at the Shores preceding a regular council meeting where the Town's utility franchise agreements are on the agenda. There were no backup documents available for the workshop, so it was unclear what exactly was to be discussed.
Commissioner Solari called for "open and contentious debate" on regionalizing the utility.
"It ought to be discussed because it is my belief that in about 10 years, city water and sewer rates will be somewhere between 50 percent and 100 percent higher than the County rates," Solari said, citing Vero Beach's own rate study performed by Public Resources Management Group in the summer of 2009.
Last fall the City Council voted to disregard the consultant's recommendations and repeal about $13 million in scheduled rate increases. The long-term consequences of this for the utility are still unknown.
County Budget Director Brown presented the balance sheet of the water and sewer utility and talked about the cash position.
Olson, who heads up County water-sewer utility, talked about the County's capacity to serve Vero Beach customers and explained that capacity has already been built into the system for every property owner or developer who has paid utility impact fees.
Olson also explained the connectivity of the County system and a couple of ways that regionalization might work.
"If nothing else comes out of this, it will pique some curiosity, pique some questions over the next few weeks," Olson said.
After the lengthy presentation, the Vero Beach City Council did not ask questions or discuss the topic, as the city is still in the process of completing a financial analysis of its own water and sewer system and does not have complete data for comparison purposes just yet.
Vice Mayor Turner has been working for more than three months to get solid historical data and rate projections from Water and Sewer Director Rob Bolton and Finance Director Steve Maillet, and she's called the process a "logjam," though some progress has been made recently.
It is expected that water-sewer issues will be the topic of a City Council workshop sometime in the near future.
County residents on the South Barrier Island and in the mainland county contiguous to the City of Vero Beach are under a franchise agreement to be served by Vero until March 2017 and the Board of County Commissioners must give notice by March 2012 of its intent to either exit the franchise or renew it.
Indian River Shores residents are under contract to be serviced by Vero until Oct. 31, 2016 and the Shores Town Council must give notice by October 2011 as to its intentions.
Thursday's Shores Town Council meeting is the last one for Mayor Kenyon and Vice Mayor William Ahrens before the new Council is sworn in at 8:30 a.m. on Wednesday, March 9. Councilmen-elect Dick Haverland and Tom Cadden won seats in January.