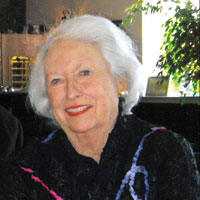 A sad tale of our times: Death outside front door of Carrabba's
How sad is it to hear that following an early evening dinner at Carrabba's Italian Grill on U.S. 1, an elderly beachside couple emerges, and while the woman waits outside the restaurant for her husband to fetch the car, she is backed over by another vehicle.
How much sadder is it to hear that after hitting her, the driver of the vehicle leaves 82-year-old Beverly Trout Kennedy lying on the cold parking lot pavement with injuries that ultimately will prove fatal, and flees the scene?
"The person actually ran over her and drove off," one of her nine sons, Jack Trout, a fire chief in an affluent suburb of St. Louis, told us.  "There were tire tracks across her body."
How excruciatingly sad is it that no diners looking out a window – or persons arriving or departing from dinner in what is a crowded, well-lighted parking lot at 7:30 pm, a busy time of day – seem to have stepped forward to help police with a description of the hit-and-run vehicle.
And how pitifully sad is it that what masquerades as our local daily newspaper – the operative word being daily – does not provide a word of news about this small town tragedy until 17 days after the accident. 17 days!
"It's nothing short of a cover-up," says son Jack.  Well, we wouldn't go that far.
But this is little Vero Beach.  It's not Cleveland or Chicago or Atlanta, where you are not likely to see a hit-and-run story on the front page of the paper.
This is a small community.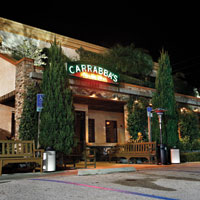 A front-page story in the Press Journal the following day, or even the day after, perhaps catches the attention of a witness – maybe a tourist who was preparing to leave that weekend to fly up north – who hadn't quite realized what had happened, and can describe the vehicle that struck the woman to the police.
But there is no front-page story on Dec. 16th.  No, on Thursday Dec. 16th, we got Russ Lemmon's feature on a Sebastian man who won the Key West Hemingway Look-Alike contest – back in July!
There was also no front-page story on Dec. 17th.  Or Dec. 18th.  Or Dec. 19th.
The first anyone learned of this tragedy from the Press Journal – including the fact that the Sheriff's office had few leads and was desperately seeking witnesses – came New Year's Day.  17 days after the accident that resulted in the death of Mrs. Kennedy.  How can that be?
"As you look at it, it seems like no one cares," said Trout.  "And the Sheriff's Office seems to be saying, 'She's just a little old lady.  Nobody gives a s---.  And if nobody cares, we're not going to do anything about it.'"
Is it possible that some editor down in Stuart concluded this tragedy was of little local interest?  Beverly Kennedy and her husband, George J. Kennedy, had lived in a home on Bethel Creek here on the barrier island for 15 years.
Can it be that the newspaper had no way of learning of this tragedy.  Sheriff's deputies were summoned.  There presumably was a 911 call.  An ambulance rushed Mrs. Kennedy – whose hip and pelvis were broken, and arm and legs ripped open in the accident -- to Indian River Memorial Hospital. 
There, the seriousness of her condition led hospital officials to call in a MedEvac helicopter to fly her to Lawnwood's trauma center in Fort Pierce.
In the old days, reporters for daily newspapers regularly monitored police channels on scanners.  Reporters routinely made calls to local law enforcement agencies, fire departments, ambulance services, and even hospitals to inquire whether anything was going on. 
Covering crime and accidents.  That was the most basic responsibility of a daily newspaper.  And you don't get that information in the absence of good reporters who cover the police beat regularly, and develop good sources.
Scripps – in the apparent belief that its rapidly diminishing number of readers want only light-features and feel-good stories – appears to have decided to stop filling this traditional newspaper role.
And in this case, lack of newspaper alertness appears to have been matched by the bizarre decision of the Indian River County Sheriff's Office to decide that all a serious hit-and-run accident required was the filing of a traffic report.  Traffic reports remain invisible for 60 days unless a specific Freedom of Information Request is filed before then.
"I didn't go to the press, because I didn't have anything to go on," said Deputy James Ooley said.  Besides, he said the first deputies on the scene reported that the victim was coherent, and in relatively good spirits.  Boy, that's encouraging.  Remind us to moan in agony if ever struck by a car.
So what we appear to have here is a strange decision by the Sheriff's Office compounded by an absence-of-reporting by the local paper.
Is that really what the residents of Vero Beach want?  Here are a sampling of reader comments from TCPalm – the Scripps website -- on the Press Journal's performance on this one.
A reader identified only as Hymie C. writes:  "Maybe if this 'newspaper' had actually reported on this incident when it happened (>2 weeks ago) instead of running countless "lemon drops" (sic) in lieu of local news stories, there might have been a chance of finding the dirtbag that ran over an elderly lady and then ran off....probably never to be found."
Another reader identified on the Press Journal's website as Dawn Trodglen writes:
"How come this is the first anyone has heard of this? Happened during one of the busiest times of service? Clearly had this been put out to public when it happened, someone surely would have reported what they may have seen. This is one great newspaper, huh?"
In response to these comments, another of Mrs. Kennedy's children also weighed in:
"My name is Thomas Trout and my 82 year old mother is the subject of this sad story. Mom would have been 83 this week. How in God's name could my poor mother go out to dinner with my step-father (George Kennedy) and get run over in a crowded parking lot without a single witness coming forward.
"The Indian River authorities have known about this incident since it happened on December 15, 2010. My mother was flown to her home town of St Louis in a private ambulance because she wanted to see her nine surviving children before she died. Mom passed away on Christmas Eve.
"Why it took so long for this story to be published in the local paper is an outrage. Drug busts are written up the next day. Please come forward if you have any information regarding this terrible tragedy."
Tom Trout is naturally incensed over the lack of progress of investigators.  In a follow-up email to us, he said:  "I want something to be done about my mother's desk and I want to find out why the authorities are acting as if an animal was killed instead of an 82-year-old sweet grandmother… It's almost beyond belief how poorly this investigation is going."
A big factor in that lack of progress clearly is the failure of the local daily newspaper to quickly alert our small community to the need for help from potential witnesses.
If the Press Journal no longer intends to cover local news like this in a timely fashion, they owe the residents of our community a public statement withdrawing from this traditional responsibility. 
"I want some questions answered," Tom Trout concluded his email to us.  He presumably meant from law enforcement agencies.  But we want some questions answered as well – by the Press Journal.