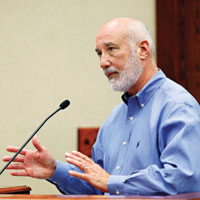 Vero's hopelessness at financial analysis
STORIES BY LISA ZAHNER - STAFF WRITER
PHOTO OF VERO BEACH FINANCE DIRECTOR STEVE MAILLET
(Week of January 20, 2011)
Advisory panel chair worries about dinner
The City of Vero Beach Utilities and Finance advisory commissions have a storied history of being long on time and short on substance.
Some meetings have adjourned after nearly an hour of discussion over why the meeting was called.
One meeting went on for 45 minutes before someone realized there might not be a quorum.
Other meetings have been cancelled – even in the midst of daunting utility and fiscal issues facing the city – because the committees supposedly had nothing on the agenda to discuss.
A joint meeting of these two boards last week only confirmed the hopelessness of the city's cause in wanting to hang on to electric, water and sewer systems that it's ill-equipped to manage.
The dozen or so members at the meeting convened to review the quarterly budget figures, specifically the revenues and expenses of the electric, water and sewer enterprise funds.
The mission seemed pretty clear -- the City Council wanted another set of eyes on the books and hopefully some suggestions, since next year's budget will soon be in the works.  Despite this singular task, the members took a good 90 minutes trying to figure out why they were there.
The meeting was called to order at 2 p.m. Jan. 13 in the Council Chambers.
Members of the utility commission sat on the dais with members of the finance commission seated at a table below.
At 4 p.m., just when members were beginning to get down to the meat of reviewing the budget, Lee Everett, who heads up the Utility Commission and was chairing the meeting, abruptly relinquished the gavel and bolted.
"If I don't get home, I don't eat," the elderly Everett said. "I live in a retirement home and if I don't get home, I don't eat."
On one level, we empathize with Everett.
Dinner, even if it happens shortly after 4 p.m., is a pressing matter and we won't ask why someone couldn't take Everett out for a bite after the meeting, as a treat.
But on another level, the fact that this gentleman is the person leading the only citizen board that has any official input into the city's decisions on electric, water and sewer is, well, disconcerting.
Everett was also on the panel of people which devised and weighted the criteria by which the bidders for the $2 billion electric contract were evaluated.
Unfortunately for the ratepayers, Everett's statements were not the most worrying things said by members of the joint commission in the two-plus hour meeting.
Former Mayor Warren Winchester, who tells the public every time he speaks that he's served the city for about three decades, suggested that the City of Vero Beach should be allowed to speculate in natural gas futures.
He made the suggestion even though a major part of the reason for the soaring electric rates in the summer of  2009 was that Vero was locked into a venture called the FMPA All-Requirements Project that had taken some bad gambles on fuel prices and lost big time.
Quickly, the city staff stepped in and killed this idea.
"In the real world of finances, we're not big enough to hedge," said Interim Electric Utility Director John Lee.
The meeting adjourned shortly after Everett's departure, with the only consensus being that the group wanted the City Council to tell them why they're there and what they're supposed to be doing.
To their credit, members of the commissions each have had solid careers in some government or corporate entity dealing with finance or with utilities. Their resumes are impressive, but it's not clear why all that experience never translates into concrete business being done at the meetings.
And solutions, at a time when the city is set to make decisions on its finances and utilities, are what's needed.
---
The budget director and his 'pile of stuff'
In early 2010, Vero Beach Finance Director Steve Maillet turned a simple budget review into a political speech in which he trashed Indian River County officials and advocated shrinking the city's utilities back into the Vero city limits.
This year's budget review proved to be much of the same.
One would have thought that the Finance Director would have arrived at his theories after poring over detailed financial analysis, but no analysis -- not even fuzzy math or back-of-the-napkin guessing -- was done on this theory.  One year later, the economics of the idea are still unknown. Despite the nonexistent data, Maillet's proposal now has followers, including Mayor Jay Kramer.
To his credit, Mayor Kramer did ask for some figures to bat around a few weeks ago, to establish some financial trends for management purposes. But instead of receiving some compiled reports or charts and graphs, Kramer was invited to sit in a conference room with huge stacks of paper containing 20 years worth of general ledger books.
"So I guess I'll go look at 20 years of ledger books," Kramer said as he headed upstairs to Maillet's office.
Vice Mayor Pilar Turner has made it her personal mission to bring hard numbers to the City Council any time a decision is made. She's said that she's getting pretty frustrated, calling it a "logjam."
Former Vero Council member and now County Commission Chair Bob Solari has peppered the city with public records requests for years -- mostly to no avail -- in an attempt to ferret out the financials behind major decisions. While a council member, Solari demanded regular financial data from Maillet, but Maillet admitted publicly that no one since has even asked him to produce this -- until now.
"I'll be sending you this every month, the same pile of stuff," Maillet said, referring to the City Council's request for monthly financials sent to them and to the Finance Committee.
Solari said he's optimistic that Turner and the others will be able to ultimately get the numbers they need out of  staff -- either this staff or a new staff.
"The new Council has tremendous talent but they have spent little time in the political arena, a world of many forces pulling in multiple directions," he said.  "It will take the Council some time to get comfortable with and develop the necessary skills to deal with these disparate forces."
But even simple things like budget reviews can still prove problematic.
Just last week, Maillet was charged with explaining the city's budget to its Finance Committee. This did not result in a fruitful discussion because there were too many unanswered questions, and wild ups and downs that were characterized as "seasonal bulges."
"If you look at the data, it's both too much and too little," said Finance Committee member Richard Winger. "It's often not the right data."
"I need your help," Maillet told the Finance Committee. "What is it I can present to you that would be useful to you?"
"This is kind of new to me working with the Finance Commission, it's just daily stuff," Maillet said.
This struck some as surprising, considering that he's been with the City of Vero Beach for nearly 26 years and Finance Director since 1992. Maillet offered the excuse that the city's computer accounting programs don't offer robust reporting options.
"Steve gave us his best shot at getting us something in advance," said Finance Committee Chair Richard Teston. "We're disorganized, that's the whole point."
"We talk for two or three hours, mostly get frustrated and everybody goes home," Teston added.
"There are all kinds of reasons why we're not functioning smoothly," said Utilities Commissioner Lee Everett. "Maybe it's not the kind of thing you can expect, smooth functioning."
Given even those low expectations, Maillet was still unable to provide committee members with basics like previous-year comparisons or timing to smooth out budget variances.
Maillet, an accountant who studied international affairs at Georgetown University, instead turned a budget meeting into a seminar about policy. He picked apart the new City Council's agenda of reducing the size of government and getting out of the utility business. And again, no financial analysis -- preliminary or otherwise -- was presented to back up anything he said.
"We're bogged down at the forest and not looking at the trees," Maillet said. "There's been no philosophical discussion on how did you get here. After 80 years you want to turn it (Vero) into Sebastian. Is that necessary?"
Then he broadened the scope of what the Council is trying to do to include disbanding the Vero Beach Police Department. This move has not been proposed or discussed.
Maillet then digressed into offering his views on the electric issue and rate disparities.
"Florida Power & Light has a political rate, the Public Service Commission gave them that rate to establish their independence," Maillet said. "We can't match that rate, we don't even bother to try."
Finally, he ventured into the realm of meteorology.
"It's unusual in Florida to have two freezes within the same calendar year," Maillet said.
Shortly after last year's budget review, Maillet announced his retirement, effective April 1, 2010 after 25 years with the city, but he never left.
In September, Maillet's deputy Jackie Mitts, who earned $133,000 a year with only an Associate's degree under her belt, took a retirement buyout plan and exited, leaving a position open. Maillet has told city leaders he cannot leave until he trains his new deputy in the ways the city does finance.
Interim City Manager Monte Falls has said that since the position was posted, originally under the title of Comptroller and then in November as Assistant Finance Director, applicants have been scant for the job paying $85,000 per year plus full health and retirement benefits.
The four new members of the Vero Beach City Council all said on the campaign stump that they would base decisions on sound financial analysis and not on politics, whimsy or a protectionist stance.
"What we've evolved into is ad-hoc government. It is up to this particular City Council to rein in the people who work for you," Finance Committee member Winger said after hearing most of Maillet's speech.