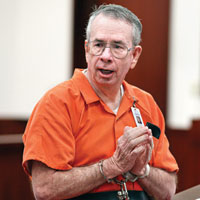 Ira Hatch relocated to Panhandle, where he still operates a laundry
Convicted swindler Ira C. Hatch has been moved to the Gulf Correctional Institution in the Florida Panhandle to serve out the balance of his 30-year sentence.
About a week after his sentencing in late August, Hatch was transferred from the Indian River County Jail to the Central Florida Reception Center off the Beeline Highway for processing and orientation -- to get acclimated to life in the Florida Corrections System.
Over the holidays, he was relocated to the Gulf facility in Wewahitchka, about 60 miles west of Tallahassee, where he is housed with about 1,400 other prisoners.
"Inmate Hatch is not in a cell. He's in general population in an open bay dormitory. He sleeps in a large room with about 45 other inmates," said Gretl Plessinger, Director of Communications for the Florida Department of Corrections.
This prison is not a facility specifically for so-called "white collar" criminals.
"Gulf Correctional Institution houses all custody levels on inmates with the exception of death row. It's an adult male prison housing everything from inmates serving murder convictions to sex crimes to robbery and drug crimes," Plessinger said.
Every inmate healthy enough, and not a security risk to be around others, has a job in the Florida system. Hatch began in laundry services at Sheriff Deryl Loar's Indian River County Jail and it appears he's found a new calling.
"He works in inmate laundry. His hours vary, but he works in laundry in the morning and afternoon," Plessinger said.
Plessinger said Hatch has had no disciplinary issues, but she declined to comment about his health or whether or not he is receiving any medication or treatment, due to privacy regulations.
Hatch was arrested in January 2008 after police charged him with stealing millions of dollars from his company, Coastal Escrow Services, and his law firm.
Prosecutors dismissed dozens of grand theft counts and a money laundering charge after Hatch agreed to plead no contest to a racketeering charge.
Though Hatch's plea deal eliminated the chance to appeal the charges, Hatch is pursuing an appeal of his sentence. He was assigned a Public Defender for this appeal. Assistant State Attorney Ryan Butler, one of the prosecutors in the case, said his office just last week delivered seven volumes of trial records to the Fourth District Court of Appeals and that a response is pending.