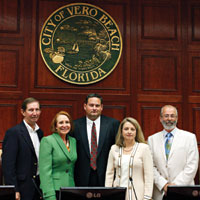 New Vero Council finds ousting entrenched staff is not so easy
The new Vero Beach City Council members are not the first elected officials to find out that it's easy to criticize government workers when you're running for office, but not so easy to fire them once you're elected.
On the campaign trail and privately in meetings with supporters, all four of the new council members expressed dissatisfaction with top city staffers. City Manager Jim Gabbard resigned but if he hadn't, he most likely still would have had a job.
Privately, council members indicated that they didn't want to fire anyone during the holidays. In the meantime, four other top staffers who have less than stellar histories are still there and have been taken into the inner huddle responsible for guiding the city forward.
City Attorney Charles Vitunac tops the list and the City Council found out why last week. When hosting a workshop to examine options for keeping, selling or partially selling Vero Electric, the city must resort to taking the legal advice of entities dead-set against a sale for political and financial reasons.
The only "experts" available to tell the city what it can and cannot do under its agreements with the Florida Municipal Power Agency and the Orlando Utilities Commission are the people from FMPA and OUC and lobbyists from the Florida Municipal Electric Association, which fights to keep public power intact.
At the moment, the city does not have an independent attorney who could offer an opinion without political slant.  Vitunac has spent millions of dollars on outside counsel to advise the city, in addition to having one of the biggest legal staffs around.
Vitunac has no rights to severance pay or health benefits beyond his term of employment, so except for paying his pension, it would be a clean break. By city charter, Vitunac would be entitled to a public hearing about his termination, but it is unlikely he would ask for such a proceeding.
Next is Water and Sewer Director Rob Bolton, who has stated that he's publicly opposed to the new City Council's goal of consolidating water and sewer systems with Indian River County.
Bolton told the old council members many times that they need to keep their own system for "redundancy" and he's the one who came up with the band-aid scheme of repealing $13 million in rate increases prescribed by Public Resources Management Group.
The day Bolton presented this plan, he was scrawling figures in a city budget book in preparation for his moment at the podium. When Vero Beach 32963 requested the financial analysis behind the move, there was none.
Finance Director Steve Maillet resigned in March 2010. He was supposed to be gone by April 1. April Fool!  He is still in his post with the city. Maillet decided to stay on to help with the budget process.
 Maillet's deputy, Jackie Mitts, took the retirement bonus deal and left at the end of September after nearly 40 years of employment with the city. Maillet has reportedly dragged his heels on getting council members some financial analysis, stating that he couldn't do it without Mitts. The Assistant Finance Director job has been advertised with a starting salary of $85,000 or more, depending on qualifications.
With 15 percent unemployment in Indian River County, the city has been unable to find a suitable replacement for Mitts, and Maillet is using that as the reason why he hasn't moved on yet.
Power Resources Director Jim Stevens remains in his post despite an audiotape that showed him engaged in political conversation with the power plant staff on city time during a meeting called to address discrimination among his staff. Stevens told his staff that a sale to Florida Power and Light was not going to happen, and painted what Councilwoman Tracy Carroll called a "doomsday scenario" about what would happen should a reform-minded city council be elected.
On the audiotape, Stevens stated that he had no intention of giving FP&L "our real numbers." According to power plant staff, Stevens scolded OUC staffers for cooperating with requests for information from FP&L that would allow FP&L to begin due diligence on a purchase of the Vero system. Stevens is not only fighting for his job, but for the jobs of his wife and stepson, who both work for the electric utility.
One person who seems likely to remain is Acting Utility Director John Lee. Over more than two decades, Lee has been the person on the front lines of the electric and water utilities, overseeing customer service and absorbing ire from the public. It's Lee's job to try to put the sunniest possible face on the city's situation.

But when asked pointed questions, Lee gives pointed answers, even if they are negative. He was the first one to admit that Vero cannot get its rates down any lower without a major sea change in the way the utility does business.
Absent the four players mentioned above, Lee is expected to do all he can to facilitate a sale for FP&L, now that a sale is the expressed will of the council.