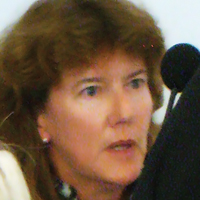 Despite flawed Vero hiring process, finance director gets good reviews
STORY BY LISA ZAHNER, (Week of July 21, 2011)
Photo of Vero Beach finance director Cynthia Lawson
Despite the curious manner in which she was hired, with none of her 55 rivals for the job of Vero Beach finance director even interviewed, Cynthia Lawson gets positive reviews from the city officials and village council members she leaves behind in Islamorada in the Florida Keys.
Council members describe her as "very competent," "meticulous about paperwork" and "a stickler for rules and procedure." Based upon her performance at one budget workshop last week, she appears organized, prepared and confident in her knowledge.
But Lawson, who left Islamorada last Friday to come to Vero Beach, is stepping into a very different situation in her new job.
In the Village of Islamorada, council meetings are civil. There's usually a consensus or at least a workable solution with very little dissention.  In fact, the five council members' camaraderie often spills into the local watering hole for several hours after each meeting.
"They genuinely like each other," a staffer observed of the bosses as they socialized after last week's council meeting.  That's right. The village staff is invited out for drinks, too, and everyone seems to get along swimmingly.
But the proposed budget Lawson was tasked with presenting in Islamorada did not include the pain of serious cuts and job eliminations like the Vero Beach budget.  Employees in Islamorada  are slated to get a two per cent across-the-board pay increase this year, and no furloughs or layoffs are planned.
In Vero, by contrast, Lawson can expect more turmoil in a city where staff members worry about their jobs and council members often fight. In addition, her new department faces $249,000 in budget cuts.
With the turnover in top Vero staff positions, Lawson might find herself in the hot seat to implement whatever budget initiatives the council and new City Manager Jim O'Connor decide are necessary.
Will financial dilemmas facing Vero make life rough for Lawson?
Her current mayor thinks she's qualified to handle it. Islamorada Mayor Michael Reckwerdt has worked with her for most of the last seven years he's served on the village council.
"Cindy's biggest strength is her understanding of the entire finance process within a city from one end to the other," Reckwerdt said.
Two big utility deals over electric, water and sewer could change Vero's business plan for good, eliminating more than $9 million in direct and indirect transfers into the general fund. Figuring out how to run City Hall without the resident cash cows will be a challenge.
Then, there are the looming Federal Emergency Management Agency audit results of hurricane aid ¬– where might Vero come up with $3.6 million to pay back the federal government?
On the other hand, back in Islamorada, there is that Florida Auditor General's probe underway. Lawson is leaving that all behind in midstream.
Do officials think there's anything to hide? Absolutely not.
Councilman Don Achenberg summed up the council sentiment by saying he'd be "very surprised" if the audit did not come back clean. He said it would be a great vindication for Lawson, who has endured her share of criticism.
Organizers of the audit petition, on the other hand, are anxious to see what the audit turns up because they feel the staff – including Lawson – has done its best to cover things up. Local citizens have provided volumes of "leads" for auditors to track down.
Councilman Ted Blackburn, a council newcomer in 2010, signed the petition to have the village audited and he stands behind that decision. He's from New York where he said the state audits municipalities every two or three years routinely. Blackburn said he hopes it will give the village a "fresh start."
Though the council portrayed the audit as winding down and "almost over," the auditors themselves would not verify those views.
"As there is still considerable work to do, it is not feasible to provide an estimate of the date on which the report will be completed and available," said Marilyn Rosetti, the audit team leader when asked whether the audit will be done on schedule at the end of July.
Officials say Lawson has done a great job, but being an efficiency expert and chief bean-counter hasn't exactly been her job, according to the mayor.
"In our city, the village manager really directs how to set the budget. I wouldn't say Cindy has really done a good or bad job with that," Reckwerdt said. "Fiscal management or looking at efficiencies has not been part of her job."
Vero has only had two finance directors in its history – Tom Nason served for decades and Steve Maillet for the past 27 years, so a great deal of responsibility has come to rest in the finance department due to the longevity of its leaders, as compared to the relatively short tenures and non-financial background of recent city managers.
Since Islamorada has experienced its share of turnover, too, Reckwerdt said he regretted not having the money to sweeten the deal for Lawson so the village could keep her.
"Cindy's been a good finance director," he said.  "I wish we had more money available so there was more of a future there for Cindy."