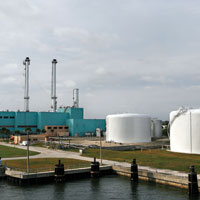 Famous 'locker room' at Big Blue to get overhaul
Recent discrimination and harassment at the Vero Beach Power Plant was chalked up to a "locker room mentality."
In fact, Big Blue actually has a locker room, and public records say it's been a pretty murky place for a decade – literally.
A Nov. 21, 2001 memo stated that Summit Construction had won the bid to overhaul the dirty, moldy place in 60 days for $56,600.
This 'urgent' project re-emerged in the 2007 budget, calling for a new ceiling, air conditioning, shower doors, lockers, toilet partitions, light fixtures and flooring improvements.
"The Power Plant locker room is in dire need of repairs. Nothing has been done to it since it has been built (1962). The ceiling is drywall, and from leaks through the years has peeling paint and mold growing on it, which is a health hazard," reads a memo circa spring 2007.
Lockers and benches were purchased in June 2008 for $3,200 but there's no proof of actual installation; in fact, a photo taken in Oct. 2010 by Risk Management staff shows rusted-out lockers.
"Looking at the photos you can see that there is, in all probability, a moisture problem and an accumulation of mold and dirt," stated an inspection report dated Oct. 25, 2010.
"Both Jim Stevens and I agreed that this restroom would be closed until you are able to complete renovations," she wrote to Scott Dawson in the city's Building Maintenance Department.
So now that Vero hopes to offload its electric utility to Florida Power and Light and to sell the power plant for scrap, management still has $60,000 budgeted to remodel the locker room.
City sources have said work was slated to start this month.