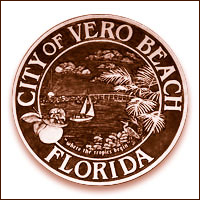 Vero staffer's double-dip prearranged
STORY BY LISA ZAHNER - STAFF WRITER
(Week of March 31, 2011)
Did an "early retirement incentive" program actually save the City of Vero Beach the touted $300,000?  Did the people who took the early retirement incentive have to be replaced? Or is a new and yet another retire-rehire admission by city staff a mark of business as usual in Vero Beach?
In February, Vero Beach 32963 reported that Assistant Finance Director Jackie Mitts retired, collected her retirement incentive bonus, then was quickly back on the job. Top staffers assured the City Council hers was an isolated case.
Not exactly, records show -- and another retired-rehired employee and her boss confirm.
A senior administrative assistant in the water-sewer utility with 26 years on the job, Dianne Soethe, said she was given about three weeks to decide whether or not to take a bonus of one month's pay -- in her case about $4,000 -- and retire, collecting almost $30,000 in vacation and sick time.
Soethe retired effective Aug. 12 and was hired back Sept. 7.  She has worked every pay period since, and is working this week to fill in for an employee that is out on leave. Water and Sewer Utility Director Rob Bolton presented keeping her on call to work as a permanent solution.
Both Soethe and Bolton confirm that the deal was cut prior to her retirement.
Soethe said the "three weeks" she was given to decide on retirement was not sufficient time to train anyone to do her job. But in fact, employees had until Sept. 30, the last day of the fiscal year, to retire and receive the bonus.
"If they need to bring someone in, isn't it better to have someone with the knowledge and the experience to do the job?" Soethe asked.
Vice Mayor Pilar Turner, who has been vilified for trying to reform city personnel policies, learned about Soethe's retire-rehire deal only after a copy of documents gleaned from a Vero Beach 32963 records request was placed in her mailbox by City Clerk Tammy Vock.
"The concept was good, the execution was terrible," Turner said. "It's a lack of management."

'WORKING THE SYSTEM'
When asked to explain why an employee under his charge was rehired after retiring with an "early retirement incentive," Bolton sent a memo March 14 to interim City Manager Monte Falls, who at the time this was happening, was Public Works Director.
"I asked Dianne if she would stay on in a temporary position. The temporary position would be needed until the water and sewer department finished up the large capital projects that were related to the deep injection well and as a fill-in for vacations," Bolton wrote. "Dianne agreed and was hired back at her rate of salary without benefits."
When asked whether or not the arrangements for her rehire were made prior to her retirement date, Soethe first inquired as to what Bolton had said happened. After being told about the March 14 memo, Soethe confirmed that the deal was settled before her retirement.
"It was discussed after I made up my mind (to retire) if it would be a possibility for me to come back," Soethe said over the weekend. "But I'm only working part time and I'm not getting any benefits."
Public records show that Soethe was paid an "early retirement incentive" of $3,890 plus her banked sick time of $19,052 and her banked vacation time of $10,157, for a total of $33,099. 
She began collecting her $1,722 monthly pension checks in September and came back to work part-time on Sept. 13 at her old rate of pay of $23.58 per hour. Since retiring, she's been paid $12,344 through the end of February in addition to her pension. March figures were not included in the time sheets provided by the city.
Despite the three-person office staff and the fact that workers presumably had to fill in for each other on furlough, sick and vacation days, it seems no one else knew how to do payroll for the department other than Soethe.
"I'm working on training a couple of the other girls to do payroll, but you have to know the contracts and the shift differential," Soethe said.
"I work when Rob (Bolton) needs me there," Soethe said. "The other girls were working on the SRF (State Revolving Fund) stuff. They were all very busy. When was there time to learn my job? The SRF is a full-time job."
Vero borrowed more than $10 million from that Florida fund to construct a deep injection well, in lieu of taking out bonds for the project. With that low-interest loan came extensive paperwork. It's unclear if city officials realized the loan paperwork would become a "full-time job" for two city staffers.
Turner said she doesn't buy Bolton's explanation of Soethe's situation and that she's disappointed – but doesn't see a reason to discipline Bolton.
"Obviously, I will take a look at this, but I think he (Bolton) was just working the system the way it was set up," she said. "But we can make sure that things like this don't happen going forward. If we do anything like this again, it would have to be with the restriction that these people are not going to be coming back on the payroll."
"This is one of the many reforms that are needed; the city's not going to let things like this be abused."
Councilman Brian Heady, who voted against the "early retirement incentive" in July 2010, went further, calling the retire-rehire practice an "obvious fraud" against the city taxpayer.

THE HISTORY       
On Jul. 15, 2010, the staff presented the City Council with a plan billed as an "early retirement incentive" designed to prevent the layoffs of 10 employees and to reduce a budget deficit of $300,000.
From official minutes of that meeting, then Public Works Director Monte Falls told the Council "the early retirement option was a more humane way for the employee and based on the averages it is a greater savings per employee."
Employees 55 years old or older with at least five years tenure were eligible to receive the bonus of a month's pay in addition to their banked sick and vacation time -- in exchange for getting those persons off the payroll for good.
Minutes: "Mr. (Robert) Anderson explained that they were trying to get the employees who are sitting on the fence about retiring to retire."
Human Resources Director Anderson and then-City Manager Jim Gabbard had told the Council that an average of 10 employees retire every year.
Minutes: "Mr. Anderson explained that they were targeting people who would probably retire in January and they would like them to retire now. He said that they probably would not seek work elsewhere and most of their retirement benefits would be higher than unemployment."
The proposal was supported by the 2010 Council and championed by then Councilman Ken Daige.
Minutes: "Mr. Daige said that this is a policy change and they need to do this so employees can take advantage of it."
"They (managers) have asked Council for a tool to do this and he is willing to give them the tool to do it," Daige said, according to the minutes.
Councilman Brian Heady, the lone vote against the measure, at the time protested because the staff could not quantify the potential savings.
Heady also questioned why the city should offer cash to get 10 people to retire, when 10 city employees retire in the average year without an incentive.
"He asked why would they want to spend more tax dollars on something that on average would happen anyway," the minutes state, adding:
"It seems that this is a threshold question that is important, and who accepts this is meaningful because all employees aren't expendable. He asked, aren't there employees that if they did take the early retirement that would need to be replaced. "
Falls confirmed that savings would come only if positions were not filled. Heady countered that was an important detail because, if bonuses were paid and the positions were filled, the program could actually "increase the tax burden."
With the benefit of hindsight, Heady said Saturday that though he wasn't convinced the idea would save any money, he had no idea department heads intended to rehire some retired employees after paying them the bonus.
"What Mr. Anderson said is absolutely true, that they would not seek work elsewhere because they already had a job," Heady said.
Though at the time he was pummeled by Mayor Kevin Sawnick and other members of the 2010 council for questioning the staff as to the wisdom of the "early retirement incentive," Heady was right to question the savings.
The new Assistant Finance Director to replace Jackie Mitts will start Apr. 4 and will be making about the same salary Mitts was earning.
Bolton said he does not intend to replace Soethe, but to call her in as needed to fill in for vacations, estimating that will result in about six weeks work per year. If he holds to that, the net savings after taking into account her pension will be about $20,000 per year plus benefits -- a far cry from her entire salary of $50,000.
A total of 13 employees -- including Mitts and Soethe -- took the buyout offer. Six of those employees had more than 30 years of service to the city. More than $42,000 in incentives was paid out (equating to about $500,000 in annual salaries), plus union employees also received a 10 percent buyout as is provided for in collective bargaining agreements.
Theoretically, the city could reduce payroll by the target figure of $300,000 if most of the 13 have not been replaced by the end of the year.
Then City Manager Jim Gabbard pitched the program by saying, "What staff is trying to do is to get some benefits this fiscal year and a tremendous benefit next fiscal year."
Only time will tell if that "tremendous benefit" comes to fruition -- or if, as more stories like Mitts and Soethe trickle out, the whole thing turns out to be yet another case of tax dollar mismanagement.