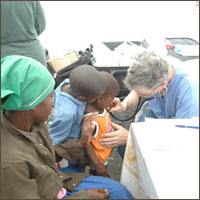 Haiti free clinic has heart and soul in Vero
Vero dermatologist Dr. Neil Heskel hears a distinctive tone from his computer; a Skype call is coming in.

The call comes from a man named Robinson, resident of one of the western hemisphere's most notorious slums -- Cite Soleil, in the Haitian capital of Port-au-Prince.
Robinson is persistent, a trait of Cite Soleil survivors.  Better off than most, Robinson was plucked from the street for his bright mind and diligence by Haiti Clinic, the Vero-based organization and clinic Heskel now heads. His questions have to do with Heskel's visit there next month; Robinson runs the free clinic in Heskel's absence. 
Haiti Clinic is the only such clinic in all of Cite Soleil. And it was there on a scorching June weekend in 2007 that half-dozen local medical professionals found themselves in three square miles of squalor -- a place so dangerous that relief agencies refuse to go and where the average lifespan is 52.
When the earthquake hit last year, it was two weeks before help came to Cite Soleil.  Apart from a few UN peacekeepers called to help safeguard the doctors, the residents were left to fester in often violent slurries of poverty, anger and disease.
Under a brutal sun and with transported water and electricity from a generator, the doctors toiled for 12-hour days, often without eating; grabbing a sandwich from a backpack could be construed as a callous act of entitlement.
In all that first weekend the doctors treated 283 patients, some of whom waited in lines for hours. From parasites to complications in pregnancy to life-threatening illnesses, the needs ran the gamut. Prior, there were no such clinics in Cite Soleil, just as there were no police or public workers, indeed virtually no effort at ameliorating the crimes of gangs and suffering of innocents, in a population roughly estimated at 200,000 to 400,000. That number is believed to have swelled to half a million as survivors from the countryside sought refuge following the earthquake.
8000 PATIENTS
Since that impromptu effort three-and-a-half years ago, Haiti Clinic has continued to deliver medical care with volunteer teams staging weekends of treatments several times a year. The effort now has a base of operations in a building now called Mission Ranch, and donated for use by a missionary after it miraculously survived the earthquake. 
Last year, 45 doctors treated nearly 8,000 patients over a 10-week period. As well, a dental clinic was begun and with Vero's Dr. Suzanne Conway among the dentists volunteering.
This year, the clinic has inaugurated the Failure to Thrive/Malnutrition Project, passing out protein supplements manufactured in Haiti to children and in turn monitoring the children's progress. There are plans to build a women's center focusing on birth control, medical care at delivery, child care and hygiene education. There are also planned seminars training Haitian medical personnel, with an emphasis in pediatrics, ophthalmology and dentistry. And for the first time, the clinic is introducing a computer-based medical records system, something never before seen in Haiti. 
From his serene offices across from the hospital in Vero, Ivy League trained Dr. Heskel normally moves from one exam room to the next, seeing a mostly elderly clientele through problems like skin cancer or psoriasis.
Those challenges will escalate beyond reason -- and well beyond the American experience -- when Heskel boards a flight at Miami International next month. Like the other doctors, dentists and nurses volunteering, he will pay his expenses – around $700 per trip. In the past that list has included epidemiologist Dr. Gerald Pierone, pediatrician Susan O'Toole, gastroenterologist Dr. Ian MacKay, emergency medicine specialist Dr. Dirk Parvus and Ruth Parcel, a hospice nurse, to name a few.
THE GOAL
Unlike his practice here, Heskel will treat mostly children and young adults in Haiti -- and instead of tents, the treatment arena will be at Mission Ranch. With a pharmacy and a Haitian doctor now on staff there, the building reflects the charity's overarching goal -- making the clinic Haitian-run.
When he arrives, volunteers will fan out across the slum with bullhorns, announcing the start of the clinic. Within the hour, hundreds will circle the building. "There will be naked children, bellies sticking out from starvation, and all kinds of diseases," he says. "People will walk for hours to get there."
Heskel said he has been searching in recent years to do charity work. For a while he was interested in Ghana, and had been in touch with Doctors without Borders. "They don't particularly want dermatologists. They want ER docs."
Then he met Dr. Dirk Parvus, who founded the organization and headed its board until Heskel took over as president this year. Parvus responded with enthusiasm. With the sanitation problems in Haiti, there are horrible skin diseases, Heskel says. "But I ended up being a GP all over again."
For the first year, Haiti Clinic volunteers met mostly in abandoned buildings including a monastery where former President Jean-Bertrand Aristide used to serve in his priesthood, and also a school that wasn't being used.
"But basically we were kind of homeless," Heskel says. "We'd do a weekend, and then have to schlep everything back to Florida. We couldn't leave anything, because it wouldn't be there when we got back."
Most importantly, there was no pharmacy, a crucial service the group provides. By buying drugs in quantity through an agency called Blessings International, the group acquires bulk prescription medications like anti-malarials, antibiotics and anti-parasitics for "pennies on the dollar," Heskel says.
Those pills are separated out into individual prescription quantities and put in baggies here by dozens of Haiti Clinic volunteers – "pill packers," Heskel calls them.
As for those who go, Heskel says most want to return. "It's a big rush for doctors, doing good for people who vitally need you. You're making a difference in their lives, even though you know they're going to go out and get an infection again, because the environment is so horrible."
Dr. Russ Metz, a retired local anesthesiologist, was encouraged to go by Heskel. "I talked him into going once, and he said, 'This is for me.' And it was a scary trip. These people were not happy. There could have been a mini-riot any minute."
With no employment and nothing else happening, the clinic was a magnet for throngs who came to stare.
"We went into some of the shacks and they were airless and windowless with muck for floors. And that's using a polite terms. It's really more like sewage."
When Metz came back, Heskel says he was so inspired that he returned to practicing medicine -- this time in general practice.
Haiti Clinic is always looking for more volunteers. Word has spread to as far away as Massachusetts and Pennsylvania.
"Charity begins at home, but it doesn't end at home," says Heskel who, along with his wife and fellow volunteer Christy Smith-Heskel, is hosting the Haiti Clinic benefit in April at the couple's home.
Donations are currently being sought to build the women's clinic, and one doctor has donated an ultrasound machine.
"We need staff for that," says Heskel. "To build the center, we need $15,000. To hire a nurse practitioner is about $150 a month – salaries are ridiculously cheap. Another doctor or an experienced pharmacist is $5,000 a year. We eventually want this to be Haitian-run. It has to be. I don't want to be flying to Port-au-Prince to take care of scabies."
In Haiti, there are bureaucratic hurdles, and there are hurdles that arise when there is no bureaucracy at all.
"We finally just now opened a bank account there," says Heskel. "That took forever. We're still trying to get officially recognized by the Haitian Health Ministry."
Meanwhile, at home in Vero, Heskel has issued pleas to the Martin County Medical Society trying to recruit new doctors.
 "You don't have to be Albert Schweitzer," says Heskel. "We're not asking you to go to Congo for six months. It's just a three-day weekend.
"It's like a cruise," he says, forcing a smile at the irony. "You don't have to unpack. You just wear scrubs the whole weekend."