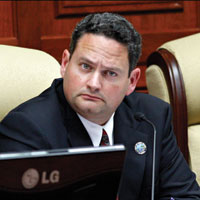 What's Vero's water system worth: Mayor Kramer says: 'I have offer of $50 million'
Does Vero Beach Mayor Jay Kramer actually have a buyer on the string ready to pay $50 million for Vero's flagging water and sewer system?
Or was Kramer bluffing when he interrupted a presentation on how Indian River County could take over Vero's water and sewer system – as well as assume $27 million in city debt – by interjecting:  "GSG would do the same thing, but they'd give us $50 million!"
Since none of the other City Council members had ever heard of GSG, or had received any notice of Kramer meeting with this entity, Councilwoman Tracy Carroll asked what exactly the mayor was talking about.
Kramer responded that he had met with a company called Government Services Group and that he had been told the firm could take out a maximum $50 million in bonds to buy Vero's water-sewer system. He intimated that there was some sort of offer on the table.
But the statement turned out to be based on a 30-minute meeting and Powerpoint presentation by a representative of the group who came to City Hall and met with Kramer and Interim City Manager Monte Falls two weeks ago.
And not only does this GSG want to buy Vero's water and sewer system; it expressed interest in buying the electric utility as well.
When contacted, Kramer admitted he knows very little about the company and how it works. When told that we would be contacting Robert Sheets, who drafted a short proposal letter to Vero, Kramer responded, "If you get a hold of them, ask them how they make their money."
--
GSG, as Kramer referred to the firm, turns out to operate a six-county utility authority which spans parts of Polk, Hendry, Pasco and other Florida counties. That utility, the Florida Government Utility Authority is the largest client of GSG, according to its staff.
The rates of the various cities and towns in the utility are higher than Vero's current rates and much higher than Indian River County's combined water-sewer rates for the average barrier island customer.
Kramer said he asked the person he spoke with to put something in writing and send it to him.
The "pitch" would include a fee of $60,000 to do "preliminary due diligence" on the utilities -- $35,000 for electric and $25,000 for water-sewer. Kramer said that he was under the impression that if a sale took place, those fees would be refunded at closing.
This is the same type of due diligence that FP&L has been doing for free for about a year as it decides whether to make an offer for the electric utility in the next month or two.
--
At least one member of the city's finance commission, however, is interested in this idea of a utility authority. Richard "Dick" Winger, a South Barrier Island resident, spoke at the South Beach Property Owners Association meeting last week saying Vero should seriously look at a utility authority as an option.
"We need an authority to cover the assets, it's what we should really be thinking about," Winger said. "The County, Indian River Shores and other governments should get together for an authority. I suggest that the best alternative is to join an authority."
Winger and another like-minded resident said a utility authority would take the politics out of the process. Winger also said that he's not a follower of the Heran-Faherty model and that he felt Commissioner Bob Solari was painting an inaccurate picture of the issue.
"There are many questions about what (Steve) Faherty and (Glenn) Heran have been presenting, it's not totally accurate," Winger said. "But Bob Solari has been a good politician giving you one side of the story."
Solari holds fast to his position of backing the rate projections in the Heran-Faherty water-sewer model, and his position that the Vero water-sewer utility is in sad shape financially compared to the County. Solari also opposes a utility authority.
"There are many reasons for being against a water and sewer authority. An authority means more government, another layer of government, the expense of the additional bureaucracy," Solari said. 
The utility authority run by the people Kramer has met with has different rates for each municipality in the authority, depending upon what they brought to the table. Solari said he sees this kind of situation as less than optimal, while a County takeover of all the systems would have one mission and one set of rates.
"The County model for its utility is to serve its customers," Solari said. "The City model is to protect its workers and to provide revenues for its general fund. The models are incompatible.
"Merging them in an authority, as opposed to a takeover of the City utility by the County will simply transfer the inefficiencies of the City system to the authority."
But what set Kramer off last week?  Kramer said that Heran's presentation struck a nerve, as he explained two days after the meeting.
"Glenn (Heran) just wants to give the system away to the county. I want to look at all of the options. This might not be the best option, but it's definitely better than giving it away," Kramer said. "He always talks about rates but he always leaves out the part about the taxes. I might save $25 per year on my rates, but I'll pay $180 more in taxes."
Kramer also said the city could bypass the utility authority idea and just privatize management of its system, through U.S. Water Services or a similar firm. Kramer said the city could get out from under the utility's pension liability (estimated at $8 to $11 million) and get a fresh start that way.
The dismal rate picture the Heran-Faherty water-sewer model painted for South Barrier Island and Indian River Shores residents dredged up old disagreements between Kramer and Heran over the electric utility.
Non-city residents currently make up about 38 per cent of the water-sewer customers, but they provide between 40 and 45 percent of the system's revenues. That means they also fund 40 to 45 percent of the $1.5 million in annual transfers into the general fund ($859,000 in direct and $685,000 in administrative) from the water and sewer utility. Those transfers help keep property taxes down.
GSG's website states that a core part of its mission is to manage utility authorities so as to maintain transfers into the governments' general funds.
"If Mayor Kramer is bluffing, the public neither has the time or patience for such antics," Heran said upon finding out that Kramer had only met with the potential buyer briefly
"If he is not bluffing, and Kramer intends to pass millions in rate increases to the public so that the government can have cash in its pocket, then Kramer needs to rethink his core values."
At press time, telephone calls to GSG had not been returned.