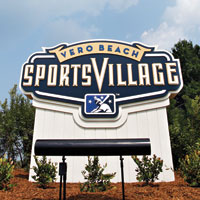 The Dodgertown on-again, off-again deal is on-again
The expansion of Vero Beach Sports Village, which seemed to be a done deal earlier this month, and then seemed to have fallen through at the last minute in a disagreement over contract language, appears to be back on track, according to County Attorney Alan Polackwich.
"Minor league baseball has agreed to sign the contract with the language we want, so it looks like the deal will go through," Polackwich said Monday.
Expansion of the former Dodgertown facility, which includes building a cloverleaf of four ball fields suitable for girls' softball and youth baseball just south of Holman Stadium, will be "a shot in the arm" for the local economy according to County Commissioner Peter O'Bryan.
"By adding those fields, the Sports Village can attract a whole new set of teams," O'Bryan said. "Parents and grandparents and other followers tend to travel with youth and girls softball teams and while the teams stay at the village those people will be staying in local hotels and eating in restaurants and shopping and buying gas.
"If you can host tournaments with 16 to 20 teams on a regular basis, you are drawing a lot of people to Vero Beach who will give the economy a boost."
The five existing fields at the facility, which was home to Dodgers spring training for 60 storied years, are regulation baseball diamonds with 90-foot base paths. The new fields will have 60-foot base paths that meet requirements for youth baseball and girls softball.
"That was the missing piece from day one when we took over the facility two years ago," said Craig Callan, a former vice president with the Los Angeles Dodgers who managed the facility for the big league team for 20 years and now runs it for Minor League Baseball. 
"Youth baseball and girls softball are very popular and we were shut out from that whole segment of the market. By adding the new fields we are essentially adding a whole new business."
Callan said the smaller fields would likely boost business at the Sports Village by 15 percent next year and could eventually increase onsite revenue by as much as 50 percent.
That's an impressive number considering that business is booming at the park during its second season as a Minor League Baseball facility. During spring training, from Feb. 27 to the end of April, more than 70 college and high school baseball teams from 24 states and Canada played 320 games at the 67-acre sports park, not including practice games.
"The numbers were very high compared to our first year," said Callan. "We served 25,000 meals in March and April and had 7,000 guest nights on property."
In addition to the five full fields, facilities at the Sports Park include two half-fields, 12 batting and pitching tunnels, major league training rooms, weight rooms and locker rooms, four tennis courts, a volleyball court, a competition-size swimming pool, a conference center and an 89-room motel-type lodging complex with a cafeteria/restaurant.
Add to all of that the allure of playing on the same fields and sleeping in the same rooms where Jackie Robinson, Sandy Koufax, Don Drysdale and other Dodger greats slept and played and it is easy to understand why young players flock to the professionally maintained facility.
The park has a permanent fulltime staff of approximately 25 that swells to more than 100 during spring training as additional groundskeepers, housekeepers and food service personal sign on to keep things running smoothly.
"Any team that comes here once, comes back," said Callan. "All we have to do is get them here the first time."
On May 3, the city and county approved a land swap that consisted of  the city transferring ownership of a 12-acre parcel south of Holman Stadium where the new fields will be built in exchange for receiving title to 10.3 acres a few hundred yards to the north along 26th street.
Minor League Baseball wanted the land adjacent to Holman stadium for the youth fields because that parcel is contiguous with the rest of the playing complex and will be more convenient for players staying at the village lodgings.
The county will pay for the new fields.  O'Bryan said the expansion is expected to cost around $2 million and that the money will likely come from county sales tax revenue or impact fee monies.
  "We have received nine bids for the work," said Callan, who is on the county's bid evaluation committee.  "We hope to make a recommendation to the County Commission in the few weeks and see a contractor approved soon after that."