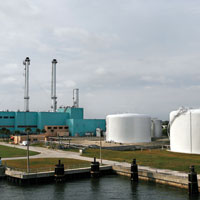 Utility deal sputters while consultant tab soars
Indian River County is pressing to forward with a plan to consolidate water and sewer systems, but the City of Vero Beach last week, after debating for many hours, got a serious case of cold feet.
One thing is for sure: Whether the Vero City Council ultimately decides to be taken over by the county or not, GAI Consultants will come out ahead.
On top of an $85,000 contract to work on the Shores and South Beach utility issues and $238,000 to advise on the sale of the electric utility to Florida Power and Light, GAI is now being paid $173,000 to appraise the utility and to do an efficiency study.
All told, the City of Vero Beach is investing roughly a half-million dollars in the advice of Gerry Hartman and his company, GAI Consultants.
"Are we under a concern that we're putting all of our eggs in one basket?" asked Councilwoman Tracy Carroll, who was ultimately the sole dissenting vote against expanding GAI's duties.
Carroll asked why the city couldn't put the consulting work out to bid.
Vero Water-Sewer Utility Director Rob Bolton told Carroll that would add another three months to the process.
"Five hundred thousand dollars is a lot of money, there's no question about that, but we're talking about some big-ticket items," said Interim City Manager Monte Falls.
Meanwhile, the county approved a proposed timeline stating that the beginnings of a takeover of the water-sewer utility could take place by September.
Vero might have trouble keeping that schedule, as the City Council is still waiting for basic financial information it asked for more than six months ago.
Staff has stated that GAI Consultants can help bring the utility picture into focus. Only County Commission Chairman Bob Solari, a Vero Beach resident, advocated forging ahead with consolidation from the podium, but other residents sided with staff.
"You do need help. Your staff is turning and burning for you. They're working as hard as they possibly can for you," said former Councilman Ken Daige.
Castaway Cove resident and Vero Finance Committee member Dick Winger told the City Council that he's conducted a research project and has much data to present that would raise serious questions about the deal the County is proposing.
Riomar resident George Christopher said that although he's in favor of both the sale to FP&L and the water-sewer consolidation, he's concerned that the city is taking on too much at once. He told the City Council the key to garnering public support for the measures is proceeding openly, thoughtfully, deliberately and by getting all the facts.
"On the water and sewer, I support the consolidation," Christopher said. "By far the better route is to delay for six months, get your walking feet."
As the clock ticks, the Town of Indian River Shores must decide by early November where it will get its water-sewer service for the next 30 years.