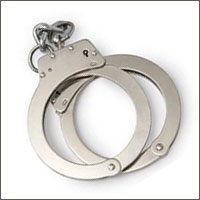 Beachside burglary suspect is arrested
STORY BY EILEEN KELLEY, (Week of November 10, 2011)
A 19-year-old man, caught rifling through a vehicle under the cover of darkness, told an island resident when he was confronted that he was desperate for money.
Police say Michael MacDonald then ran off, but was caught Saturday a few hours later straddling a bicycle after police earlier spotted him pop out of some bushes.  Police say MacDonald did not own the bicycle.
Police now are trying to figure out if MacDonald stole Vero City Councilwoman Tracy Carroll's golf cart and  was involved in a rash of robberies in the Central Beach area two weekends ago.  Over a span of just a few days, 11 burglaries were reported to police in late October.
Police now must compare fingerprints and other possible traces left behind to determine if MacDonald was involved in these other burglaries. 
Items in an evidence room at the Vero Beach Police Department that may be checked for clues are a Zephyrhills water bottle and empty can of Chunky Soup, both of which were left outside Carroll's Live Oak Road home, and discovered after the Vero Beach City Council member called police Oct. 30 to report her golf cart stolen.
Police found Carroll's cart and determined that it had been used not only as the getaway vehicle in the October robberies but also was used to cart around stolen items that the thief or thieves pilfered from unlocked cars or homes.
"We hope to clear more cases," said Vero Police Department Capt. Keith Touchberry.
In the recent weekend case, police were called to Point Lane after a man told police he saw a thin white man, wearing a backpack, khaki pants and a dark hooded sweatshirt, rifling through a car in his driveway.
When later apprehended, MacDonald initially told police he had stolen  the bicycle so he could get home from a beach party,.
 But he subsequently recanted and told police he had rifled through the sport utility vehicle on Point Lane and later stolen the $1,500 bicycle from a Camino Del Rio home, police said.
Police reports indicate the suspect's backpack was later found on Indian River Drive. 
Police took the backpack, a Nikon camera and $10.24 in cash into evidence.
A judge set MacDonald's bail at $75,000. He currently faces two counts of burglary and a count of grand theft, as well as a loitering and prowling charge.