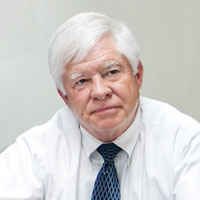 O'Connor seeking ways to cut Vero employee benefit costs
STORY BY LISA ZAHNER, (Week of November 10, 2011)
Photo of Vero Beach City Manager Jim O'Connor.
Vero Beach City Manager Jim O'Connor planned to meet with Florida League of Cities representatives this week to begin exploring ways to reduce the nearly $9 million Vero currently spends annually on municipal employee health and pension benefits.
"The League of Cities provides our general liability insurance and they also are a provider of health benefits and we're going to be talking to them to see if there's some way we can reduce the cost," O'Connor said.
Vice Mayor Pilar Turner raised the issue at two October City Council meetings after a Vero Beach 32963 story pointed out that municipal employee health and benefits now cost more than twice the nearly $4.1 million that Vero will collected this year in property taxes.
She met no resistance to issuing marching orders to O'Connor to put management of both the health plan and the retirement plan out for bid.  But when the issue came back before the Council last week, Council members told staff they wanted to attack the problem from two different angles – put management out to bid and exploring other options.
"Are we casting a broad enough net in looking at all the options of reducing our costs?" Turner said last week. "I think Florida League of Cities is a great starting place."
O'Connor said prior to shopping for a better deal on management services, he wanted to look at a possible major overhaul of the benefits programs which could net long-term savings. He assured Turner Finance Department staff was looking at the structure of the city's benefits as well as the providers. "We are going to continue to turn over the rock," he said.
"We are currently preparing the request for proposal and simultaneously exploring alternative type of health benefits and pension plans such as Florida Retirement System and Florida League of Cities," said Purchasing Director John O'Brien.
O'Brien said the last time the health benefit services were bid out was in 1996, when the contract was awarded to the Gehring Group.  "Our existing contract with our agent of record, Gehring Group, has no termination date; however, either party can terminate the agreement with a 30-day notice to terminate," he said.
"One of the issues that we are facing, we are a self-insured program right now. If, when we reduce our numbers of participants because of the downsizing in the organization, that probably will not be something that's financially feasible for us, so we're going to have to find a health care provider," O'Connor said.
"The Florida League has multiple opportunities and so we hope to pursue in that direction an alternative to health care. We also have been contacted by a couple of insurance agents who might offer some opportunities as well," O'Connor said.
Throwing Vero's lot in with the League of Cities would place Vero employees in a larger pool of insured people, possibly netting cost savings that are sometimes achieved by a group plan.
"This may be an option to self insurance and the need for a company such as the Gehring Company," O'Connor wrote in a memo to the City Council.
On the retirement side, O'Connor is looking at a major paradigm shift – changing from the city's current defined benefit plan to a statewide plan.
"We're looking at converting to the Florida Retirement System to see how that might work, again, to see if we can possibly change the cost to the city," he said.
Vero's general employee and police pension plans are about $35 million underfunded. It's not clear how the city can get out from under the existing indebtedness for employees who are already vested, or whether or not employees would need to be bought out to join the Florida Retirement System.
The city is also putting its financial services out for bid in December. Wachovia Bank, recently taken over by Wells Fargo, currently hosts all the city's normal bank accounts.