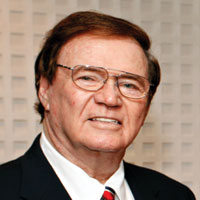 Beaches lose backer in passing of Glynn
STORY BY STEVEN M. THOMAS, (Week of November 3, 2011)
Photo of Bill Glynn.
Bill Glynn, one of the leading proponents of restoring barrier island beaches by replenishing them with sand dredged from offshore, was being remembered this week as a man who took the time to educate, not just convince, when he pursued a goal or supported a cause.
"People believed in Bill because he based his efforts on facts when trying to make a change or accomplish a goal," said County Commissioner Joe Flescher, who credits Glynn with being a personal political mentor as well as a dedicated community activist.
"He had a vast experience and was always ready to share what he knew. He spent some time with me that was of great benefit to me.
"He was probably the most sincere and knowledgeable individual I have ever crossed paths with, a man of high integrity. I saw him as recently as a few weeks ago and I was deeply saddened to hear of his passing."
A resident of Summer Place, Glynn, 83, who succumbed Monday to cancer, was a successful real estate agent who worked for Treasure Coast Sotheby's International Realty for the better part of decade, specializing in the sale of north island riverfront and oceanfront property.
"Bill Glynn was a friend, a public servant and valued colleague," says Treasure Coast co-owner Michael Thorpe. "He will be missed."
According to Thorpe, Glynn was still active in real estate in recent months.  "He never really retired," Thorpe says." Real estate is one of those rare businesses in which you just get more valuable as time goes on by and that was the case with Bill."
Glynn moved to Vero Beach from Fort Lauderdale with his wife Jeri Glynn in the late 1980s and quickly became an influential figure in local Republican politics – a man who had the ear of numerous state and county officials.
Glynn served repeatedly as chairman of the Barrier Island Coalition and the Indian River County Beaches and Shores Preservation Committee, where he used his political skill and connections to advance his beach-protection agenda.
"Bill was a stalwart proponent of the whole county, especially of the county beach infrastructure and parks," says County Commissioner Peter O'Bryan.  "One of the things I was most impressed by with him was the way he was able to convert an adversarial relationship with Sebastian Inlet District to a partnership over the years, where everyone is working together for the same result."
At last year's Barrier Island Coalition annual banquet, which Glynn emceed, he said beach restoration and the dedicated people who have fought for it will keep Vero Beach from becoming "Vero Seawall."
He will be remembered as one of the most effective leaders in that effort.
"He treated our beaches as a revered resource," says Flescher. "He is the one who got things rolling in beach restoration. We would not be where we are today without him."