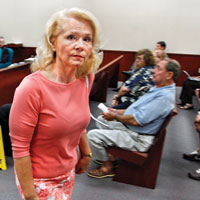 The Hatch saga:
Walking off with a half-million
Victims' hopes of any restitution of swindled
$4 million appear to dim
STORY BY LISA ZAHNER, (Week of October 20, 2011)
Photo of Margaret P. "Marjorie" Hatch.
The 700 victims robbed of an estimated $4 million by convicted swindler Ira Carlton Hatch did not receive one penny of the $1.05 million proceeds from the sale of Hatch's Castaway Cove home in September.
Instead of applying some of the proceeds to court-ordered restitution to victims, Margaret P. "Marjorie" Hatch paid off the $545,000 mortgage she and Ira Hatch had taken out in 2004 on their riverfront home, and left town with a half million dollars.
With Marjorie Hatch now living in Gainesville with her daughter, it seems increasingly unlikely that victims will ever see any of the money lost to the Hatches and their firm, Coastal Escrow Services.
The Hatch family home was sold in a private transaction to the Canadian corporation Michell3 Inc.
Sally Daley of Daley and Company Real Estate represented the buyer. When asked about the transaction, she declined to give details, but assured Vero Beach 32963 that "there was no monkey business" and that "it was definitely an arm's length transaction."
Indian River County Clerk of the Court records show the deed to the home and property at 905 Winding River Road was signed over Sept. 9. Only Marjorie Hatch signed. Ira Hatch had executed a quit-claim deed to her as part of a divorce settlement in December 2009, prior to his criminal conviction.
Interestingly, the quit-claim deed was signed by Ira Hatch on Dec. 12, 2009, but not signed by Margaret P. Hatch until Aug. 11, 2010, after Hatch's conviction July 12, 2010 just prior to his prison sentencing Aug. 25, 2010. Hatch defense attorney Gregory Eisenmenger witnessed and notarized both signatures. The document was not recorded by Indian River County Clerk of the Court until Sept. 30, 2011, when it was submitted with the deed to Michell3 Inc.
Daley said Marjorie Hatch was represented by a local Realtor, but would not say which one. The deed shows the execution of the document was witnessed by Elaine Amy, a licensed Realtor.  Her company is Phoenix Acquisitions Inc., located at 1401 Highway A1A, which is listed as the "in care of" address for Marjorie Hatch on the deed.
Daley inferred that she sought out the property for her buyer. In these types of situations, she said it's common to have a "private deal" that is not reported to the Multiple Listing System. She said she actively pursues properties not listed for sale all the time when she knows what the buyer is looking for and knows of situations in which owners might be interested in selling.
Vero Beach Utilities records show Marjorie Hatch left Vero Beach on Sept. 15 and Ontario resident Nora L. Michell paid a $300 deposit to hook up utilities at 905 Winding River Road in mid-September and, based on electric and water use, has been living at least part-time in the home.
As for Marjorie Hatch, records show she relocated to Gainesville and now shares a three-bedroom home with daughter, Danielle Eisenmenger and son-in-law Kristofer Eisenmenger. The Eisenmengers both work in the public defender's office in Alachua County's Eighth Circuit.
The couple celebrated a formal wedding and reception large enough to require shuttle buses in March 2010. The father of the bride was not present at the ceremony. He was in the Indian River County Jail awaiting trial.
The Eisenmengers bought the 3,000-square-foot home in Gainesville's Charleston Park neighborhood in May 2010. The home is co-owned by Kristofer's father, attorney Gregory Eisenmenger, who defended Ira Hatch pro bono after the court declared Hatch indigent.
Ira Hatch, who operated a law firm and Coastal Escrow Services from offices in the Transocean Center on A1A and East Causeway Boulevard in Vero Beach, was charged with robbing his clients of millions of dollars over a three-year period from 2004 to Labor Day 2007 when he locked the doors and emptied the bank accounts.
Before clearing out his office, Hatch wrote checks to his family. Those funds were seized and later released after Marjorie Hatch hired local criminal attorney Jeff Battista to plead her case in September 2007. Last year, Battista characterized Marjorie Hatch's actions as part of her maternal instincts.
"Mrs. Hatch came to me in a crisis with the singular goal of protecting her children, her ability to make sure they finished school and were provided for despite the ongoing allegations," Battista said in 2010. "She had been a devoted mother, closely involved with the lives of and care of her children, even into young adulthood."
Battista convinced the court to un-freeze the $15,000 found in a safety deposit box and $200,000 in two checking accounts. He said deposit records showed that much of the $215,000 was on deposit for many years and may have been derived as gifts from Marjorie Hatch's family.  A divorce affidavit filed in December 2009 showed those assets were long gone.
As part of a plea deal, Hatch was convicted of a racketeering charge which carried a 30-year maximum sentence. A judge ordered him to pay $4 million restitution to victims, plus a $10,000 fine, $57,000 in court costs and $20,000 to the Vero Beach Police Department for costs related to the investigation of crimes.
"The state cannot attach any assets held jointly or solely in Marjorie's name.  Our recollection is that the house was in Marjorie's name, individually.  If so, the state cannot seize her funds. The civil attorneys may be able to make a claim on behalf of the victims. They can better explain whether the money can be seized civilly under an unjust enrichment theory," said Assistant State Attorney Lev Evans, a prosecutor on the Hatch criminal case.
Three civil suits naming Marjorie Hatch have been filed, but as of yet, no plaintiff has obtained a judgment against her.
"The lawsuit is still ongoing. I think we have a trial date in January and we are working on scheduling mediation," said John Stewart of the beachside law firm of Stewart and Emmons, who represents Norris & Company Real Estate.
Court records show Norris & Company Real Estate names Marjorie Hatch as a defendant in its suit seeking $240,000. The suit alleges that Marjorie Hatch is partially liable for the losses of depositors of Coastal Escrow because she was involved with the day-to-day management of the business. The suit also claims she was negligent and did not fulfill her fiduciary duty within the company. Other counts in the suit are gross negligence, fraud, breach of contract and theft.  
The complaint alleges that "Margaret P. Hatch knew or should have known of the misappropriation of funds by Ira C. Hatch Jr." The complaint also names Hatch employee Amelia Lennon, who was listed as vice president of Coastal Escrow Services on company paperwork.  
Last summer, Stewart said he did not intend to let up on Marjorie Hatch, regardless of whether she claims Ira Hatch held or still holds any claim to the family home or other assets. "We fully intend to prevail in this suit against Marjorie Hatch," he said. "We have a good case or we wouldn't have filed the suit."  
Last year, Stewart said Norris & Company sued because when nine of its clients lost deposits and down payments entrusted to Coastal Escrow Services, Norris & Company brokers made the clients whole at their closings in September, October and November 2007, refunding the money no longer available from Hatch and his company.
Attorneys not involved in the civil cases against Ira and Marjorie Hatch said litigants who have pending cases may be able to obtain a prejudgment writ of garnishment, but neither Attorney Louis B. "Buck" Vocelle nor Stewart would comment on the record about whether they intend to pursue that remedy for their clients.
Vocelle has represented several Hatch victims, not the least of which is Hatch's long-time legal partner Kevin Doty.
Doty declined comment on whether his pending lawsuit against Ira and Marjorie Hatch could possibly glean some of the sale proceeds. "There is a lot I would like to say, but I have been advised not to comment at this time because of the pending lawsuit," he said.
"It's taken such a toll on me, my family, my practice and my life that I've tried to put it all behind me," Doty said last week upon learning Marjorie Hatch sold the Castaway Cove home and moved.
Vocelle, a long-time member of the Florida Bar Board of Governors, was the one who initially reported Hatch's missing trust account money to the Florida Bar, which prompted an investigation and led to Hatch's disbarment.
"Nobody's ever going to see the money from Ira, so the restitution is a joke," said Vocelle in July 2010. He lost $26,000 in legal fees when Hatch cleared out his trust accounts. "If he spends 30 years in jail, he'll die in jail and that's where he deserves to die."
Court records show that Vocelle, on Doty's behalf, is suing both Ira and Marjorie Hatch for $277,000 in funds misappropriated from the firm trust account, $133,000 in debts to creditors which Doty said he had to pay, $75,000 in lost income from the fallout of the ordeal, $75,000 in attorney's fees owed Doty, $25,000 in malpractice insurance deductible and $7,500 in other expenses paid as a result of Hatch closing Coastal Escrow and dismembering Hatch & Doty.   
Asserting that Hatch and Doty money was used to pay the mortgage on Hatch's home, Doty was attempting to attach the equity in the home to the lawsuit. 
Evidence presented at the criminal trial seemed to support Doty's case. In 2007 alone, while Coastal Escrow and Hatch and Doty were open for less than nine months, six mortgage payments of $6,200 each were paid out of the companies directly to Hatch's lender.
State accounting experts found that, all told, about $262,000 in mortgage payments on the Hatch home were paid directly from the business accounts. Lease payments on three BMWs for Hatch, his son Rory and his daughter Danielle were also paid from the business accounts.
Michael Thorpe had filed suit on behalf of clients of his former company, Michael Thorpe Real Estate. Thorpe declined comment on the status of his suit.
Though Marjorie Hatch's various attorneys have characterized her as an innocent bystander in the meltdown of Coastal Escrow and the shuttering of not only that firm, but also Coastal Title Services and Hatch and Doty P.A., bank records tell a different story.
As reported in Vero Beach 32963 in 2010 as part of coverage of the Hatch criminal trial, testimony and bank records used as evidence in the case showed that Margaret P. Hatch was directly connected to bank accounts used to defraud clients. Three sets of Wachovia Bank signature cards updated in 2003 and 2005 show Margaret P. Hatch as not only a signer, but as having a key role in Coastal Escrow.
A Wachovia Corporate Resolution for Depository Authorization dated March 19, 2003, bearing the signature of Margaret P. Hatch, lists her as owner of the company. An updated signature card filed on Nov. 20, 2003 lists Margaret P. Hatch as operations manager of Coastal Escrow Services Inc. Similar papers dated Jan. 6, 2005 list Margaret P. Hatch as treasurer of Coastal Escrow Services Inc. next to her signature.
It was also commonly known that Marjorie Hatch was an owner of Coastal Escrow. Ira Hatch, questioned in a deposition on Nov. 11, 2006 on an unrelated case, testified as much.
"My wife and I own a company called Coastal Title Services Inc. We also own a company called Coastal Escrow Services Inc. and there's a personal management company that we operate out of here called Orchid Management Corp.," Hatch told the attorney conducting the deposition.
Later on, he was asked, "You mentioned you worked with Coastal with your wife?"
"Correct," Hatch said.
"What's your wife's name?"
"Marjorie Hatch," he said.
"Does she work here in the office?"
"She doesn't work full time, but when she does work she works up here, yes," Hatch said.
Off the record, those familiar with the Hatch case describe Marjorie Hatch as the "big winner," in that she not only came out of this real estate transaction with a half-million dollars, but also emerged out of the criminal investigation unscathed.
At the time, prosecutors were not willing to risk issuing subpoenas for Marjorie Hatch out of concern that if granted immunity, she might then get on the stand and undermine their prosecution of Ira Hatch.
Ira Hatch is incarcerated at the Gulf Correctional Institution about 30 miles west of Panama City in the Florida panhandle. According to Florida Department of Corrections email notifications available through the Victim Information and Notification Everyday (VINE) Service (http://www.dc.state.fl.us/apps/victimasst.asp) Hatch has been in and out of the prison hospital since he entered the state prison system in September 2010. The Florida Department of Corrections has declined to give details on Hatch's condition, citing confidentiality of inmate medical records.
The 64-year-old disbarred attorney is scheduled to be released in 2037, but is currently appealing his sentence. The appeals process could take several years, according to attorneys.
"If you thought the trial court dockets were backed up, wait till you see Florida's appellate courts in action.  This will take a long time," said Assistant State Attorney Lev Evans earlier this year about the appeal.
It took nearly five months just to produce the records, with the Fourth District Court of Appeals receiving seven volumes of court transcripts from the 2010 Hatch trial this past  Jan. 12.