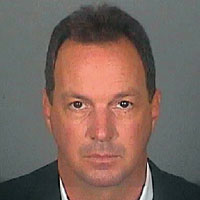 High life of accused Vero art thief appears to be unraveling
STORY BY EILEEN KELLEY, (Week of September 29, 2011)
Photo: Matthew Taylor In custody.
Matthew Taylor looked as if he had just stepped out of a page in a J. Crew catalogue.
In fancy cars, the well-coiffed Vero Beach man roamed the East and West coasts – places he also called home – in search of art and antiquities.
Taylor was an art dealer and told neighbors here he was in the business of finding old treasures, having them restored and selling them. He talked about a man named Fred in California who paid him to find such pieces.
Several days a week, Taylor, 42, tipped back vodka and fruit juice in one of the two corner booths at Bobby's, and recently was dating a woman half his age.
Taylor led what appeared to be the good life. By all accounts, he had amassed a small fortune by age 40. But he also made enemies and national headlines along the way – including here on the barrier island.
For three years, law enforcement agents doggedly pursued Taylor coast-to-coast. He now faces 100 years in prison if convicted of seven federal charges that include wire fraud, transporting stolen art across state lines and money laundering.
Investigators say Taylor, who legally changed his name from Matthew Taylor Nelson three years ago, bilked a California art collector out of $2 million.
Officials say he sold the man the work of little-known artists while claiming they were pieces done by giants of the art world like Claude Monet, Vincent van Gogh, Jackson Pollock and Mark Rothko. The paintings featured bogus signatures and provenance seals, authorities say.
They also accuse him of stealing several hundred thousand dollars in rare art from a Los Angeles gallery. One piece was seen with Taylor in Vero Beach three years ago.
To date, that work – a piece by artist Lucien Frank – eludes authorities and the rightful owner.
Taylor has also proven a pretty elusive figure.
He dodged a $1 million judgment against him following a chance encounter in a Santa Monica parking lot five years ago where he sold an art dealer a stolen painting.
And he managed twice to walk away from charges both in Vero Beach and Los Angeles that involved art.
But the handsome art dealer's life now appears to be unraveling.
Taylor sat stone faced last week in a federal courtroom in Fort Pierce. Gone were Taylor's nice suits or sporty casual wear, replaced now by a dingy blue jail jumpsuit since his arrest Sept. 15. His hands and feet were shackled.
Two US marshals stood within feet of him, only stepping back when his public defender sidled up to the art-dealer turned jail inmate.
When his case was called, Taylor said little, other than admitting he was the man federal authorities wanted in California. He told the judge he would not fight extradition.
In the meantime, the judge ordered him held without bail.
"I cannot believe he is involved in something as heinous as to get the FBI to get involved," said an acquaintance and one-time island neighbor of Taylor.
The neighbor, who asked to not be identified, said others in the neighborhood share the same sentiment. "We just cannot believe it," the neighbor said.
Once Taylor gets moved to a California cell, Harland Braun, an expensive and prominent criminal defense lawyer who has defended a number of Hollywood celebrities and sports figures, will represent him. Braun has represented Taylor in the past and the latest arrest raises the attorney's hackles.
"We figured it was a dead case," said Braun of the nearly three years since Taylor was first freed from jail on art theft charges.  "Then all of a sudden without warning they arrested him in Florida – so fine, let's bring it to trial."
With his latest arrest, Vero Beach has twice become part of the national story involving Taylor
"It's an odd story that's for sure," said Det. James Kelly of the Vero Beach Police Department.
Taylor's problems began in a Santa Monica parking lot in October 2006 where William Karges, a Beverly Hills and Carmel art dealer, said Taylor showed him a prized Granville Redmond painting that was in the back of his Cadillac.
Taylor offered to sell the piece.
Karges was stunned, but he said he did everything possible to figure out who the well-dressed Taylor was before sealing the deal. He said he contacted a private investigator, and checked with police to see if there were reports the piece was stolen.
He also spoke to Taylor's mother, a new transplant to Vero Beach at the time. Like her son, she too claimed to be owner of the Redmond piece and was willing to part with it.
"I couldn't find anything bad about him," Karges said.
So the deal was set. Three days later, Karges wired $85,000 for the painting to a Florida trust account.
Karges then repaired the frame of the Redmond piece and sold it for more than $236,000.
His windfall was a short lived.
Less than nine months after his chance encounter with Taylor, Karges learned from Los Angeles police the painting was stolen. He tracked down the buyer, refunded the money and turned the piece over to Los Angeles police who still have custody of it today.
Karges wasn't about the write off the $85,000 he wired to Taylor's trust as a mistake. "This guy is a crook," he said. "We are going to pursue him through the end. He has put us through hell and we are going to do whatever we can to recover whatever we can."
Karges may be in for a wait.
While a judge earlier this year ruled in favor Karges and said Taylor owed him more than $1 million over the illegal sale of the Redmond painting, to date Karges hasn't received a penny. In fact, he said, Taylor hasn't even recognized the judgment.
The original suit also went after Taylor's mother, Patricia Taylor, a published writer, developer and one-time avid sports fisherman. Patricia Taylor, who had lived on the island since 2004, died in March at the age of 78. Karges later added her son's name to the suit.
Taylor's attorney Braun called the matter a misunderstanding.
That's how Taylor dismissed the hoopla in September 2009 when a national manhunt centered on Bobby's and the Village Spires, where Taylor's mother lived when Los Angeles police first went after him for selling the stolen Redmond painting.
Days after his arrest in 2009, Taylor was free after making bail on a $500,000 bond. Once back home, Taylor didn't avoid the police. He called Vero police to report that while he was in California someone stole a 115-year-old painting – valued at between $200,000 and $400,000 – and a 350-year-old Bible from the Village Spires condominium.
Det. Kelly didn't buy the story. According to affidavits, he learned from an insurance investigator that Taylor filed similar police reports in Arizona and California. According to affidavits, Kelly also learned the art Taylor claimed was stolen sometime between Aug. 28 and Sept. 9 was actually a less valuable painting by a different artist.
On Feb. 11, Vero police issued warrant for Taylor's arrest claiming he filed a false police report. In a week's time he was arrested, but by the following month, the case was dropped after Kelly and others determined it would be too costly to prove.
Officials in Los Angeles also dropped the 2009 grand theft case over the Redmond painting.  Taylor dismissed the matters  in talking to his neighbors.
"He seemed to have all his bases covered," the neighbor said of Taylor's calm demeanor after his arrests. "He'd say, 'Oh it's just a big misunderstanding; everything is fine.' "
In the end, police back in California never fully turned their back on Taylor.
Los Angeles police detectives are working with federal agents to sort out who Taylor dealt with in the art world when he allegedly bought the artwork of lesser known artists, disguised them as the works of masters, and sold them for more than $2 million.
"If he did this, he really did a sales job," said Ron Rennick Sr., a well-known Vero art dealer who said Taylor would come in and browse through his collections many years ago.

Anyone with information is asked to call FBI in Los Angeles at (310) 477-6565 or the Los Angeles Police Department Art Theft Detail at (213) 486-6940.