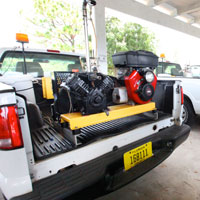 Mosquito Control District leadership, spending under new scrutiny
STORY BY LISA ZAHNER, (Week of August 2, 2012)
Photo: The Mosquito Control District's spraying trucks.
The crop-dusting airplanes which buzz local wetlands in the war on mosquitos aren't the only part of the Indian River Mosquito Control District's program that has flown under the radar for decades, but now, the sleepy agency's spending and leadership are being scrutinized.
Of the nearest four counties hugging the Indian River Lagoon and its active mosquito breeding grounds, Indian River County spends far and away the most per capita to battle the biting bugs. In the fiscal year ending September 30, 2011, local taxpayers spent $25.40 per person, compared to $12 in Brevard County, $11.90 in St. Lucie County and $5.80 in Martin County.
What's more, the Mosquito Control Board has raised the millage rate charged county taxpayers by 41 percent since 2007 – way more than any other local taxing entity.  The $3.4 million in property taxes the Mosquito District plans to collect in the coming year, in fact, do not fall far short of the $4.2 million in property taxes collected by the City of Vero Beach.
Now, two challengers running for seats on the Indian River County Mosquito Control Board – former Tax Collector Charlie Sembler and Vero Beach CPA Scott Stradley – say it is time the agency in charge of mosquito control comes to terms with today's economic realities.
Among the areas that would seem overdue for examination:
+ The mosquito control district's 30 employees still receive cost-of-living increases and merit raises – luxuries all but unheard of in government budgets the past four years – plus 100 percent paid health insurance for full-time employees, their spouses and dependents.
+ The Mosquito Control District performs one of its most basic services completely on overtime pay – something eradicated from most other government budgets. Last year, taxpayers paid workers nearly $30,000 in scheduled overtime to take out District trucks at night and spray for adult mosquitoes, which the district calls "adulticiding." This is despite the fact that the district has been spraying only at night for as long as anyone can remember, so as to target mosquitoes and avoid killing beneficial bugs that come out during the day. Long-time Office Manager Joyce Avril said the district has tried to institute shift work during the busy spraying season, but that when workers arrived in the afternoon, "their day work didn't get done."
+ The Mosquito Control District has not curbed the expensive out-of-state travel which has become almost taboo in city and county government. Last year, the district spent $30,000 for the elected members of staffers to attend conferences and training sessions. By comparison, the Vero Beach City Council, City Manager, City Attorney and City Clerk have an aggregate travel and training budget of $14,500, and have eliminated travel outside Florida.
While some of the Mosquito Control District's travel budget goes for mandatory annual training for staffers licensed to apply pesticides, barrier island resident Janice Broda has logged her share of miles since she was elected to the Board in 1992.   Her most recent trip on the taxpayer dime was to the national conference of the American Mosquito Control Association held in April at the posh Westin Hotel in Alexandria, Va.
That conference is moving to Atlantic City in 2013, and there are other junkets in between. The next trip, according to board minutes, will be a four-night jaunt to the Sundestin Hilton on the beach in the Panhandle near Fort Walton Beach.
Broda might want to wait to make those hotel reservations for she's being challenged by Scott Stradley, a Vero CPA who aims to give district spending a fresh look – one based on fiscal accountability to the taxpayer.
"The reason why I'm running is that Janice has been there for 20 years and once you've been there for 20 years, you become part of the system," Stradley said.
When asked to comment on the fact that the district's travel budget is combined with vehicle repairs in a one-line item in the budget presentation, then combined with utility expenses in financial statements, presumably in an attempt to obfuscate that $30,000 figure for conferences, hotels, transportation and meals, Stradley said, "I believe in transparency in government.
"I believe a budget should be clear and understandable to the average taxpayer who actually pays for it. Budgeting is a management tool."
The district board meets every month in a conference room out west of the Sheriff's Office on 41st Street. Meetings are short, generally less than one hour, and there's rarely any new business.
There is no clerk to compile the minutes, despite the fact that the district employs three full-time clerical staffers. The minutes are summarized and typed up by the person charged running the agency, Director Doug Carlson.
"The first motion I would make would be to have the meetings televised," Stradley said.
The district, as an agency created by a 1925 act of the Florida Legislature, is covered by the Sunshine Act, but Stradley said he thinks having meetings televised and videotaped would cause the elected board to be more accountable.
Glenn Heran, who serves as president of the Taxpayers' Association of Indian River County, was intrigued when he heard that the budget as stated by the district was $5.6 million per year.
Heran looked up the data for the three neighboring counties and did a comparison. Martin County provided mosquito control for $847,000 last year of its budgeted $899,000 to cover roughly the same size county and population as Indian River. Brevard County, which is 2.5 times the size of Indian River County, spent $6.5 million of its budgeted $8.7 million last year. St. Lucie County spent $3.3 million of its budgeted $7.2 million, but that cost was spread among twice as many taxpayers as Indian River County.
"Regardless of how you analyze the numbers, either by cost per person or cost per square mile, Indian River County mosquito control is the most expensive in the region," Heran said.  "There appears to be a significant financial inefficiency relative to the surrounding counties.  I believe there is a tremendous opportunity for the Indian River County taxpayers to save money
"I don't think many people pay much attention to the IRC Mosquito Control District activity.  I think boards like these have likely been left alone without much public scrutiny.  That is about to change," Heran added. "Based on a comparative review of the financial statements of the mosquito control boards in the region, the Taxpayers Association will be taking a keen interest this year in the mosquito control district's financial activity. 
One reason why the other counties' mosquito control efforts may be more streamlined is many have been rolled into the main county government structure. Indian River County still has an independent district.
That means the Indian River Mosquito Control District does its own fleet maintenance, purchasing, hiring, benefits management and payroll. It has a separate facility with offices that must be maintained, lighted and cooled. It has its own bays and parking areas and laboratory facilities and mechanic shop.
Carlson, who has been employed by the Indian River Mosquito Control District since 1978, defended the district's independence.
"Independent districts are ultimately responsible to the local taxpayers and I think an independent district is the most responsive to the taxpayers," Carlson said. "If you look at the programs that are dependent districts, there have been reductions in service."
If the taxpayers are not happy with the district, Carlson said, they can always replace the commissioners. But when asked what he would cut from the budget if he got commissioners on the board who tasked him with cutting 20 or 25 percent, Carlson said he wouldn't guess at what the priorities might be.
"In that situation, the commissioners would need to tell me what they wanted to be cut," Carlson said.
When asked what he would do – as a manager – if told to cut the budget without reducing services, he said he had never contemplated making such budget reductions.
Recently, the district began purchasing fuel from the county, but Stradley agrees with Heran that there may be more efficiencies to be gained by changing the agency to a dependent district that would be under the watchful eye of the Board of County Commissioners and County Administrator Joe Baird.
"We've got to have smaller government and maybe less governments is part of this answer," Stradley said.
Baird, who generally keeps track of how much all county agencies are taxing and spending, remained surprisingly mute on the question of whether efficiencies could be gained by bringing mosquito control under the county umbrella.
"I do not have an answer to your question since I have never taken a look at the mosquito organization or their budget," Baird said.
Stradley runs a CPA practice in Vero and owns another small business. He serves as chairman of the Vero Beach Utility Advisory Commission and is also the treasurer for Bill McMullen's campaign to unseat Sheriff Deryl Loar.
His incumbent opponent Broda has a long-standing affiliation with the University of Florida Entymological Laboratory at the Oslo Riverfront Conservation Area. A barrier island resident who lives north of Windsor, Broda works as a pilates instructor. She lists her occupation on campaign finance forms simply as "candidate."
Carlson said he does not have resumes on file for the three current board members, but Keith Hedin, who has been on the board since 1994, owns the Keith's Oil Can quick lube shops and Keith's Mini Storage. A 44-year resident of Indian River County, Hedin is not up for re-election this year.
Political veteran Sembler has qualified to run for a seat on the Mosquito Control Board against incumbent David Foster, who has been on the board since 2003.  Sembler loaned his campaign $2,500 to mount a bid for the Mosquito Control Board seat. Foster, who lists his occupation as "landscaper," has raised $300 and a third candidate, Vero Beach Arby's restaurant owner and Moorings resident Thomas Lureau loaned his campaign $100 to mount his challenge. Lureau unsuccessfully ran against Hedin in 2010.
Local Republican circles have been a buzz about why Sembler – who served in the state Legislature as well as county tax collector –  would run for such a relatively insignificant office with a mere $400 per month stipend.
The reason, he said, is because he wants to reform the district finances, modernize its operations and find efficiencies while maintaining the integrity of mosquito control for the public health and enjoyment of the outdoors. Sembler said he's waiting until after the Aug. 14 primary to roll out some of his ideas for the district, but in general he believes that any government agency that pushes back and refuses to adapt to the "new normal" economic conditions is in for big problems.
"I'm an old dog at this, I've been around when times were good and I've been around when times were not so good and I've seen what government can do when times are not so good," Sembler said. "The way I see it, the new reality in terms of economic conditions is going to be this way for the rest of our lives."