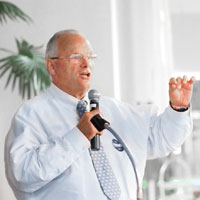 Solari wins second term in District 5 landslide
STORY BY STEVEN M. THOMAS, (Week of August 16, 2012)
Photo: Bob Solari, elected to a second term on the County Commission.
Bob Solari survived a spirited challenge by two rivals and won re-election to the District 5 County Commission seat by an overwhelming margin. The final tally was Solari 14,825, Brian Heady 6,138 and Nick Thomas 5,631.
Solari, 60, a retired businessman, first won the seat in a three-way contest in 2008. He filed for reelection last fall and immediately began raising money, eventually taking in more than $56,000, nearly five times as much as the combined total of his opponents.
"It is hard to overcome the power of incumbency," said Thomas, 50, an island attorney who plans to return to the practice of law and continue to advocate for protection and restoration of the Indian River Lagoon, one of the issues he campaigned on.
Heady, 64, said he was disappointed at the outcome of the primary and suggested there is a "high likelihood" he will run for a seat on the Vero Beach City Council. "I don't think it would be a legal election in Indian River County if I was not on the ballot."
Known as something of a perennial candidate, Heady won a seat on the City Council in 2009. After serving two years, he was narrowly defeated in his bid for re-election last fall.
Heady said he didn't think his run for county commission would have any effect on his chances of success in a City Council race. "I don't think it will make one bit of difference," he said.
Solari was unavailable for comment on election night, but it is likely he will continue the policies he pursued in his first term, working with other commissioners to hold down taxes and keep the county budget in the black.
It remains to be seen what he will do about the environmental crisis that was a central issue in the race.
High levels of pollution have been mapped in the Indian River Lagoon, the aesthetic and economic centerpiece of Indian River County. Sea grass, which is the foundation of lagoon ecology, has disappeared from much of estuary and the fisheries north of Vero have crashed, according to scientists and fishing guides.
Solari has been adamant about not passing an ordinance to reduce lagoon pollution. After saying for months that education was better than regulation to stop pollution, he approved eliminating the stormwater education coordinator position last month.
During the campaign, he proposed a large-scale infrastructure project, reversing the flow of canals so they do not drain into the lagoon, as an antipollution measure.
Solari, Heady and Thomas all ran as Republicans. Since they were the only ones in the race, the primary results decided the issue.
In the District 3 race, construction consultant Tim Zorc beat retired businesswoman Bea Gardner in the Republican primary, winning 11,090 to 7,015. He now faces unaffiliated candidate Anthony Donadio in November.
The shape of the race for the District 3 seat hung in the balance last fall and winter as opinion shifted back and forth as to whether sitting Commissioner Gary Wheeler would run again.
Wheeler is one of the most experienced and entrenched politicians in Indian River County, and as long as he was a potential candidate, no one stepped up to oppose him.
The moment he announced his decision not to run in March, Zorc, 51, a one-time homebuilder, tossed his hat in the ring.
Zorc, who is married with four children, said he wanted to run the county more like a business and bring more jobs to the area.
He had the race to himself for about two months. In May, Architect Anthony Donadio, 59, filed to run as an unaffiliated candidate. That meant the race would be decided in November, but Zorc still had no Republican rival.
Two months later, Bea Gardener, 72, a retired businesswoman known for her politically-oriented radio show and blog, filed as the second Republican, necessitating a primary contest.
"I couldn't believe no one was going to challenge this Zorc guy," said Gardner, who ran for the District 3 seat against Wheeler four years ago. "I didn't even know who he was at the time."
Gardner promised hard work, common sense and an open door policy if elected.
Both Zorc and Gardner turned out to be effective speakers at candidate forums and other events, showing a talent for brief, clear, authentic-sounding position statements. Donadio proved be more cerebral and somewhat less comfortable on the stump.
Fundraising in the race was light during the primary season. At the end of the last pre-primary reporting period Aug. 9, Donadio led the money contest with $22,275 in contributions, followed by Zorc, who took in $14,304, and Gardner who collected $8,546.
Zorc said on election night his fundraising will start over now that the primary is behind him, but he does not expect the 2½-month race between him and Donadio will be a high-dollar affair. He starts the general election campaign with $1,188 compared to Donadio's $13,912, according to public documents.
A former president of the Indian River Chamber of Commerce, Donadio enjoys strong support in the business community but was a registered Democrat until recently. He changed his party affiliation to Republican this year, but not in time to run in the GOP primary.