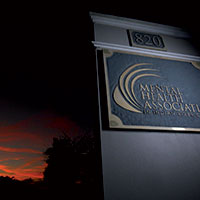 New board steps up on mental health
STORY BY MEG LAUGHLIN, (Week of December 27, 2012)
The new 10-person board of the Mental Health Association is an impressive combination of mental health professionals, nonprofit leaders and corporate executives who should accomplish exactly what funders want:  Strengthening and improving the vital role that MHA  plays in the community.
"We have a wonderfully-constructed board made up of people who clearly understand the role of the board and the needs of the community," said new board member Joe Smith.
Still, the job won't be easy.
For starters, two of the former board members – Barbara Horne and Beverly O'Neill – refused to sign off on the new board, asking to stay, despite their clear support of MHA's embroiled leader, Kris Sarkauskas and the former board members, who were forced to resign.
Further, MHA's latest tax statements show that the organization has been operating at an increasing deficit over the past three years. In the summer that amount reached $110,000.  And,  while losses have been mounting, donations have been declining from year to year forcing the nonprofit, which provides mental health services to the financially needy, to dip deeper and deeper into reserves.
Joining the  list of disenchanted funders – the Hospital District, the United Way and the Robert F. and Eleonora W. McCabe Foundation – is the government funder, the Department of Children and Families. DCF gives the organization $404,000 a year to run three mental health drop-in centers in three different counties. But DCF contract overseer Ann Berner recently launched an investigation focused on:
- Where matching funds from MHA come from.
- Whether  MHA expenses can be reconciled with services offered. 
- Whether carelessness over patient privacy (which caused MHA to be reprimanded by DCF in the summer) has been corrected.
Of particular interest to the Hospital District, which gives MHA $20,000 in matching funds that can only be spent in Indian River County: Where does $79,000 in matching funds for the DCF-funded mental health drop-in centers in three different counties come from?
In its contract with DCF, the Mental Health Association names the Hospital District as the source.
But the Hospital District funds nonprofits to help the needy with medical care using Indian River County property tax dollars, and that money cannot be used outside the county.
"None of the money has been misused,"   Sarkauskas told Vero Beach 32963 on Friday.
Her recent resignation comes with a severance package from the former board, which was fiercely loyal to her.  Neither she nor her former board will say what that amount was.
MHA tax statements show that while MHA revenue was constantly declining, Sarkauskas' salary increased every year. This past year, she made about $105,000 – an amount which DCF's Berner calls "comparatively on the high side."
MHA former board chairman Bob Young last spoke publicly two weeks ago at a Hospital District meeting, telling those gathered at the commission chambers: "MHA under Kris (Sarkauskas) is managed beautifully." 
But among those who publicly questioned that management is new board member Joe Smith, a retired corporate executive, who served on the MHA board in 2010 and resigned because of what he viewed as the blurred line between Sarkauskas' management duties and the board's responsibilities.
Smith is one of four people on the new board who at an earlier point had served on the MHA board under Sarkauskas and subsequently resigned.
"The new board very clearly understands its role: To improve the strategic direction of MHA so that it is properly funded, and to ensure it is a values-driven organization that is ethically managed,"  Smith said. 
The new board will meet at the beginning of the year to start the selection process for a new CEO and to assess the nonprofit's finances.
Problems with MHA management surfaced several months ago when a Vero Beach 32963 investigation revealed a disturbing lack of hiring standards at the nonprofit, a lax attitude about patient complaints and an alarmingly high turnover among staff and board members.
The major funders – the Hospital District, the United Way and the Robert F. and Eleonora W. McCabe Foundation (which, combined, gave MHA about $600,000 last year) – added to the list of concerns: "management by intimidation" on the part of Sarkauskas who, according to former employees and board members, stifled complaints and would not allow staff to talk to board members. Also, an "unethical co-mingling of funds," and a failure to have a required whistle-blower policy.
After months of trying to work with Sarkauskas and board chairman Bob Young and getting nowhere, funders demanded the resignation of Sarkauskas, Young and the MHA board.
In an attempt to keep Sarkauskas in charge of MHA, Young warned that if she were forced to leave, a large number of employees would resign in protest.
So far, there has been no sign of that happening.
"At this point," said Smith, "we expect the changes to go smoothly."