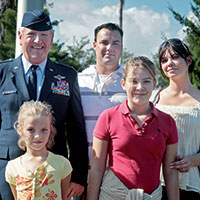 Iraq vet's story leads to ourpouring of aid
STORY BY LISA ZAHNER, (Week of December 13, 2012)
Photo of Col. Zickert and the Chapple family.
The story of out-of-work Iraq veteran Joshua Chapple evoked a powerful response, not only from Vero Beach 32963 readers who stepped forward to help after a report in the Nov. 15 issue, but also from the countywide Veterans Services Council.
Retired U.S. Air Force Col. Martin Zickert and retired Navy chaplain Capt. Richard Flick, both of Vero Beach, are two of the veterans who scrambled to help the Chapple family of Sebastian get a place to live.
Now, they are spearheading a new program to help other veterans of the Iraq and Afghanistan wars land on their feet when they return home.
Their plan is to use a framework called the Community Blueprint, developed by the Points of Light Foundation, to coordinate available resources and get them to veterans and their families quickly.
Eight focus areas are outlined in the blueprint, from housing to education, but Indian River County will be tackling the two most urgent – behavioral health and reintegration. The blueprint plan is set to be voted on by Veterans Services Council members early next month.
"At this stage, we don't need money – we're not at that point yet," Zickert said, adding that barrier island resident Sandy Johnson offered up $10,000 to pay for emergency help for Indian River County veterans and that some of that money benefited the Chapples.
"What we need is awareness among all the other local nonprofit organizations who have services that these veterans will need. We need them to know that we're not trying to steal their thunder, that we want to work with them and that we need their help and their knowledge," Zickert said.
Food banks, medical and mental health clinics, homeless shelters and employment counseling organizations are just some of the groups Zickert said he'll be reaching out to in the coming weeks. He asked that board members of those organizations alert the staff and volunteers about the blueprint so when the Veterans Services Council calls with a client or case, they're aware of the needs of veterans returning to civilian life.
Veterans receive a warm welcome from family and friends, even a "welcome home" party when they are discharged from active-duty, but what happens in the weeks and months after that homecoming is sometimes not as happy.
The men and women pouring out of the military today face harsh new realities shifting gears into civilian life – including a down economy and tough job market – and finding ways to support their spouses and children.
Rebecca Chapple will be serving on the committee set to implement the blueprint. She said finding veterans in need of help is half the battle, that the military mindset of self-reliance does not lend itself to seeking assistance from others.
"What we were used to was veterans coming to us in a one-time crisis situation, like that they couldn't pay an electric bill because something happened," Zickert said. "We were used to that. We knew how to handle that. What we didn't know how to handle were the Chapples. We were as blind as they were about how to apply for food stamps and Medicaid."
Flick and Zickert are expecting to be kept pretty busy finding and helping local veterans facing crisis and transition.
"We decided we're going to have a flood of these people coming out of active duty in the military," Flick said. "They will need jobs and places to stay and possibly the military didn't process them the way they should have."
Budget cuts and the scaling down of armed conflicts around the globe are leaving the military with a surplus of human resources.
The U.S. Army alone began cutting last summer and the numbers of involuntarily discharged soldiers are expected to total up to 80,000 in the coming months, according to reports published in the Army Times and newspapers covering military towns nationwide.
One base in Virginia reported enrolling 150 soldiers per month awaiting involuntary discharge in a program to get them ready to find a job, a home and start rebuilding their lives, post-Army.
"Our push now is finding the young people and getting them organized," Zickert said. "We've been doing a lot with the Vietnam Veterans organization, but there's a big generation gap there. We have the PTSD and a lot of the same issues that they do, but we need to get the younger people together to help with this. There's no organization for veterans of Iraq or Afghanistan."
Zickert said the fallout of military "right-sizing," as it's being called, is quite different than getting laid off from a big corporation. A soldier's job skills don't always translate well into the jobs available on the homefront.
"We need to sit down with these guys and show them how to translate what they did in the military into a resume," Zickert said. "One of the problems we have is explaining what benefit someone like Josh can be to an employer. He's going to come to work and be there every day because of the level of responsibility he had in the Army."
For the veterans coming out, there's not only the shock of losing what they thought was a steady job with good benefits, there's unique baggage to having served in Iraq or Afghanistan. Many veterans, like 27-year-old Chapple, suffer from Post-Traumatic Stress Disorder and from injuries sustained in combat or in training. That's where the behavioral health element of the blueprint program comes into play.
Flick, who served as a Navy chaplain for more than 30 years, has taken on a counseling and confessor role with veterans being served by the Veterans Council of Indian River County. The emotional scars he sees and hears about from veterans – the horrific things they experienced – are only exacerbated by the pressures of being unceremoniously thrust out of the military into a civilian world that doesn't quite get it. He said part of what is needed is having a network of caring, committed volunteers to stick with these veterans – to meet with them regularly, sit with them and just listen.
"We realize that we can't handle all of this. We realize that we don't have enough resources," Flick said. "So what we're going to be doing is talking to a lot of different people in the community."
By way of an update on the Chapple family, Joshua Chapple was offered several jobs by people who read his story in Vero Beach 32963 and the Sebastian River News. He was hired as a part-time stock clerk at the Publix on County Road 512 in Sebastian.
Rebecca Chapple has been training as a server at the Citrus Grillhouse on Ocean Drive. The family has received generous contributions of cash, clothing, toys, furniture and other support from individuals in Vero Beach, Indian River Shores and Sebastian.
Joshua Chapple recently was issued a disability rating from the Veterans Administration and is beginning to receive medical benefits. Members of the Sebastian Police Department report that they are working with jeweler Rich Boyington of Roseland to replace the couple's wedding bands, after first determining through law enforcement databases that the rings the couple pawned had already been resold. The Fraternal Order of Eagles in Sebastian has adopted the Chapples and four other military families with a total of 13 children to fulfill a list of their Christmas wishes.
Rebecca Chapple said the help her family has received is "overwhelming." She said she and her husband have never had it particularly easy – becoming parents at a very young age – but that the generosity they have experienced has sparked a whole new spirit of giving in them this holiday season. She said they are trying to take the blessings she's received and, with the faith that there's success and stability in their future, pay it forward.