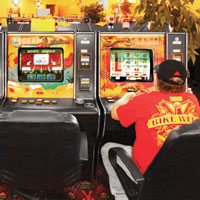 Casinos in Indian River County: How is this possible?
STORY BY EILEEN KELLEY, (Week of February 16, 2012)
An old woman in a Nissan Altima pulls into a tired strip mall on U.S. 1 a couple of blocks from Captain Hiram's about an hour before noon.
She fiddles in her pocketbook for several minutes before hoisting herself out of the car and shuffling toward the door.  Large white letters on the storefront's plate glass scream "Internet Access. Email. Fax. Copies" Off to the right, letters in red announce, "Promotional Sweepstakes Daily."
Ninety minutes later, the old woman smiles when an unfamiliar face walks into Al's Place, an Indian River County internet café where Floridians, winter residents and the occasional curious visitor sit at computer terminals, not forwarding quirky little cartoons to their grandchildren, not catching up with Facebook friends, but hoping this might be their lucky day as they play what look to be Vegas-style on-line poker and slots.
The machines are not exactly real slots.  These are so-called "sweepstakes games." Real slots which are regulated generally give gamblers a far better break.  But the machines at these internet  cafés and arcades replicate slots, and the experience is the same.
The cost of playing these gaming machines varies from place to place, but a couple of miles further north on U.S. 1, the Gold Mine Arcade, charges $12.50 an hour.  Winners at internet cafés typically earn points they can exchange for more time on the computers or cash.  Winners at arcades typically get gift cards to gas stations or stores like Walmart.
Welcome to the twilight world of unregulated – and what many consider illegal – gambling in Indian River County. 
While the city of Vero Beach has turned away people trying to set up these arcades and internet cafes shops within the city limit, according to Capt. Keith Touchberry, the county has not. 
A dozen of these arcades and internet cafes have registered as businesses in Indian River County.  Because some have closed and pulled out – leaving customers in a couple of cases holding the bag, with unsettled credits for gift cards – it's not completely clear how many are actually in operation today.
The industry has mushroomed with more than 1,300 internet cafes like Al's – generating an estimated $1 billion a year in cash -- springing up in strip malls all over Florida.  While sheriff's in some counties have tried to shut them down – raiding and closing two arcades in Jackson County just last week – Sheriff Deryl Loar says he has no plans to do the same here.
Even though Gov. Rick Scott, Attorney General Pam Bondi, and the state's Sheriff's Association have taken the position that these internet cafes and arcades are illegal, Loar says the absence of any legislation specifically banning them or regulating them leaves them in a grey area.
"If we get legislation that essentially gives us direction (like an all-out ban) … then we will take action," said Loar.  "I don't see that on the horizon."
Palm Beach County recently outlawed any new internet cafe's from opening in unincorporated areas, but no similar action has yet been considered here.
"People are going to gamble, plain and simple," says John Hood, 78, of Sebastian who says he gave up trying his luck at the sweepstake style games of internet cafes about eight months ago and instead goes to the arcades three to four times a week, where he says he has better luck with his time and money. "They are going to gamble and you cannot stop it."
The internet cafés and arcades help make Florida the fourth largest gaming state in the country, in spite of the fact that gambling is largely illegal here.  While Florida has eight Indian casinos and more than a dozen "racinos," where you can play slots or poker at horse or dog tracks or Jai-alai frontons, the state legislature still pretends it is protecting Floridians from the expansion of gaming.
One critic, Brian Kongsvik, the help-line director of the Florida Council on Compulsive Gambling,  believes the internet cafés should be more of a source of concern than Vegas-style casinos such as the three mega-casinos proposed for South Florida, which failed to gain approval from the legislature this year.
That's because, he says, internet cafés can spring up easily in strip malls and rural areas where big-time casinos will never appear.
Drive up U.S. 1 from St. Lucie County through Indian River County to the Brevard County line and one is sure to see either an adult arcade or storefront advertising e-mail, internet service and daily sweepstakes at many – if not most – strip malls along the highway.
"It's something to do when you have nothing else to do," says Ola Clark, 66, a school bus driver for the Indian River County District Schools. "It's just a game."
Clark tends to try her luck each morning after dropping students off at school. She called it a day, a non-winner, late last week when she scooted out of the Gold Mine Arcade in Sebastian before noon, saying it was time to get ready to start her bus pick-ups at the schools.
Clark, like most who frequent these strip-mall casinos, says she and others do so for the social atmosphere. Owners compete for business from this silver-haired crowd with some offering breakfast, lunch and dinner to customers. Some even provide live music on stage and throw parties around events like Valentine's Day.
Critics say the businesses, which can bring in $100,000 a week, prey on the poor and elderly who don't have the means or the wherewithal to go to a regulated casino.
Instead, they sit for hours hoping for a row of fruit to pop up on the screen and pay big.
The compulsive gambling council in Altamonte Springs receives about 6,000 calls a year from people saying their lives are out of control and many even admit to turning to crime to feed their addiction.
The group is in its third year of tracking internet sweepstakes gambling.  From what the council is hearing, there is reason for concern.
"They are low-income individuals and we are seeing dire consequences," Kongsvik says, adding crime is also a concern and it fosters the same type of issues seen in traditional casinos such as addiction and family and financial troubles although unlike casinos they are not required to post hotline information or direct people to counseling.
State Rep. Scott Plakon, R-Longwood, is leading the change in the House to ban internet cafes. 
Meanwhile, there's proposed legislation in the Senate that would regulate the internet cafes, something that rankles Plakon, who says the Senate's idea essentially give amnesty to something he and scores of others say is clearly illegal even under Florida's murky laws.
Plakon calls the proliferation of these cafes  an infestation and claims their owners prey on people who can least likely afford to lose money: The poor and elderly.
The representative could find an unusual ally in his efforts – the Seminole gaming industry which has threatened to stop paying the state $230 million a year if internet cafes are not banned.
"Why would we be OK with that," asks Plakon.
A year ago, Plakon, who currently has the backing of Gov. Scott, Attorney General Bondi, and scores of other statewide groups who want to ban internet cafes, wanted to take on the adult arcades and internet cafes.
Adult arcades are required to pay 4 percent of gross sales to the Department of Revenue. No method currently exists to determine how much all adult arcades remit to the state because the arcade machines are lumped together with things like pinball machine revenues at a mall or bowling alley.
The state's Senate Regulated Industries Committee heard testimony from an owner of a Bonita Springs adult arcade in 2008. The owner said at the 4 percent rate, she paid $119,650 to the state over three years.  That would have put the gross revenue at that facility at $2.9 million over a three-year period.
This time around, it's just the internet cafes – an unregulated activity – that Plakon wants to ban. "Slot machines are the most addictive form of gambling," he says. "These cafes are (like) crack cocaine, that pretty much says it all."
And – like crack in the inner city during the 1980s – internet café breed trouble in the form of crime, Plakon says.
He can speak from some home-town experience.
Just 10 months ago, an armed robber, one of three who came through the doors of an internet café with guns blazing in the early morning hours, was shot and killed by a security officer. The other two men fled.
Oddly, that internet café was run by Allied Veterans of the World, a group that would be exempt under Plakon's plan.
Allied Veterans, which runs about 40 internet cafes in Florida, has come under scrutiny and been accused of marketing itself as a veteran's association, although only a pittance of the money it takes in actually goes to veterans' organizations.
A young man who said he was in charge at the group's 14th Lane operation near the Vero Bowl, when asked for reaction to the exemption under Plakon's bill, said: "No comment."
Multiple workers and managers at Indian River County internet cafés and arcades similarly referred all questions to owners whose names and phone numbers they refused to disclose. But patrons had plenty to say.
"Leave it alone," said Clark, 66, the bus driver when told that Plakon's bill passed a House committee recently. "Just leave that alone. This is something for us old people to do."
In spite of Plakon's bill, at least one owner doesn't appear deterred.
Harold Dukes owns three internet cafes in the area and is opening a fourth one south in St. Lucie County. A fifth one could be on the horizon.
Multiple messages left for Dukes at his various Gold Mine Arcades  were not returned last week. Dukes is said to live out of state.
"It think it's pretty cool to be able to gamble," said George Ercolin.  But you have to be able to keep it under control. I am not going to spend one penny more than my allowance."
Ercolin, 60, knows a few things about allowance. He said he gets $600 a month, the bulk of it from Social Security Disability, because he is mentally ill and a smaller chunk because he served in Vietnam.  He  is homeless and has set up a camp site in the woods with two other homeless men.
Lawmakers, Ercolin said, need to focus their attention elsewhere.
"(Internet gaming) is the only chance we've got. It's the only chance that we'll ever get to try and get ahead."