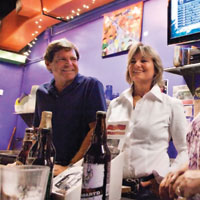 Bodega Blue owner had heart attack; new details emerge
STORY BY MICHELLE GENZ, (Week of January 12, 2012)
Photo of Peter Beringer and Zandra Simm
Preliminary autopsy results indicate Bodega Blue owner Peter Beringer died of a "massive" heart attack, and had "undiagnosed coronary artery disease," according to Daryn Beringer, his sister-in-law.
Meanwhile, the state website for Florida corporations shows Beringer's girlfriend, Zandra Simm, who last week claimed part-ownership of the cafe, posted her resignation as a manager of the limited liability corporation the day before he was found dead on a beach off the Bahamian island of Eleuthera.
Simm says the resignation was for her role as a manager, and that she remained a member of the LLC. The paperwork was signed in October, Simm said, and "to her knowledge" submitted by their accountant then as well. She said it was intended to protect her from tax liabilities.
The paperwork signed by Simm carries a state date stamp logging it in with the $25 filing fee paid as of Dec. 27th.  It also says to return all correspondence regarding the matter to Beringer at the Bodega Blue café address.
The couple had been arguing intensely over the financial status of Bodega Blue, including on the evening prior to Berenger's death.
Simm says at the time she signed the document there were "no disagreements of any kind."
"We had just decided that we would formalize owner(ship) being gifted to me in May after my birthday when I would be a majority holder of 60 percent," she said in a text message, responding to inquiries concerning the document filed with the Florida Department of State.
Sunday in Eleuthera, the Beringer family held an informal service for Peter Beringer, 52, with family and many Bahamian friends attending. His ashes were scattered near the beach behind his family's longtime vacation home.
The coroner for the Bahamas, Linda Virgil, stressed that no cause of death had been determined as yet. She said a toxicology report is expected this week. A formal inquest into the cause of death likely will not be held before next month, Virgil said. Prescription drugs and two bottles of alcohol were found near his body.
Meanwhile, an e-mail went out to the mailing list for the popular downtown café and blues bar that it would be closing due to Beringer's death, and provided contact information for Simm. The e-mail noted that the café was closing due to "the family's wishes to close and liquidate."
Simm said last week she hoped to re-open the business with her as manager. Monday, she said she was "not going to fight" over what she claims was a verbal agreement with Peter Beringer "gifting" her a share of the business, adding she was "just not up to it." Beringer was sole investor when he bought the restaurant late last summer.
Daryn Beringer, the wife of Peter Beringer's only sibling, Stuart S. Beringer of Purchase, N.Y., says though the family has a "fiduciary responsibility to the estate," its hope is to sell the business as "an on-going concern," rather than liquidate.
"We would like to be left in peace now," she said, following news the autopsy had been completed.
Peter Beringer is survived by two teen-age children in Norway.
"The family is certainly hoping that we find a buyer," Daryn Beringer said. "We would like to do something for the community, because Peter thought he was doing something for the community."
The business is listed with commercial Realtor Billy Moss.
For the past year and a half, Simm was Beringer's girlfriend. A former interior designer who moved to Vero four years ago, she was a spokesperson for Bodega Blue as it changed hands late last August.
With Beringer the sole investor, Simm took a salary for managing the café. She said the café was bought for $60,000 but had required an extra $40,000 investment in the two months since it re-opened in Beringer's name.
Simm and her daughters had been visiting Peter Beringer, who was spending Christmas with his mother at their Windermere Island beach house. Beringer's father was the late Stuart Marshall Beringer of Rye, New York.
On Jan. 5, the following e-mail was sent by Bodega Blue, addressed to "all our loyal patrons":
"We regrettably inform you that Bodega Blue must close it's doors due to the passing of owner Peter Beringer. It is his family's wishes to close and liquidate his estate. We thank you all for your past support and wish everyone a happy and healthy New Year! Sincerely, Zandra Simm."
Simm, who says there will be no memorial service for Beringer here, spent the weekend in Miami selling a line of food products at a farmer's market. She says she will continue to sell the line at Vero's
Beachside Farmers Market through the season.
E-mail and cell phone messages to Simm concerning the resignation were not returned.