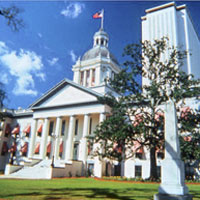 Legislature to tackle redistricting when 2012 session opens
STORY BY LISA ZAHNER, (Week of January 5, 2012)
The 2012 session of the Florida Legislature starts next Tuesday and elected lawmakers, including two who represent Vero Beach's barrier island, will have just 60 days to tackle Florida's many challenges.
"The biggest issues for the 2012 Legislative session will no doubt be redistricting, balancing the budget and recharging Florida's economy," said state Rep. Debbie Mayfield, who represents the barrier island and all of the city of Vero Beach.
When Mayfield and Sen. Joe Negron head to Tallahassee two months early to settle the redistricting issue, they'll be digging into a state budget that's currently about $1.2 billion in the red at a time when Florida residents are in dire need of jobs and services.
The $66.4 billion budget proposed by Gov. Rick Scott would fund state government activities for the year beginning July 1. That would reduce state spending nearly 5 percent, bringing expenditures close to 2005-06 levels.
In 2006, during the economic and real estate boom, the state budget soared to $73.8 billion and has hovered around the $70 billion mark ever since.
"There are two very clear goals this year: keep taxes low and encourage private sector economic activity," Mayfield said. "This is going to be another very tough year we need to stay focused on what the primary functions of government are and use those principles to cut spending as well as re-evaluate how and where we are allocating government revenues."
Unlike Congress, Florida legislators can't borrow money or kick the deficit down the road.
"Balancing the state budget will prove to be very difficult again this year. The people of Florida send us to Tallahassee for 60 days and expect our work to be completed within that time," Mayfield said. "We are constitutionally mandated to balance the budget and ensure that state government lives within its means."
The elephant in the room this session will be redistricting – who will get what territory on the big game board of Florida and how that might affect their re-election chances.
Every 10 years, districts are redrawn based upon new U.S. Census figures and, not surprisingly, the process gets political. To make the public feel involved this time around, Florida's leaders gave citizens access to a computer application that let them design their own maps and submit them for consideration.
"After an extensive summer redistricting tour, the House introduced several map options in early December outlining possible House and Congressional districts.  The final maps could be taken up and voted on in committee during the first few weeks of session," Mayfield said.
"With the summer tour and all of the online tools like MyDistrictBuilder, this has been the most open and transparent process in history.  I encourage the public to get engaged in this process by visiting www.FloridaRedistricting.org," she said.
Redistricting may consolidate Mayfield's district, which now sprawls to the north and south, to encompass all of Indian River County. This would push state Rep. Tom Goodson's district up into Brevard County, reducing the number of people looking out for Indian River County's interests in the state capitol.
In addition to finalizing the new districts, hammering out a budget to fund the state – supposedly without raising taxes – is a major task at hand for legislators.
One way Mayfield said she's trying to do this is to reform part of what she calls the "archaic state personnel system." Her House Bill 545 would rein in the use of banked vacation time as a retirement benefit for state employees.
"I believe vacation time is a benefit which should be used," Mayfield said. "This legislation will freeze what is currently accumulated in vacation time to date and if an employee has not used the time prior to leaving employment it will be paid out.  However, the time will no longer be part of an employee's final compensation for retirement pay."
The bill includes exemptions for instances when public safety workers cannot take their vacation time due to pressing duties protecting the residents of Florida. It will take some time for the savings to be realized in the state budget, but the move is a show of leadership that city and county governments could follow to reduce long-term liabilities to employees.
Mayfield's proposal is a way to cut expenses across the board in all government departments and offices without reducing services to Florida's residents.
Normally, during a regular session, state agencies submit funding requests in the fall. The governor's staffers trim the excess and meld that data into a budget that is released in January. Then legislators come to town in March and the budget is made and re-made throughout the spring, with last-minute deals being done at the end of April. This year, it will all be wrapped up by the time it normally gets started.
Local special interests and agencies wishing to influence policy or to get their representatives to introduce or sponsor a bill would normally be doing that in the upcoming weeks, but that part of the process is all but over. Members of the Treasure Coast Chamber delegation traveling to Tallahassee later this month can still urge members to support certain projects or funding, but session will be in full swing with committee hearing calendars packed by mid-January. Groundwork on local bills should have been done over the summer this year, or at the latest, in the fall.
"The early start date for the 2012 session will have a collateral impact on the timing and sequence of our work in the House," Speaker Dean Cannon of Winter Park wrote in a recent message to legislators and staff.
"We anticipate spending significantly less time on the floor, in formal session, than we did last year. I do not expect any major Floor action during the first several weeks of session," Cannon said. "The policy subcommittees will meet during weeks one through four of session."
Those subcommittees, which deal with specific areas of the government such as agriculture, natural resources, government operations, higher education, health care and transportation are expected to make recommendations to be included in the House's version of the 2012-13 budget. The House budget is always different from the budget recommended by the governor.
"We've been making budget reductions for multiple consecutive years, our subcommittees are now seasoned in preparing for reductions," said state Rep. Denise Grimsley of Sebring, in response to Scott's budget. "We will continue to consider similar options that have been available to us in the past to resolve the current shortfall. There is no magic bullet."
In Florida, the governor can and often does wield the power of the line-item veto, if the legislature approves something that's not in line with his fiscal or political priorities.
The Florida House has 120 members and the Florida Senate has 40 members. Republican members outnumber Democratic members by slightly more than a 2 to 1 ratio, meaning that Republicans chair all the committees as part of the political booty of being in the super-majority.
Democrats in the Florida House and Senate, who mostly hail from South Florida, Orlando, Tampa and Jacksonville, struggle to work with the Republican leadership to preserve what they consider to be vital government services in this fourth year of deep cuts to the budget.
"I am concerned about some of the governor's recommendations, including what could be potentially harmful cuts to social services and health-care programs for Floridians," said Democratic leader Ron Saunders of Key West in a response to Scott's budget.
To make its books balance, the state has gotten in the habit of cutting funding for programs and services by pushing those responsibilities down to city and county governments in the form of "unfunded mandates." As local elected leaders file up to Tallahassee in droves this session, they will press for the elimination of unnecessary reporting and red tape which costs local governments money and staff time and which often bog down local businesses.
"One of the most important things that the State did last year, was to cut back parts of the mammoth bureaucracy, which during the years of plenty, was able to grow beyond reasonable limits," said Indian River County Commission Chairman Bob Solari, whose district encompasses most of the barrier island. "It reduced the size and scope of the Department of Community Affairs, cut the budgets of regional planning councils and water management districts, and rightly instructed them to return to their core missions.
"In the next session, if it could continue cutting unnecessary bureaucracy, including committees that they mandate local governments have and maintain, and if it could require its agencies like the Department of Environmental Protection and planning councils to focus only on core responsibilities and needs, both the State and the County could save taxpayer dollars," Solari said.
According to data compiled from public records by the Center on Budget and Policy Priorities, Florida's public schools have taken a hit of $1,381 per student over the past four years.
During that same time period, Florida's schools rose in the rankings from 11th to fifth in the nation, according to Education Week magazine. Based upon the publication's criteria, the Sunshine State in 2011 was topped only by Maryland, New York, Massachusetts and Virginia. Rankings for 2012 are due out next week.
Scott's proposed 2012-13 budget includes an increase of $59 per student, which adjusted for inflation, adds up to about $1 million more in funding for education. But at the same time, the budget slashes Medicaid by about $2 million.
Saunders praised Scott for putting public education at the forefront of his budget proposal, but cautioned that funding for job creation and investment in infrastructure should be improved through bipartisan efforts in the House.
"Florida's working families, middle-class taxpayers and small businesses deserve priority attention in Florida's next state budget," Saunders said.
Sen. Joe Negron, who represents the entire barrier island, listed as his priorities for the upcoming session, in addition to redistricting, various legislative initiatives aimed at boosting economic conditions and the employment outlook for Florida's families.
"The good news is that Florida's economy is slowly improving, with an increase in tourism and a decrease in unemployment.  However, it is likely that in 2012 we will have to reduce overall state spending by about $2 billion, so Florida can live within its means the same way families and businesses do," Negron said.  "Our priority will be putting dollars in our public schools and making our universities even better and more competitive."
Issues before the Florida Senate run the gamut from the mundane to the controversial.
"The Legislature will address proposals to keep auto insurance rates affordable by combating fraud, as well as decide whether or not destination gaming with casinos in South Florida is good public policy," Negron said. "Recognizing that our local beaches are an unparalleled natural resource, providing recreation and promoting tourism, we will continue to monitor beach restoration and nourishment efforts." 
Negron noted that redistricting could alter who he represents next year.
"Our hope is to keep Indian River County and the entire Treasure Coast as a vibrant and robust political community, particularly as we become known for biotech research and development," he said.
The Florida Senate is led this year by Senate President Mike Haridopolos, who represents much of mainland Indian River County. It is yet to be seen whether his lofty position will result in any specific benefits for the Vero Beach area.
The upwardly mobile college professor and author lost some support from locals when, just after being elected incoming Senate president, he announced that he would be spending his year in that top role campaigning to take on incumbent U.S. Senator Bill Nelson in 2012.
Haridopolos pulled out of the U.S. Senate race in July amid controversy over his financial disclosure forms and after being disciplined for questionable ethics during the 2011 session. He cited a desire to "focus" on his job as Florida's Senate president as his reason for bowing out.
"I truly believed I could handle both jobs, but I was wrong," Haridopolos said.  "Now I am determined to make it right."
In October, Haridopolos endorsed veteran Republican U.S. Rep. Connie Mack in the primary race for U.S. Senate. Last session, it was widely reported that Senate members openly doubted the heft of Haridopolos' leadership, so it will be interesting to see whether he earns his colleagues' respect and approval back in 2012.
Though Florida legislators work full time, sometimes 14 or more hours per day during the 60-day session, they are part-time the rest of the year. That is by design, as it was the goal for them not to become career politicians, but instead to stay connected with the daily concerns of the average citizen, worker or small business owner.
Whether that goal has been achieved is debatable although some members of the Florida House and Senate have regular jobs or run family businesses, a good many work as well-compensated "consultants" during their off-time from government, using their clout and connections cultivated through their elected office to promote a cause or an industry.
March 9 is the last day of regular session. Mayfield said it's critical for both the House and Senate to complete their work on time this year.
"It is more important than ever that we avoid additional costs of holding a special session and appropriately address the complicated budget issues we face during the regular session."