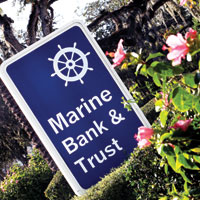 Marine now is fighting state as well as federal bank regulators
STORY BY EILEEN KELLEY, (Week of January 19, 2012)
Even as Marine Bank and Trust defends itself against a Federal Deposit Insurance Corporation challenge of its lending practices and financial stability, it turns out the FDIC isn't the only regulatory body scrutinizing the island's only locally-owned bank. The state also is looking at Marine Bank, Vero Beach 32963 has learned.
The state Office of Financial Regulation, a Florida agency charged with licensing and regulation of state-charted financial institutions, informed Marine Bank it is in violation of state laws relating to the operation of the bank and charged that it continues to engage in unsafe and unsound practices.
The bank is vigorously contesting the allegations.
A hearing on the state action was scheduled for January 23, but Marine Bank  lawyers asked for a continuance. As of press time, a decision had not been made.
Records say the state agency made an agreement with Marine Bank in 2009 to correct what state officials said were safety and soundness deficiencies discovered during a routine bank examination. A year later, the state alleged the bank's asset quality remained unsatisfactory and that its portfolio had deteriorated.
The state also took Marine's Board of Directors to task.
"… The bank's board is not providing adequate and effective oversights, supervision and guidance to the bank's management to prevent unsafe and unsound practices and violations of laws and regulations," records filed with the state's division of administrative hearings contended.
Marine Bank has made headway, its lawyers contend, but coming up with the cash infusion that regulators say it needs has been a difficult challenge even after a board member added $1 million to the bank's capital in 2010.
Bank officials and their lawyers say the economy has battered the local bank, which is headquartered on Beachland Boulevard. They added that megabanks such as Bank of America, Chase and Wells Fargo have made it difficult for Marine to compete for business that isn't centered around commercial loans.
They also cite a vice-like tightening of controls and standards by regulators and say it's no wonder community banks across the land are struggling to stay afloat.
Attorneys for the bank say the federal agency is acting arbitrarily, and practices that seemed fine a few years earlier now are being unfairly scrutinized.
George Igler, one of the bank's attorneys for both the state and federal actions, responded to the state's allegations that the bank had excessive commercial loans this way:
"(Were) any excessive concentration of loans at the bank caused by any 'practice' or 'conduct' of the (bank), or instead are they a result of: the unprecedented devaluation in real estate in the bank's  primary market area; the sustained, increased levels of unemployment in the current recession; reactionary, overzealous regulation; or some combination of these or other causes external to the bank."
In the state case, a hearing officer will wade through testimony and what could be tens of thousands of pages of documents and then recommend to the head of the agency whether it should be permitted to make demands on the bank and set time tables for improvement, as well as require additional oversight.
The upcoming hearing comes on the heels of four days of testimony in a Fort Pierce federal courtroom where the FDIC's team from Atlanta took on the local bank.
Like the state, the FDIC alleges Marine Bank needed to expand its capital and diversify its portfolio.
Sitting in attendance taking copious notes during the hearing in federal court was Jeffery Jones, assistant general counsel for the state regulatory agency out of Tallahassee.
During testimony last week, Brian Fowler, a Marine Bank employee, reviewed numerous loans  – some that had been initiated during the era of  quick turn-arounds on high-end homes – as well as other loans made by the bank after the housing market crashed and a recession set in.
Those later loans revealed how local day-care centers, dentists, doctors, carpenters were struggling to stay afloat and turned to their community bank for help.
Fowler admitted Marine Bank was struggling to collect on some loans but said the bank is making improvements.
The state and federal agencies are working in concert with one another, something not uncommon when it comes to checking the books.
What is uncommon, though, is for both to pull out the vice grips, said Ed Dougherty, a Marine Bank attorney who specializes in banking and corporate law.
Marine Bank, Dougherty said, had been acting in good faith. "We think it is unfair and not a proper purpose on the part of the regulators," he said.
That is why the bank is fighting back.
"The bank has refused to buckle," said Dougherty.
But taking on the FDIC before a judge who hails from the Office of Financial Institution Adjudication, an agency which by all accounts can be considered a cousin of the FDIC, has proved to be burdensome. 
The judge's decision carries a lot of weight, but just as in the state case, the decision is made at the regulatory level, said Dougherty.
David Croom, a member of Marine Bank's board of directors who sits on the bank's special assets committee and reviews problem loans, told the judge last week that following a 2009 review by the federal examiners, all appeared to be fine as the examiners were departing.
But just a few months later in 2010, the federal examiners sent the bank a notice telling it that its lines of credit were not being properly managed and that its loan officers were slow to correct problems.
"I can categorically say I would disagree with 100 percent of those statements," Croom testified.
The bank and federal agency entered into what is called a memorandum of understanding where Marine Bank had to show it was making a good faith effort to bolster its reserves and diversify its loan portfolio. 
The FDIC then hit the bank with another notice giving it a timeline with little flexibility.  It also threatened to fine the bank. One of the orders gave Marine 60 days to find more capital. "I took this as you are going to wave a (magic) wand," Croom said.
"Why not give us a reasonable opportunity," asked Dougherty of the potential stringent timelines for corrective action that could be imposed by both state and federal agencies. "Why try and short sheet the bank."