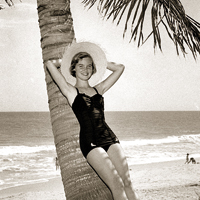 Susan Smith Ritter: Definer of Vero style
STORY BY MICHELLE GENZ, (Week of July 26, 2012)
Photo of Susan Smith Ritter.
The first labels in boutique owner Susan Smith Ritter's career were not on dresses. They were on wooden citrus crates in the family's packing house, glued on by her and her brother Ray.  It was her first job: she was 8, Ray was 7. "If we worked real hard, we'd make maybe a dollar an hour," recalls Ray.
From the piecework at the packing house, Ritter went on to become the not-so-silent partner in Sassy's, one of the beach's best-known boutiques. Applying her Southern sensibilities to the lines she saw in New York, she lent vibrancy to the shop's resort wear that sprang from her love of life and leisure.
Last week, Susan Ritter died after a three-year battle with ovarian cancer. She was 69. Slim, smiling and soignée to the last strand of her long blonde hair, she spread her sense of style among a multitude of Vero women.
There were those who shopped at Sassy's, the clothing shop she opened 19 years ago with daughter-in-law Deana Marchant. "That was a big part of her life," according to Marchant.
There were her high school friends with whom she organized annual reunions.
There were the women at the Vero Beach Bridge Center, where soon after her diagnosis, she set about earning a Life Master title to keep her mind off her chemotherapy.
There were the women she lunched with every week for the past 12 years.
"We tried hard not to talk about our jobs,"  says Realtor Kay Brown, who read a passage of  scripture to 600 attendees at Ritter's memorial service at Vero's Community Church.
In addition to her Vero chums, there were friends from Winter Park, where her only son Todd Marchant was born.
Those friends included the mother of Todd's wife Deana, and eventually Deana herself. "I was kind of like her daughter," she says.  "Todd and I started dating in high school. I was always at his house and he was always at mine."
When Deana and Todd married in 1992, they moved back to Vero, and Susan followed, buying a townhouse in John's Island.
Susan Ritter and her daughter-in-law opened Sassy's in 1993. Deana Marchant ran the shop, but Ritter accompanied her on buying trips to New York.
"She loved to go to Broadway while we were there and she loved trying out new restaurants."
Ritter's first home was on the same property as the packing house, on Old Dixie Highway across from where Grand Harbor is today. Her great-grandfather had come to Vero in the early 1900s.
In elementary school, the family moved to the Vero Beach Country Club.
At the time, the family business owned the Spindrift Cottages, where Costa D'Este Resort now stands; they would pack up and move from the mainland to the island and spend their summers there.  Pretty and popular, by high school, she made the cheerleading squad. "She was the proverbial cheerleader: bouncy, beautiful, smiling."
She also wasn't shy about sharing her tastes. "She told us what to wear and how to cut our hair." After high school, she went to junior college in Washington, D.C., following brother Ray to the University of Mississippi. With Todd's father, she moved back to Florida, settling first in Orange Park, then Winter Park. Throughout those years and after, she loved to travel, and planned every detail. Last November, she went with a group of friends to New York.
"She researched every play and every restaurant," says Kay Brown. "She outperformed me. One day we did two plays and then we went out to dinner."
In January, they had a gathering for her birthday at the Ocean Grill. There was a balloon that said "Birthday Princess" and an Ocean Grill cake."
Brown said Ritter always preferred the icing over the cake.