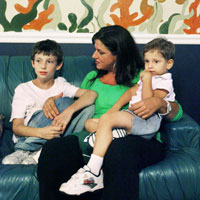 The changing face of homelessness in Indian River County
Family waiting list for shelters grows
STORY BY EILEEN KELLEY, (Week of June 21, 2012)
Photos: Audrey with her two sons.
A large salad bowl sits in the center of the table. Small fingers wrap around forks, and children scoop canned corn and mashed potatoes into hungry mouths.
Their eyes – bright with excitement – look up when Lorne Coyle walks into the small dining area where mothers and a few fathers sit on benches with their children at long metal tables, and eat a hot, home-cooked meal served in shifts.
As Coyle, the director of the Homeless Family Center, makes his way down the hall of dormitory-style housing for the 56 people the center currently houses, feeds and counsels, little legs patter down the hallway to catch up with the man who pulled their family back from the brink.
The brink, for some, has meant living in cars or in the woods.  For others, it has meant borrowing time in cheap hotels or on the floors and couches of friends and family.
These are people that Indian River homeless advocates say have become the fastest growing part of the county's homeless population – families where the breadwinner has lost his or her job.
At a homeless camp behind the Applebee's off of State Road 60, a child's bright blue overnight bag, children's books, a New Testament Bible and a dog dish stand out from a landscape of empty beer cans and empty tins of soup and vegetables.
A large bed comforter – once white – is strung across a line so that it can dry out from the almost nightly down pours. Three pillows are still damp from the rains.
Living in the woods is no picnic. It grows old and is nothing like the days of growing up and going on an overnight camping trip. Still, many people do it every night in Indian River County. The county homeless survey earlier this year estimated nearly 140 people lived in the woods. 
On June 9, Sheriff's deputies arrested two women, ages 58 and 35 as well as three men whose ages ranged from 28 to 56, for trespassing at another homeless camp off 15th Place. Within days, others had taken the spots in the woods of those arrested.
"We live a very miserable life," said 37-year-old Mark Akins, one of the men living in the woods.
Others belief life will get better in large part because it cannot get much worse.
"I'm not looking for anyone to guide me by the hand," said Matt Martone, 47, a welder and truck driver who not long ago was pulling in $50,000 a year. He currently works 15 hours a week at a Hess gas station lunch counter.
Martone can rattle off all the places to try and grab a free shower, or hose off dank and dirtied clothes and outdoor bed linens.
Standing near the door to the homeless ministry,  The Source, he looks over at the large crowd gathering at dinnertime. He knows many of them are broken and have given up hope. Still, he refuses to.
"It's because of the recession," Martone said. "I didn't create it, but I am affected by it."
Martone doesn't qualify for the Homeless Family Center's services because he doesn't have children.
Coyle's well aware that many of the area's marginalized and homeless are men just like Martone and Akins.
Thinking too long about those not being served – and the 45 families currently on the waiting list at his shelter, up from only four or five a few years ago – can tear apart anyone who works with the homeless, Coyle said.
"It's like Schindler's list," he said. "You look at all the families that you want to save, but you can only do what you can do."
So he does his best.
Coyle knows each of the children, all 36 of them, at his shelter by name. He knows of the mistakes some of the mothers and fathers made. He knows all too well the misfortune all have endured on their journey to his shelter, one of only two that serve the county.
But Coyle also gets to witness to the growth and success that on average nine out of 10 families who come into the program achieve. The center's program that allows a maximum stay of two years so some other family may be given a chance to pull itself back from the brink.
"I'm going to leave here with a solid base," said Audrey, 39, a former school teacher. The homeless center asked that last names not be used.
Audrey's teaching certificate has since expired. Her last job in the field was in 2008 in St. Lucie County.
When she arrived at the center last August, she had no money left. At one point, she spent more than three years living with a man who wanted her to not work but stay at his home and raise her children, who are now 2½ and 8.
She left and for a time lived in the woods.
Now, she has a small room equipped with a dresser and bunk beds for herself and her children. They share a bathroom with another family.
Eight-year-old Ashton dreams one day of flying planes in the US Air Force and doesn't want to think about leaving the shelter.
But Audrey does.
A smile widens across her face and her eyes well when she thinks about the possibilities of returning to a normal life.
"I just want to be able to light a candle again," she said. "It's very exciting to know that one day, I'll be able to go into my own home and have my own dining room table. I have that picture in my head – sitting there with my family, my own things, my sons."
Twenty-four-year old Tanya also pines for normalcy, something she hasn't known since she lost her job at the Indian River Mall when the kiosk she worked at closed.
At nine months pregnant and after months of being rejected for jobs at restaurants all over Indian River County, Tanya ended up at the Homeless Family Center. The last of her money went to a cheap Vero Beach motel. Two weeks later, she gave birth to a boy and named him Tanner.
"I want for him to have whatever he needs (to be successful)," Tanya said.
To help him get there, she first needs to find a job that will allow her to provide for her son without the help of the Homeless Family Center.
Still without a job, she's taken to steps to toward that goal. Last month, she graduated from an six-month-long adult education program and earned a certificate in phlebotomy.
Since then, she's been filling out applications and offering to work for free if it means being given a chance at a job one day.
Coyle has great hope for both Audrey, who is working at TJ Maxx, and Tanya.  Before becoming homeless, they both had a picture – a picture very different than they ones they each see in the mirror – of what it looked like to be homeless.
Now, they know differently.
"This is the new paradigm," Coyle said.