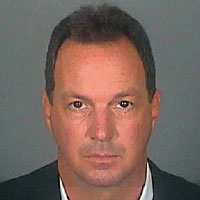 Accused art thief jailed for flouting rules
STORY BY EILEEN KELLEY, (Week of June 7, 2012)
Photo of Matthew Taylor
Matthew Taylor, 43, the accused Vero Beach art swindler scheduled to go on trial in California later this month, is now awaiting his court date in jail after breaking the lenient rules of his house arrest.
The Central Beach man – who liked to portray himself as a well-heeled John's Island resident while living on the barrier island – didn't seem to understand that disobeying a judge's orders while under house arrest may have consequences.
Taylor is scheduled to face a judge later this month on a litany of charges that stem from allegations he bilked a man out of more than $2 million in bogus paintings, and stole valuable pieces of authentic work from another gallery.
If convicted of the 10 charges, Taylor could spend the rest of his life behind bars.
Before being jailed in April, Taylor had been under house arrest since last fall after he was taken into custody in Vero and shipped to California to face charges.
The guidelines for his initial house arrest were rather liberal, and allowed him to visit his attorney, go to art museums – something Taylor maintained he needed to do in preparation for his trial – and leave his new home in Marina del Ray where he lived with Vero Beach girlfriend Rebecca Larkin for meals. 
But Taylor pressed for more, saying he should be able to go to the gym and travel around the area with family that was scheduled to visit him.
As Taylor fought to expand the liberal confines of his house arrest, authorities became concerned Taylor might be planning to make a run for it when over the course of a month, he withdrew more than $220,000 from banks.
A judge subsequently stiffened the house arrest rules, ruling Taylor could only leave his home to visit his attorney and prepare for his trial. When visiting his attorney, he was to go straight there without making any stops.
But Taylor apparently didn't listen, and when he was caught going to a restaurant without permission, he was jailed.
Now behind bars, Taylor and his attorney are trying to bend the rules again.  Court records show that Taylor is seeking to have Larkin allowed to visit him at any time and not just during regular inmate-visitation hours.
And in his latest filing just this past Monday, Taylor's attorney Harland Braun complained about the noise level at the federal detention center and said "the defendant has not been able to sleep."
As a result, the attorney asked for special accommodations so Taylor would be well-rested for the trial.
Taylor also has been seeking access to a computer around the clock. Taylor and Braun maintain that Taylor must go through some 20,000 documents and review photographs of 120 oil paintings to prepare for his late June trial.
About three dozen court filings have been recorded on the matter since Taylor was incarcerated in April. The constant filings seeking more liberties behind bars appear to have irritated federal prosecutors, who maintain that the suspected art thief is putting forth more effort at fighting the judge's current orders than actually preparing for trial.
"The defendant remains a real flight risk and a danger to this community," federal prosecutors wrote in court filings. "…The defendant has proven time and time again that he cannot be trusted to follow the court's orders.
"His promises to the court to abide by pretrial conditions are worthless at this juncture, in light of his proven pattern of deceit and misconduct, including criminal conduct, while previously out on pretrial release."
Court records suggest the trial, which has been delayed many times, could last four weeks.
Taylor also says he intends to represent himself on three of the 10 charges, those that relate to his withdrawal of more than $220,000 as well as two charges of evading payment of federal taxes.
Federal prosecutors says that by having a trial lawyer represent him on some of the charges and representing himself on others, the hybrid representation is likely to "make the trial chaotic and unworkable."
The other charges Taylor is facing include wire fraud, possession of stolen property, interstate transportation of stolen property and money laundering. 
Court records suggest Taylor's girlfriend also faces federal charges, though the details of what those charges could be are unclear.