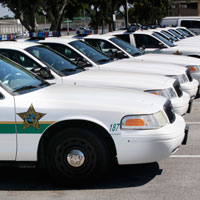 More Sheriff's Office records altered
State Attorney asked to probe 'conspiracy;'
17 deputies named as witnesses
STORY BY EILEEN KELLEY, (Week of June 14, 2012)
The Sheriff's Office altered more February patrol records than originally reported in 32963 as part of an effort to obscure the fact that the barrier island lacked protection more than 20 percent of the time, a review of hundreds of time cards and line-up sheets reveals.
In addition, a review of new records obtained by 32963 indicate that not only was the barrier island not being covered full time as claimed by Sheriff Deryl Loar, but the shortage of patrol deputies appears to be a problem in other areas of Indian River County.
Since the initial report of the alteration of records appeared in 32963 on April 26, the Sheriff's Office has made a major effort to be more visible on the island. On April 28, for example, a teletype message to a watch commander said Jeff Luther, Loar's right-hand man, wanted a unit "do a few drive thru's around the club house" at the Moorings during a car show.
The records changes also have injected the issue into Sheriff Loar's re-election campaign against former Lt. Bill McMullen. Attorney Bob Meadows, a friend of McMullen, this week accused Loar and Capt. Don Smith, who altered the records, of a "criminal conspiracy" and submitted to State Attorney Bruce Colton as witnesses a list of 17 deputies whose names had been added for shifts they had not covered.
Since the original report appeared in 32963, neither Loar nor Smith has contacted the paper to challenge any specifics, but Loar has told a number of supporters the story was simply "political."
The publisher of Vero Beach 32963, Milton R. Benjamin, said in a statement:  "For anyone to suggest our reporting is politically motivated is absurd. I have never met either Sheriff Loar or Lt. McMullen, we have not accepted advertising and do not plan to accept advertising from either of these candidates, and we had no plans to endorse a candidate in this race."
The records alterations appear to be a move by the Sheriff's Office to counter criticism that many shifts on both the north and south ends of the island – typically patrolled by deputies – were not filled numerous times for up to 14 hours at a time.
The original 32963 story, based on a comparison of patrol records provided before the handwritten alterations were added and a second round of documents, showed that no patrol  car was assigned to the barrier island north of Indian River Shores 15 percent of the time, while south island residents fared even worse, with no patrol car assigned to the area south of Castaway Cove 21 percent of the time.
Actual coverage, it now turns out, was worse.  New records show that typed alterations had been made to the original documents provided to  32963, and the hand-written additions in the second batch were only the second round of changes.
Islanders on the north end were without a deputy specifically assigned to patrol the area 136 hours or 19.5 percent of the month of February. As for the south island area, residents went without patrols for 166 hours or 23.8 percent of the month.
Those changes were discovered after combing through deputy time cards and close to 200 patrol line-up sheets, including 54 pages that had been printed out prior to 32963's original public records request and were recently given to the newspaper.
The original public records request by 32963 for patrol documents was submitted on March 20.
Two days later, at 3:06 p.m. on March 22, the first record was modified, according to the date and time stamp on the sheriff's office Microsoft Works System. The record was for the patrol line-ups for Feb. 1, the first of 29 days requested by 32963.
The original patrol sheets – records that are the playbook for dispatchers who take emergency calls and need to know deputies' whereabouts – had 32 deputies assigned to cover the county's 11 zones. The system was devised so each zone would have four deputies throughout the day and that the shifts from 10 a.m. to 4 p.m. and 4 p.m. to 2 a.m. would provide double the coverage during peak hours.
Smith – or at least he claimed to be the person in an April interview – then typed in the last names of deputies: Aguiar, May, Hawkins and Byrd.
Smith placed the names of each deputy into a patrol zone. He continued typing in names of traffic and K-9 officers and later told 32963 to count those men and women as patrol officers. 
Since its initial report, the paper obtained a set of unaltered patrol lineups – reams of documents that were printed routinely and stowed away until now – and matched them against time cards and the two sets of records the sheriff's office provided in March.
Cross-checking the records revealed that on Feb. 1:
- Deputy Brian Aguliar was in firearms training and not patrolling the south barrier island as stated on the documents Smith altered.
- Deputy David May was out sick.
- Deputy Erik Hawkins was already on the schedule as having worked an earlier shift. Smith changed the records and added him to a second shift. His time card does not reflect any overtime. None of the patrol records denote Hawkins worked a split shift Feb. 1.
- Deputy Tommy Byrd also was out sick.
The altered records gave the impression that on Feb. 1, instead of 32 deputies fanning out over some 460 square miles of unincorporated Indian River County, 39 deputies were patrolling the streets.
The record altering continued.  The paper has discovered that with the exception of Feb. 5 significant changes were made to all daily patrol sheets.
In at least 10 cases, deputies' names were added to the patrol records, designating them as covering a specific zone when their timecards indicate they were sick that day. In many of the 10 cases where a deputy was out sick, the unaltered records even have a notation on the patrol sheets that the deputies were out sick. That notation was erased in the sets given to 32963 by the sheriff's office.
Roughly a dozen deputies' names were added to the patrol sheets when the deputies actually were on vacation.
On Feb. 14, of the four deputies whose names were added to patrol records, two were out sick, one wasn't working and a fourth – while working – isn't a patrol deputy and told 32963 that he wasn't assigned to patrol that day.
Meadows lists the names of 17 witnesses, deputies whose names were added to patrol records, in his complaint to the state attorney. 
Deputy Michael Cavanaugh is listed in Meadows' complaint. His name was added, although misspelled, to the Feb. 18 line-ups as a patrol officer. In fact, he was on vacation that day.
He said he certainly didn't expect to find his name included in the altered patrol records.
Those altered records now appear to be part of the official record in the sheriff's office computer system.
That wasn't always that case, one commander said, because for a while, the records were missing.
A watch commander, who was reprimanded last winter for pulling a deputy out of a zone went looking for the records  in April so he could defend himself.
"I was trying to show that on other occasions that zones had been left open because of staffing, not because of anything we were trying to do intentionally, but because of manpower allocation," said Lt. Paul Fafeita.
He could not find the February records in the computer system.
In an e-mail to his superior, he asked where they were.
"I cannot find them either. Looks like someone deleted the February 2012 folder," Capt. Mike Dean wrote back.
Fafeita then turned to the department's General Counsel Jim Harpring and put in an official public record request. He then received the same altered patrol records given to 32963.
As a watch commander, someone who oversees the 6 a.m. to 4 p.m. shift, Fafeita, said he knew instantly the records were not accurate. "It was just smoke and mirrors," he said.
Fafeita then had a decision to make.
"Coming forward could have all sorts of implications between retiring tomorrow and retiring in four years," said Fafeita, who started at the sheriff's office in 1974.
Fafeita, who admits he is a friend and supporter of McMullen, went to Meadows and raised the issue of the altered documents.
Meadows said the complaint he was submitting to Colton – alleging that Loar and Smith violated three state statutes involving official misconduct, falsifying records and conspiracy – also was being filed with the Florida Department of Law Enforcement and the state's Criminal Justice Standards and Training Commission. 
While accusing Loar of taking these actions for political gain, Meadows also acknowledged that he is a strong supporter of McMullen and his sister is McMullen's campaign manager.
"But this is born from Loar's own mouth," Meadows said.