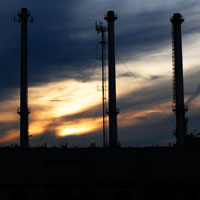 Fletcher: Partial sale of Vero electric 'infeasible, foolhardy'
STORY BY LISA ZAHNER, (Week of June 7, 2012)
A plan to sell off part of Vero's electric utility and keep only city customers has again been put out there, this time by Vice Mayor Craig Fletcher ostensibly as a potential "back up plan" in case the Florida Power and Light deal falls through – even though top Vero utility staffers concluded a year ago that splitting up the system was technically near impossible.
But even though he floated the notion of a partial sale, Fletcher said he still thinks the idea is "categorically infeasible and foolhardy."  Randall McCamish, the long-standing head of Vero's electrical transmission and distribution system, said he stands by the assessment by the city's electric team a year ago that breaking up the city system is not realistic.
"Nothing has changed," McCamish said Monday. "Nothing internally has happened to change this."
Fletcher said he suggested the council consider a partial sale because he imagined it would come up anyway.  He suggested that his colleague on the council, Jay Kramer, has only been waiting for an opportune time to re-introduce the ill-conceived scheme.
"I have no intention of going to a shrink-back plan," Fletcher said. "But I'm getting fidgety, I'm feeling vulnerable and we need to get a back-up plan.  What if all this fails, what do we do?  If we find out that the sale (to FPL) can't be done, we'd be right back where we were and to me that's unacceptable."
Since the city's legal entanglements with the Florida Municipal Power Agency and with the Orlando Utilities Commission are the potential big sticking points in a deal with FPL, Fletcher said Vero needs to look outward as well as inward for a solution.
"One of the things I want to look at as a city is going to the 33 members of the Florida Municipal Power Agency and lobby them. Some of them are paying 41 percent higher than FPL," he said. "I can't help but think we can get to those people and lobby then to help us and to help themselves."
Fletcher said he hoped sending the matter to the city Utilities Commission would prompt some healthy debate and that city utility staff would be brought in to give input and recommendations.
"Get the staff working on it and I'm sure a partial sale will be one of the things that is discussed, that they will go in that direction, but it's a joke," Fletcher said. "They can get our new finance director (Cindy Lawson) to take a look at it and it will take about a day or so for her to see that it's a joke."
Whatever the Utilities Commission or the city staff comes up with, just the fact that someone is going through the motions of assembling a back-up plan, Fletcher said, will assuage his fears about the deal falling apart and Vero being left with no options and electric rates still 30 percent higher than those of FPL.
As a key staffer who would be brought in on discussions about the future of the electric utility, McCamish said he had not met with Fletcher and had not been asked to provide any information for council discussion. He said the last the staff had heard of the notion of shrinking the electric system back to the city limits was when Kramer asked them about the possibility last summer.
McCamish said he didn't know what was afoot, but he guessed that the ticking clock toward the Sept. 30 deadline for concluding negotiations with FPL was making the folks at City Hall antsy.
"I don't know if it's getting halfway through that extension of time on the FPL deal and they want to have some other way to go, or what," McCamish said.
In the Aug. 25 issue of Vero Beach 32963, McCamish said, "The system was designed and built as a whole. We would have to separate it out piece by piece and work with FPL to turn it over one area at a time. The problem is not so much the transmission, but the distribution."
FPL officials at the time were a bit more blunt about it, saying a partial sale was "not do-able."
Even if it was theoretically achievable, McCamish said it would take up to two years and would require intricate coordination with FPL. It would also assume that FPL had any interest in buying just the customers outside the city, which representatives have repeatedly said is not the case.
FPL External Affairs Director Amy Brunjes confirmed Monday that FPL has not devoted any time or resources to investigating a partial sale of the Vero utility.
All of FPL's efforts have been focused on purchasing the Vero system as a whole. Brunjes said she had heard that Fletcher was proposing the city develop a back-up plan.
"We have no objection to the city working on a contingency plan, that is their prerogative," Brunjes said. "Meanwhile, we're making significant progress with our negotiations with the city and we expect to know by September if we have a clear path forward to a purchase and sale agreement."
September, Fletcher said, is going to creep up "quicker than you think," and expressed the hope everyone involved in the FPL deal is pulling out all the stops to make it happen.