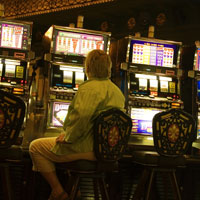 Florida remains hot spot for internet gambling growth
STORY BY EILEEN KELLEY, (Week of March 15, 2012)
Internet cafes and adult arcades are springing up in Florida like mushrooms during the rainy season, and flourish with little scrutiny and no regulation.
Counties and cities are at the point where they're starting to ban internet-based simulated gaming devices but the state Senate ignored concerns about the industry, failing earlier this month to support a House ban on the strip-mall gaming establishments.
As a result, some experts say internet café growth in Florida will continue to be explosive, climbing from an estimated 1,200 to 1,500 in the next few years.
The growth isn't surprising in light of the hustle used to promote cafes as great business opportunities, something along the lines of a gambling-industry McDonald's franchise.
Promoters make the opportunities and promises of financial rewards tantalizing and Florida appears to be the nation's top market for this type of gaming, particularly with its aging population and lack of oversight.
"Win Cash! Games! Prizes! There's nothing like the thrill of winning cash prizes. Nothing, that is, except making a substantial profit from people who think they can beat the odds.
"The house always wins! Even though some players end up on top, in the long run, the house always wins. So why not become the house by starting an internet café featuring sweepstakes machines?"
That's the web site pitch for a California company that holds online seminars for people on how they can cash in on gambling's explosive growth nationwide.
"We're here to help you start your own internet sweepstakes café. Few industries have ever experienced the explosive growth that's taking place right now in the sweepstakes business," states the website.  "Every day people spend millions of dollars playing sweepstakes games that resemble slot machines and casino gambling devises. And every day the people that own the businesses with sweepstakes machines make hundreds of thousands of dollars. Why not you?"
To state Rep. Scott Plakon, R-Longwood, hype such as that posted by a Sacramento-based internet café start-up company is one reason he refuses to end his campaign to shut down internet cafes in Florida.
Florida is one of the latest states to try and tackle the giant billion-dollar industry where customers buy internet or long-distance telephone minutes, then sit at terminals playing what looks like slot machine games as they try to win sweepstake prizes.
These internet cafes that offer sweepstakes are banned or have been banned in some states like Alabama, North Carolina and Virginia.
In Florida, it's an explosive business. Of an estimated 4,000 to 5,500 across the country, about 1,200 are in Florida.
James Mecham, the managing director of Sweepscoach, the Sacramento-based sweepstakes café start-up business, has helped open hundreds of them.
"They are growing so fast throughout the U.S.," Mecham said during a  webinar last week which served as an overview, explaining how as far as the industry is concerned, these sweepstakes are not gambling.
When Mecham rattled off a list of hot markets, Florida was the first one he threw out. "It's truly a thriving industry to be part of and it is extremely profitable if you are smart, and safe and do your homework" he said.
Here's how it works:
According to Mecham, for the ambitious person who would like to have a business with 100 terminals,  it takes about $65,000 to get started.
The return on investment can be very impressive. Mecham estimated a well-established café can easily recoup about $1,000 a month for each operating terminal.
An Allied Veterans of the World manager for a Seminole County internet cafe told his local county commission that his businesses grossed $100,000 a week – more than $5 million per year.
Customers pay a fee, get internet access or long-distance service.  Industry standards say each minute of time purchased equals one chance at the sweepstake.
Because money is exchanged for the internet or phone time and not the sweepstake, it's not gambling, said Mecham.
"The minute you pay for a sweepstakes entry," it's gambling, Mecham told his webinar audience last week.
Mecham insists that a customer can find out immediately if he or she is a winner because it is all pre-determined, though most would rather sit at the terminals that simulate Las Vegas-style slot machines.
"Why is there controversy? Because it looks like gambling. Why do we make it look like gambling? Because gambling is fun," Mecham said.