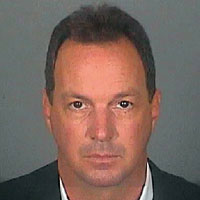 Prosecutor: Accused art swindler Taylor was preparing to flee
STORY BY EILEEN KELLEY, (Week of March 22, 2012)
Photo of Matthew Taylor
Matthew Taylor, the accused Vero Beach art swindler awaiting trial in California next month, may have been preparing to make a run for it, withdrawing more than $226,000 from a bank account that he set up for his girlfriend after transferring the money from a Bahamian account in yet another attempt to hide his small fortune, federal prosecutors say.
The judge in the case refused a prosecutors' motion to jail Taylor and instead tightened the conditions of his house arrest as he awaits his April 3rd trial. Taylor faces up to life in prison if convicted on the charges he faces.
Prosecutors still contend Taylor needs to be jailed because of his repeated attempts to withdraw money from his girlfriend's account, and appealed the judge's decision to let remain on house arrest.
The judge did rule that Taylor may no longer possess any firearms. He possessed a Glock handgun when he was arrested in Vero Beach and he is known to have owned a shotgun, handgun and rifle.
Taylor has been jailed or under house arrest since September when he was apprehended on the barrier island on a slew of charges that claim he swindled an wealthy California land tycoon out of more than $2 million by passing off fraudulent art by a lesser known artist as the work of Claude Monet, Gustav Faberge, Mark Rothko and Georgia O'Keefe.
Taylor told Fred Leeds he paid between $10,000 and $35,000 for each piece he sold him when in reality, authorities claim, he inflated the actual purchase prices by 10 to 20 times. He's also accused to stealing valuable pieces of art from a California museum and selling a piece to an unsuspecting art dealer.
Around the holidays, Taylor was trying to convince a judge to release him from house arrest by suggesting that he had resettled in California and didn't intend to leave the area. The confines of the terms of his house arrest at the time were very liberal and the judge refused to alter his confinement.
As it stood then, Taylor wore an electronic monitoring unit around his ankle and was able to visit daily with his attorney, leave his home three times a day for meals and go to art galleries, something he claimed was necessary to help build his defense.
With such liberal guidelines, prosecutors claim, Taylor was likely planning a getaway. They made those allegations in the 4,800 pages of documents they filed in federal court to build their case that Taylor is a thief, a liar and cannot be trusted.
To hide his earnings from his schemes, prosecutors say Taylor opened numerous bank accounts and launched various limited liability corporations and trusts using fake Social Security numbers.
"Taylor attempted to conceal his ownership and control of these accounts and make it more difficult to trace income," prosecutors allege in a superseding indictment filed in the court this month.
The indictment carries two new charges – structuring and tax evasion – stemming from Taylor's alleged efforts to move large sums of money surreptitiously.
Over the course of a month, Taylor went to seven different Bank of America branches and withdrew $10,000 or less on multiple occasions or cashed checks written to cash from Rebecca Larkin's account. She is Taylor's Vero Beach girlfriend who is now living with him in California.
In two instances, Taylor withdrew a total of $60,000 from six branches -- a total of $30,000 each day. Each withdrawal was for $10,000.  Taylor never withdrew more than $10,000 at a time.
Banks must report to the Internal Revenue Service when someone deposits or withdraws more than $10,000 from a bank.
Taylor, authorities contend, committed a federal felony by "structuring" bank transactions in order to avoid the reporting requirement.
"The purpose of secretly taking out such a large amount of cash while awaiting trial on criminal charges could only be to allow the defendant to flee in the future if necessary or to use the money to carry out additional criminal conduct," prosecutors say.
Prosecutors have long claimed that Taylor is a liar and could not be trusted: When Taylor claimed he was indigent after getting arrested in Vero Beach, they say he stashed more than $400,000 in an account in the Bahamas.
When authorities tried to seize the money, they were too late.
Several months ago, Taylor invited the judge to pull up his account in the Bahamas to prove that it was no longer flush with cash. He said the money went to pay for the care of his mother.
On Dec. 15, prosecutors told the court that Taylor misrepresented his assets to the court all along. Court records say the judge was "disappointed" by Taylor's conduct and admonished him "not to disappoint him again."
Apparently undeterred by the judge's scolding, court records say that just hours later, Taylor withdrew $9,000 from a Bank of America branch. A day later, he visited three different bank branches in less than two hours and withdrew a total of $22,000 in cash.
As the month ended, Taylor accelerated his efforts to shuffle and hide his cash, prosecutors say.
In just four days before Christmas, he withdrew $85,000 in increments of $10,000 or less from six different bank branches.