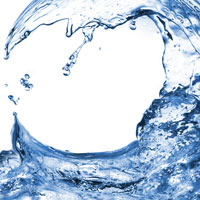 Concern grows as contamination edges toward Vero water
STORY BY LISA ZAHNER, (Week of March 29, 2012)
While Vero Beach has long obtained award-winning drinking water from shallow wells located under the municipal airport, concern is growing that a "plume" of contamination from a long-abandoned landfill on the edge of the airport could be slowly moving toward the city's primary water supply.
An agreement signed by Vero and Indian River County last week to sink six new monitoring wells – to supplement 30 already in place – was prompted by recent test results that suggested contamination was edging south toward the city's well fields, according to county Solid Waste Director Himanshu Mehta.
None of this suggests that there currently is any problem with Vero Beach drinking water, according to Mehta.  Nor was it clear at what rate the plume was migrating.
But about two-thirds of Vero's drinking water comes from 26 shallow or "surficial" wells about 75 to 100 feet deep. Twenty two of these wells are located under the airport, and tap into what's called a surficial aquifer because it's an area of sand and gravel close to the surface.
Just north of the city's well fields (south of 41st Street and west of 43rd Avenue) is the 116-acre site referred to as the Gifford Road landfill, 60 acres of which lie on airport property.
From 1960 to 1977, the landfill was the primary dump for all types of solid waste.  In 1978, the county moved its landfill operations to a parcel next to Interstate 95, adjacent to the current landfill site. While the Gifford Road landfill operated legally, it was a collection of unlined holes in the ground filled up with every imaginable variety of solid waste.
"Pretty much all the garbage in the county went into it," said Mehta. "It was open trenches or landfill cells, they dug a big hole and covered it up. That was the method of disposal at the time until everybody got smarter about solid waste disposal."
As contamination from the site leeched into the soil with rainwater over the years, it created a "plume" which has been managed by the Indian River County Solid Waste Disposal District under orders from the Florida Department of Environmental Protection (FDEP). Contamination from the site has cost the county more than $5 million to remediate over the past 10 years.
The remediation has been threefold. For years, the county pumped groundwater out and sent it to the wastewater treatment plant to divert contaminants. In 2004, it dug out and treated 3,800 tons of soil and removed roughly 1,000 pounds of the chemical TCE (used in degreasing) from the surface area.
Now, the county attempts to break down and contain the contaminants by injecting massive quantities of emulsified oil into the ground in concentric circles around the source of the contaminants. The groundwater passes through these oils, which filter the water.
According to Mehta, the FDEP request for the more wells was prompted by concerns over recent test results. The plume of contamination, regulators fear, could be expanding to the south, toward the city's drinking water wells.
"The city's wells are down-gradient from us," Mehta said.
In layman's terms, that means that the city's drinking water supply is downhill, in an underground sense, from where the contaminants are now managed. As Vero pulls more and more water out of those wells, it creates an empty space for groundwater potentially impacted by the "contamination" to the north to fill.
Why would Vero Beach use shallow wells under the airport for more than two-thirds of its drinking water? Could the city begin to abandon those wells, possibly starting with one which tested positive for E.coli last year?
Not really, according to City Manager Jim O'Connor.
"On the issue of abandoning the well, we have not discussed this since there have been no issues and we have a detection plan in place. During peak demand we need to have capacity in place," O'Connor said.
"The fact is that there are not too many water supply sources, surface or ground water supplies, that are not subject to possible contamination. We are aware of the issues and manage accordingly and that is one reason I believe there have been few issues."
Mehta agreed that the city has few other choices.
"It's not an easy thing to locate new well fields," Mehta said. "You have to find an area that will not be developed and generally the agricultural people don't want you in their area because they want the water supply for themselves, so airports are a common location for well fields."
Nor is potential contamination from the old landfill the only issue.  The airport has two other known dump sites in various stages of remediation.
Fuels, chemicals, paint and solvents are routinely used in manufacturing on or near airport property. Nearby residents have complained that black residue from airplane exhaust falls ends up in their ponds and bird baths, leaving greasy rings and rainbow-colored reflections on the water in the sunlight.
According to a recent GAI Consultants report, 10 of Vero's wells have been identified with water that has high limits of volatile organic compounds.
The EPA estimates that contamination is present in 20 percent of the nation's water supplies, entering the ground water from a variety of sources. Benzene, for example, may enter ground water from gasoline or oil spills or from leaking underground fuel tanks. Other examples of commonly detected contamination are dichloromethane (methylene chloride), an industrial solvent; trichloroethylene, used in septic system cleaners; and tetrachloroethylene (perchloroethylene), used in the dry-cleaning industry.
"The wells are tested monthly for total coliform," said Vero Water-sewer Director Rob Bolton. "If total coliform is present, then the well is tested for E-Coli."
In addition, the wells are tested quarterly for chloride, and 12 wells are tested for trichloroethylene (TCE) and its degradation products. TCE is the major contaminant found to be present in groundwater on airport property from the Gifford landfill.
Twice per year, tests are run for pH, specific conductance, turbidity, chloride, sulfate, total dissolved solids, total alkalinity, iron, total hardness, calcium hardness.
Once a year, five wells are tested for things such as calcium, sodium, magnesium, potassium, sulfate, chloride, total hardness, field temperature, specific conductance, pH, iron, carbonate and bicarbonate.
"All tests with the exception of those for TCE are done in-house by the city lab. We have the tests for TCE done by a commercial lab," said Assistant Water-Sewer Director John Ten Eyck said.
Vero Beach Utilities abides by all the state and federal regulations, according to Lisa Kelley, a FDEP spokeswoman.
"Per rule 62-550.518(2), Vero Beach collects a minimum of 40 distribution system samples each month and at least 27 raw water samples each month," Kelley wrote in an e-mail.
In addition to the shallow wells, the city gets the balance of its drinking water from the Floridan Aquifer, which in this area starts at 360 to 420 feet below the ground surface. That aquifer spans Florida, Georgia and South Carolina and is much deeper and holds its water supply under pressure.
So why can't Vero get all of its water from the Floridan Aquifer, as does Indian River County?
The plan is to move in that direction, according to Bolton, but any transition won't come cheap. Right now, the water from the shallow wells is treated via lime softening and then sanitized with chemicals. In Vero's capital improvement plan is a $1.5 million project to expand the city's reverse osmosis capability in 2015 so it can handle more water from the deeper Floridan wells.
Bolton said he expects the city to be able to pay for the project in cash and that it will not increase rates. In fact, he said greater reliance on reverse osmosis water treatment will require less staffing than lime softening, enabling the city to save money.
When Indian River County was looking into purchasing the city's water and sewer utility, County Utility Director Erik Olson said he asked about the dump sites, but didn't really get any answers.
"I had a conversation with Rob Bolton at the airport one time. Unfortunately, he was very vague on the details of the sites," Olson said Monday. "The point he was making was that if the County took over the City well fields on and near the airport, we would be responsible for continuing the mitigation program."
When asked for details about the dump sites on airport property, how much cleanup has cost and what the status of remediation efforts are on those sites, Airport Director Eric Menger replied, "To assist in your research, you may find the following website to be helpful."
The link Menger sent led to an FDEP website which contains hundreds of pages of titles leading to thousands of pages of documents related to hazardous and solid waste sites and cleanup efforts in Indian River County dating back into the early 1980s.