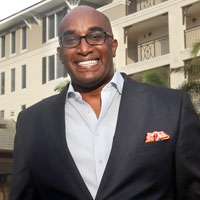 Awet Sium: 'A great hotel is not about chandeliers'
STORY BY MEG LAUGHLIN, (Week of May 3, 2012)
Photo: Manager Awet Sium in front of the Vero Beach Hotel & Spa.
Travelers frequently check TripAdvisor to see how a hotel is ranked and to read customer comments.
When they look at Vero Beach Hotel & Spa, they'll see it ranked #1 of 26 hotels in Vero Beach, with frequent mention of how well it's managed and how personable the staff is. They'll also see that customers give it over 4.5 stars out of a possible ranking of 5.
But what they won't see on TripAdvisor with most other highly-ranked hotels is a  personal reply from the general manager to almost every comment – not just an occasional reply, but dozens upon dozens of responses specifically addressing the remarks of past hotel guests.
This attention to detail has become the trademark of the hotel, thanks to the new general manager Awet Sium, 35.
Sium guides the personality of the hotel with his own perspective on the world – a view informed by world travel, an immigrant mom with a vision, and the belief that "charity begins at home."
His mother came from Eritrea on the east coast of Africa to Washington, D.C., in the mid 1970s. Because of years of war in her homeland, she was able to get political asylum and single-handedly raise Sium and his three sisters, while cleaning houses. Sium, born in Washington, barely remembers his father who left the family when he was a small boy.
"I didn't grow up privileged financially," said Sium. "But I grew up privileged because my mother was so determined and such an inspiration."
His mom, Lemlem Bereket, left housekeeping when she got a job as a clerk in the mailroom at the World Bank in the 1980s.
In her early 40s, she worked her way through college, then landed a management job at the bank.  As a teen, Sium worked two part-time jobs at the Henley Park Hotel in Washington – one as a bellman and another as a dishwasher in Court de Lion, the hotel restaurant. In the summer, the family headed to Eritrea, taking side trips to Kenya and Ethiopia, as part of his mother's bank job.
"I got a broad view of the world," said Sium. "From the immigrant struggle in the nation's capital, to the creme-de-la-creme life at the Henley, to tribal life in east Africa."
He graduated from Columbia Union College, a Seventh Day Adventist college in Maryland, even though his family's religion was Eritrean Orthodox Christian.
"Again, variety helped me grow," he said.
He describes himself as "no theory, all practice," which meant he had average grades and a lot of friends in college – both students and teachers. If a job needed to be done, his hand was up. If there was an all-night study session, he was nowhere to be found.
His sisters call him "the work horse." He calls himself "the donkey."
"You know, stay on the path and carry the load," he said.
What a path it has been: By 20, Sium was the front desk manager at the Henley Park. At 23, he became the director of guest services at the elegant Hotel Monaco in old town Alexandria, Va., which, with over 240 rooms, he describes as "a gorgeous gorilla of a hotel."
By age 25, he wore suits made in London, shirts made in Thailand with French cuffs and Italian designer shoes. He spoke four languages fluently – English, Italian, Spanish and Tirginya, the main language of Eritrea. He could also communicate in French, Arabic and Malay, the standard language of Malaysia. Whenever he went on vacation, he tried a new country.
"It thrills me to know the world and to be able to talk to people," he said.
Yet, he doesn't frequent the public spaces of Vero Beach Hotel & Spa, glad-handing guests.
Instead, he prefers the back corridors, the kitchen and work spaces.
Housekeepers greet him laughing, as do dishwashers, obviously not intimidated by the boss. He stops by the laundry room to ask how everyone is doing. He greets the bellmen, car valets and cleaners.
When he dines with guests in Cobalt, the hotel's restaurant, he purposely sits with his back to the staff. Even a loud clatter from the kitchen doesn't seem to faze him.
"I don't want them to feel watched," he said.
What he's after, he explained, is the same atmosphere among hotel employees that his mother created in their home when he was growing up: No one is on pins and needles. Everyone feels supported enough to pass the good will on.
At the risk of sounding corny,  he said, he offers a saying he repeats to himself, as he goes about the business of the day: "To be of service to another is to be of great dignity." 
The mantra served him well, when he took the job as rooms division manager at the posh Parrot Cay Resort in Turks & Caicos, where the average price of a room is $1,000 a night. 
"With prices so high, you have to do more than offer luxury, you have to really like offering it," he said.
Which may be part of the reason that Ben Affleck and Jennifer Garner got married at Parrot Cay, and Penelope Cruz, Bruce Willis and Donna Karan were frequent guests, when he was manager.
On a vacation from Turks & Caicos to Maryland to see his mother, four years ago, he met his wife-to-be, Rawa, who had come from her home in Milan, Italy, to Washington on vacation.
Like Sium, her parents were Eritrean. He was 31, she 27.  When he returned to Turks & Caicos, his personal long distance phone bill was $1,400 in one month from calls to her.  In November 2007, he flew to Milan to meet her parents. Since their wedding in 2008, they have lived in Turks & Caicos, Washington, Baltimore  and for the past year, Vero Beach. 
"Back to island life, which I love," he said.
What he has tried to do as general manager of the Vero Beach Hotel & Spa is make it a resort – not a one-night stay hotel but a vacation destination.
To this end, he usually works 10-hour days. He arrives at the hotel at about 7:30 a.m. after two cups of coffee, and begins making the rounds, starting with greeting the laundry team.
"A great hotel is not about the chandeliers," he said.
 At home at night, he and Rawa take turns cooking, though she makes four dinners a week and he makes three. Lately, his specialties are a turkey burger stuffed with bacon and cheese, which he calls "my inside out burger," and fresh pasta with olive oil and shaved pecorino cheese with truffles. Any day now, he and Rawa are expecting their first child.
"Life has never been better," he said, "and I hope my thankfulness comes across  in the tone of the hotel."